Shock-N-Roll in BC Bear Country
Hunters: David Blanton, Jim Shockey and cameraman John Tate
Location: Vancouver Island, British Columbia
Dates: May 24-30, 2007
Species: Black Bear
Weapons: Muzzleloaders
Question: When filming hunts for Realtree Outdoors, you have to do more than just capture the hunt on film. How did you come up with the story angle for this bear hunt?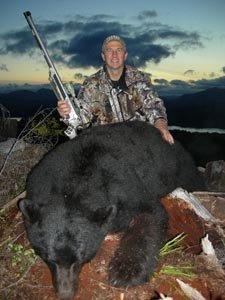 David: Before I left for the hunt, I wracked my brain to figure out what type of angle this episode should have. In ESPN's words, I needed to find the hook for the show. Finally, I decided that the gist of the episode would be that I was going to Vancouver Island to dispel the myth of Jim Shockey. He's just too perfect. He's an extremely successful outfitter, he's too handsome, his wife is too beautiful, his family is too perfect, he's a scratch golfer, he gets to hunt all over the world and he's the best known muzzleloader hunter in the world. All of these things just can't be true. So, during this hunt, I set out on a mission behind his back to reveal the true Jim Shockey. On the other hand, Jim would complain throughout the hunt about having to host another hunting personality. He'd also question why Realtree had to send me when he'd really wanted to hunt with Bill Jordan.
Question: What is it like to have to travel to another country and go through customs with all of you r hunting gear and TV equipment?
David: Traveling with all of that gear into Canada is an ordeal to say the least. On May 24, John Tate and I left Atlanta and flew to Salt Lake City. From there we flew to Vancouver where the customs nightmare began. We had to gather up all of our camera and hunting gear, and then we had to go through the process of getting the work visas required to produce a TV show in Canada. Completing all of the paper work took us three hours. After we acquired our visas, we took a shuttle to another terminal where we boarded a Pacific Coast Airlines flight to Port Hardy on the north end of the island. The view from the airplane was spectacular. Spring had been colder than usual in the area, so there was still snow on the mountains. Once we arrived in Port Hardy, a couple of Jim's guides picked us up at the airport and took us to camp. Needless to say, we were exhausted by the time we finally arrived.
Question: What technique did you use to hunt bears in this area?
David: No baiting was allowed, so we conducted a spot-and-stalk hunt. We were hunting right in middle of breeding season so the bears were covering great distances in search of sows. We rode down logging roads and would stop occasionally to glass. We saw on average 10 or 15 bears a day. On the second day of the hunt, Jim wanted to check out a big grass flat on the edge of the coast line. The plan was to walk through the virgin timber and check it during the low tied, during which time the bears would feed on the grass. We walked through some incredible forest to get to this location. Once we reached the grass flat, we eased out, looked around the corner and sure enough, we spotted a huge boar feeding away from us. As luck would have it, by the time we got into position, the bear had fed into the timber and was out of our sight.
Question: After losing that bear, what was your next game plan?
David: He was big enough of a bear that Jim, John and I all agreed that we should go back to the grass flat the next day with the hopes that he'd return. So the following day, after checking some spots early in the morning, we ventured into the grass flat. We hung around there for several hours and saw a couple of bears but not the giant we'd seen the previous day. So, we returned to the truck in order to cover more ground. We continued to see many bears, including several big bears, but the wind was never right for a stalk. Finally, on the fourth afternoon, we were glassing a cutover and saw a big bear feeding toward us. As we tried to get into position with the camera, we lost sight of the bear. As we stood there waiting to see where he would appear, he spotted us and ran off. We feared that the day's hunt was ruined, but Jim, being the aggressive outfitter that he is, told us to walk behind him up a logging road so that we could check the other side of a ridge. When we peeked over the ridge, we spotted another nice bear. John set the camera up, and I sat up on my knees with my Thompson/Center Pro Hunter muzzleloader. I ranged the bear at 120 yards. Jim said, Take him if you can. I had a rock-solid rest on my knees, and I was extremely focused. I made a good shot, and the bear ran 10 steps up the hill and fell over. He was a great bear weighing 300 pounds with a 19-inch skull. I was very happy with my success.
Question: You still had a day or so left before you returned home. What did you do during that time?
David: Throughout the hunt, Jim and I had sparred over who was the better golfer, so the following day, we decided to settle it once and for all. We played a round of golf at Port Hardy and filmed it for the TV show. Jim wore his stylish golf attire, but I didn't have any golf clothes with me, so I wore my Danner hunting boots with my Realree AP HD camo. I regret to say that Jim won the golf game, however, I couldn't visually confirm every shot, so he may have picked up and thrown the ball a time or two, or he may have cheated in other ways. The camera may have caught some evidence of his cheating. Viewers will be able to find out if indeed he cheated or not when the show airs August 26, 2007. The episode also holds many other surprises.