Wyoming Whopper!
One of Team Realtree's New York Pro Staffers treks West for whitetails and muleys. Boy has he go story to tell!--By Tim Andrus
Hunt dates: October 13th-18th
Where: North central Wyoming
Outfitter: Out West Outfitting; Kris Powers and Bambi Schumacher
Weather: warm with steady wind; Highs in the low 60s with lows in the mid 30s
Game hunted: mule deer / whitetails
Hunt method: spot and stalk / river bottom stands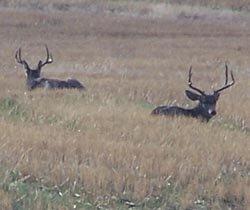 I left home on Friday the 13th at 4 am in the morning driving in a freak October snowstorm. Little did I know that this storm would cripple Buffalo, NY and the surrounding counties with 2 feet of snow and knocking out power for 300,000 people. Luckily where I live I was just on the fringe of it and only got 6 inches of snow and could make it to the Rochester airport for my flight without much trouble.
I arrived in Billings, Montana without a hitch along with all my gear (so much for Friday the 13th). After a 2-1/2-hour drive and seeing hundreds of antelope and mule deer I pulled into the Lakestop motel and Cafe (base for Out West outfitting) in the late afternoon. Once I got in my room I got all my gear set up and then met with Kris for dinner and to get a game plan together for the next day's hunt. Man, what a spread they put out for dinner! We decided that my 1st day would be a spot-and-stalk day for mule deer and then on the 15th, the season would open on the other side of the highway. There I would hunt mule deer in the morning and whitetails in the evening over food sources like alfalfa.
MORNING NUMBER ONE
The first morning was a cool 35 degrees with a light breeze out of the south. It looked like it would be a great day.That morning I was going to a rough country spot where they told me not to take my rental truck. So one of Kris's guides George Mediate was to take me in the trusty Suburban. Along for the ride were Maryland natives John Hutter and Curt Brown who had tagged out on Antelope the day before. I figured a few extra sets of eyes were a good thing. Well we got to our spot and drove off the highway and what a drive it was. I thought it would loosen the fillings in my teeth. Once we got as far as we could drive we did a short hike up to the top of a butte and began glassing. After 20 minutes or so we spotted a few deer about 800 yards away and one looked good, but we had to get to a better spot to check him out. So we circled around the backside of the butte and started glassing again. The deer gave us the slip for about 10 minutes until George spotted him bedded on the edge of a cut where it drops down into a drainage about 750 to 800 yards. This is where you need good optics and my trusty Nikons did not let me down.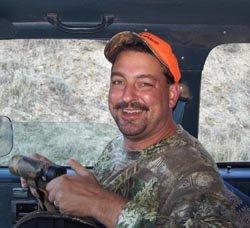 The buck kept growing every time I glassed him; we figured he would score close to 180 inches. Well we knew I wanted him, but getting to him would be a task for sure. He had himself in a spot where you needed a helicopter there. We were in tight spot as more deer had funneled in between the buck and us. So George and I set out using the breaks and lay of the land to hide our stalk. We devised a hand signal plan as John and Curt would stay back and watch from a high vantage point. After a little stalking we would lose sight of the buck and we knew we could glass back at those guys to see if he moved or was still bedded.
What a stalk it was--crawling, sliding along, crouching and trying to stay out of sight. At one point we were within 40 yards of a buck and a doe. Finally they moved on and so did we. Now we were within 320 yards of the buck. I told George I wanted to get closer. Eventually we got to the 200-yard mark. Now all I had to do was wait him out, which was good because at this point I was really sucking wind. I whispered to George telling him that I'd wait until the buck stands up--whether five minutes or five hours.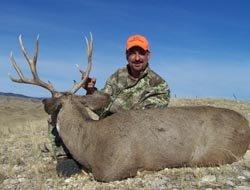 TAKING THE SHOT
My wait time wasn't that long, after two minutes he stood up. I put the crosshairs just behind the shoulder and squeezed off the shot. I'd love to tell you he dropped in his tracks, but he didn't. He just stood there so I racked another round and squeezed off a second shot. This time he whirled around and seemingly took off for Montana. The buck finally stopped and looked back when he was about 500 yards away and then walked over a ridge. To say I was upset was an understatement! I had just finished a perfect stalk on a monster buck and then blew a 200-yard chip shot. I told George I need to check my rifle, something I should have done the day before, but it was too dark. I had broken one of my own rules and it had come back to haunt me. We made a little range set up back at the motel and shot both of my rifles only to find out that they were on target perfect. Now it was time for some humble pie and to swallow that I had no excuse except that I had choked. Now it was time to redeem myself and make it happen. I switched things up and brought out my T/C Encore in a .280 caliber with my trusty Nikon scope, no more messing around.
We drove to some other areas, but didn't see anything that I wanted. Finally I said let's go back where we saw Winchester this morning. By the way, that's what we nicknamed the buck I missed--Winchester--due to my using a Winchester rifle. We went right back to where we had started in the morning on top of that butte. We were their for a few minutes when we spotted a big buck crossing over a ridge headed into a steep ravine that funnels down to a rancher's lush alfalfa field. I wasn't sure if it was Winchester or not but we had to go check it out.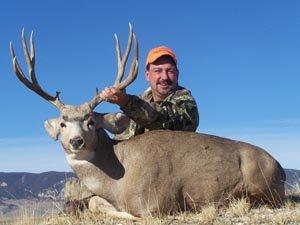 STALK NUMBER TWO
We devised another stalk, which was a lot easier than our morning stalk. We worked our way around and climbed up a butte and eventually ran right into a bunch of does. After a stand off they walked off with out spooking. I crawled to the top and started glassing and then George whispered, There he is. He was bedded at 270 yards and after looking at him I wasn't sure if it was Winchester or not. We whispered back and forth and I think the buck caught a whiff of something. He stood up and started looking around; as he did this I decided that Winchester or not this buck was a beauty. I got a steady rest and squeezed the trigger hoping for a better outcome than I experienced earlier in the day. The Encore barked and the Federal Fusion bullet hit him square in the shoulder and busted right into his heart.
I was excited and had a tough climb down and up to get to where the brute fell. As I got to him I was sure that Winchester did in fact give me the slip, but I did take down either his brother, son or close cousin. What a buck! He had good mass, tine length and forks. He was a typical 5x5 scoring around the 170-inch mark. At the meat locker the butcher said he weighed in at 252 pounds dressed, which would put his live weight at around 285 to 300 pounds.
What a day it had been, two heart-pounding stalks, a great deer and some new friends to boot. After the morning I had had I thought that the Friday the 13th had been changed to the 14th.
GO OUT WEST
In closing I would like to thank Kris, Bambi, George and all the folks there at Out West Outfitting for making my hunt a memorable one. For a great western hunting experience give them a call at 307-673-5196. Visit www.outwest-outfitters.com for more information. They have access to thousands and thousands of acres that are loaded with mule deer, whitetail and antelope. They have a proven track record; I believe they just finished the third year in a row at 100% success.