Last fall, my son drew a coveted Kentucky elk tag. It's a dream trip for blue-collar hunters — but with some unexpected challenges and reality checks, too.
A Kentucky elk tag was the last thing on my mind in May of 2020. For over 20 years I'd been unsuccessfully applying for one of the handful of tags, first solo, then together with my wife and kids. Honestly, we'd been snubbed so many times that I had quit checking the results. We entered the drawing last spring, same as always, but with the world gone crazy, we were packing for a summertime trip to the Minnesota Boundary Waters, and sure not thinking about elk tags.
But that changed on a fateful Saturday. My 15-year-old son Nathaniel (everyone calls him Potroast) and I were sorting through camping and fishing equipment for our canoe trip when our phones began to blow up. Friends who were watching the tag drawing live on Kentucky Afield had seen Potroast's name flash across the screen for an either-sex archery elk tag.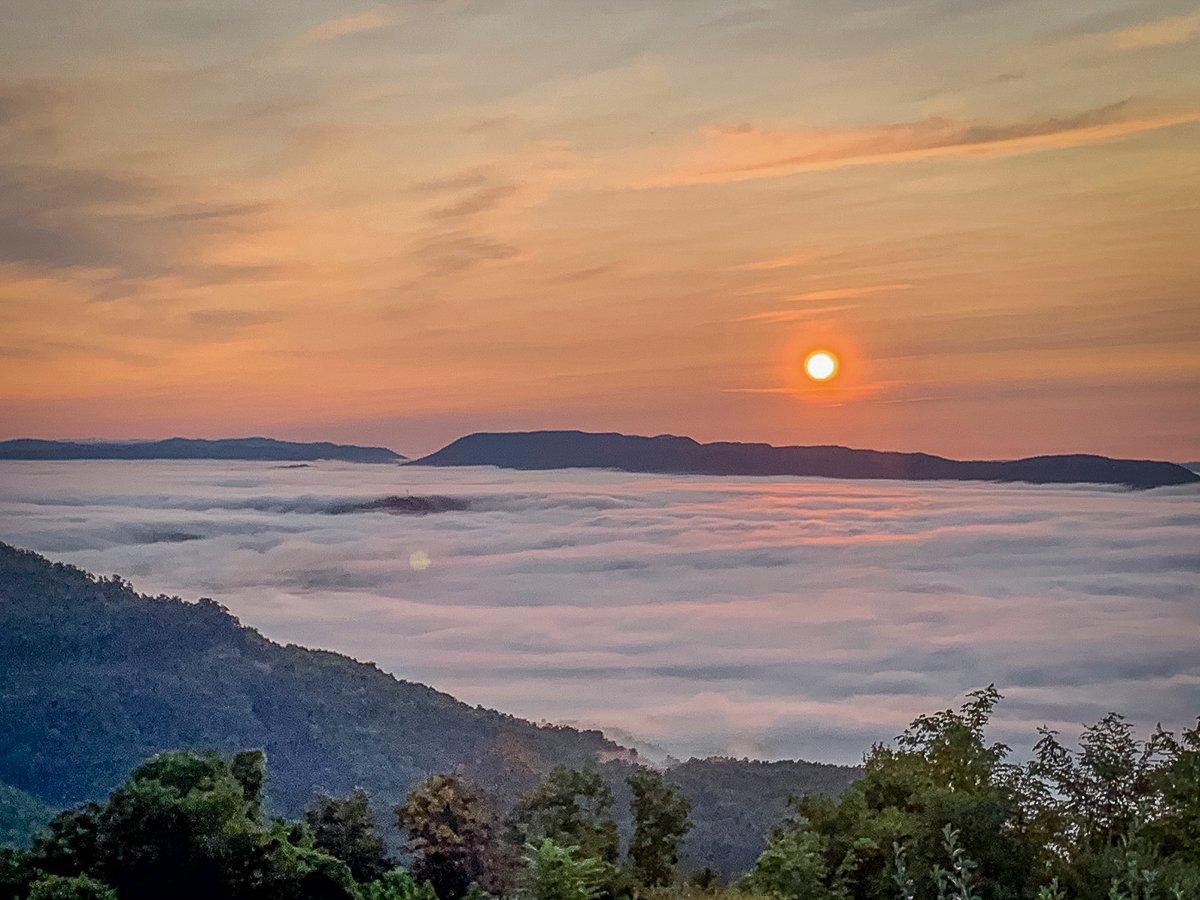 Our initial excitement was tempered with the realization that we had no idea how to go about elk hunting in our home state. The Kentucky herd lives on a patchwork of private and public lands, and the habitat is further divided into zoned hunting areas.
(Don't Miss: North American Super Slam: 29 Big Game Animals You Need)
Luckily for us, good friend Nate Noble had been guiding elk in Eastern Kentucky for years. A Colorado native, Nate had hunted and guided for western elk nearly his entire life. After moving to Kentucky, guiding for eastern elk became a natural fit. He and his guiding partner, Eric Arnold, with Hartshot Outdoors, knew the ins and outs of zone selection, and they had built years of landowner relationships and public-land knowledge for the area. It was time to get serious.
Scouting and a September Hunt
With a September 12 opener, we made our first scouting trip in late August. We met Nate and Eric, and piled into Nate's truck for our first trip to our hunting area. As the sun rose, the valley below us was blanketed in fog so thick it looked like you could walk across it. And when a 4x4 bull crossed the dirt road just 60 yards in front of us, we knew we were in the right place. Potroast had no plans of being picky; he was just after a legal Kentucky bull. Two more subsequent scouting trips helped us dial in on plenty of elk, with a few backup spots just in case.
The day before the opener, we decided to head up the mountain for one final scouting trip. From a high vantage point, we located the same 4x4 from our first trip and made a game plan to get on him the next morning.
For the Kentucky archery season, hunters can use either a bow or a crossbow. Knowing he had a second chance to hunt in December, Potroast chose to use his Hoyt Pro Defiant for the September season. He had worked on his setup all summer, and he was shooting a 515-grain arrow and a fixed-blade head. The combo produced 86 pounds of kinetic energy, more than enough for elk.
Opening morning, Eric, Potroast, and I parked our trucks well above the bench where the 4x4 had been the day before. Our plan was to wait for enough light and then work our way down the two-track road on foot until we were level with him, hoping to catch him in route from the open grass mountaintop to his timber bedding area down low.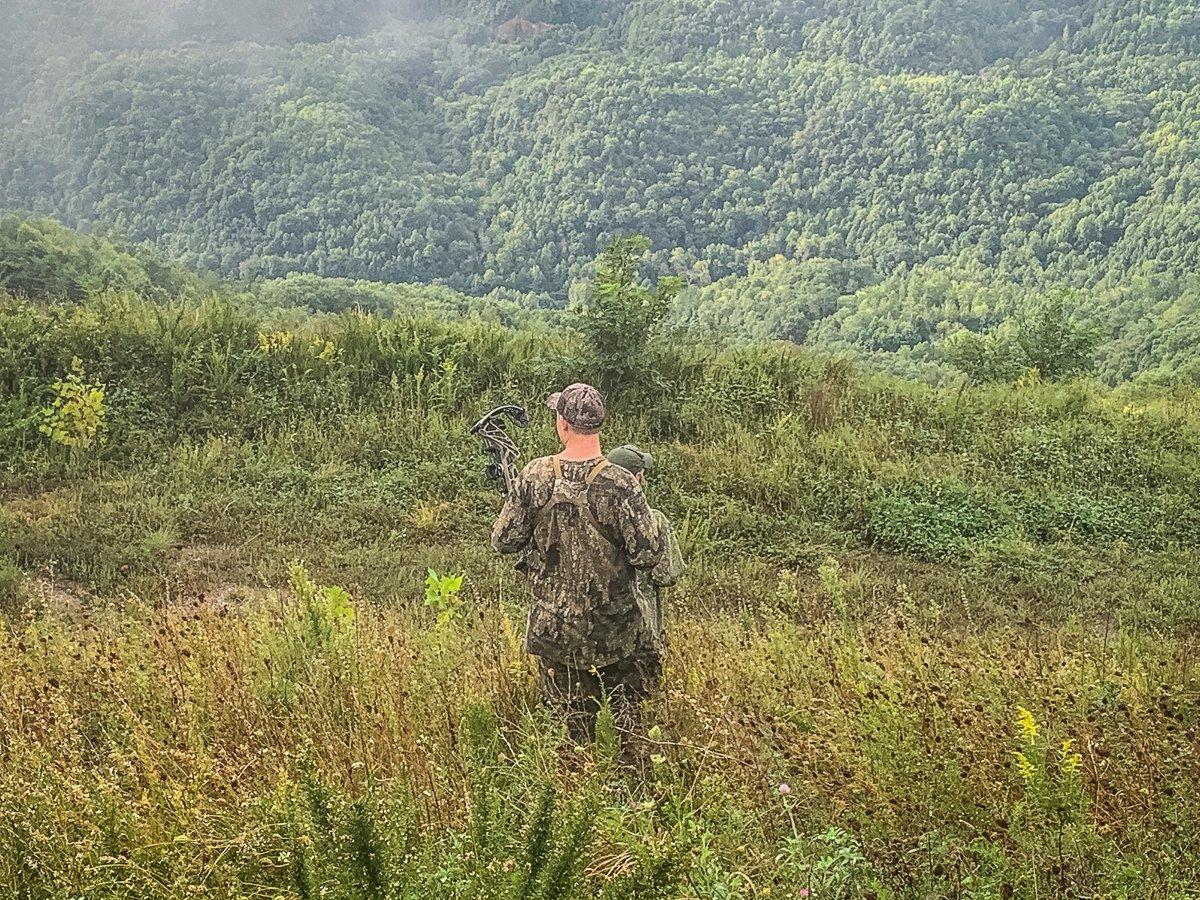 But as daylight approached, our plans changed. We began to hear cows mew on the bench just below our trucks. Knowing there was no way to get to the planned spot without busting the herd, Eric and Potroast took advantage of a good wind and slipped up to the rim just above the cows.
As the darkness faded, they began to pick out the shapes of the cows below. The closest was in easy bow range, but Potroast decided to wait for a bull. Then they saw him. Coming through the brush below was a 6x6 frame that dwarfed the 4x4 they intended to hunt. The bull stopped at 40 yards, but obscured by brush, he offered no shot. With so many elk around, Potroast and Eric had no choice but to wait. Eventually, the bull followed a cow over the rim of the bench below, and out of sight. We saw the bull again that evening, but again, he stayed in cover without offering a shot.
(Don't Miss: The Country's Best Elk-Hunting Units)
That flurry of action faded quickly, too. The September heat stifled the elk movement and killed our hopes of hearing any bugling. And, with the pandemic in full swing, people with time on their hands swarmed the mountain trails with ATVs. On the fourth evening, I sat on the end of a ridge at a high spot to glass while Potroast and Eric worked down to the thick timber, where we thought elk were bedding.
Even through we were miles from the main roads, I heard the sound of a UTV heading our way. It continued past our parked trucks and down the dirt path. There were four guys aboard, clearly just out joyriding, music blaring from roll cage-mounted speakers. Even though I was standing in plain view, wearing full camo and glassing through a spotting scope, the foursome drove to within 50 yards, parked, removed three used tires from the bed of the UTV, doused them in lighter fluid, and set them on fire. They stood there and watched it burn for a few minutes, then loaded up and left, leaving the smoldering tires behind.
(Your ride needs camo. Realtree Camo UTV kit for sale.)
Hearing the commotion and knowing their chances at seeing an elk were probably gone, Potroast and Eric returned to my location so we could go glass a different area before dark. We stomped out the fire, too. The remainder of our September hunt ended with just one more bull sighting, and he was with a group of cows on a different ridge. By the time we worked toward them, they'd vanished — and so had our hopes of killing a rutting bull. We had other travel planned for the fall, and knew we couldn't return to hunt again until early December.
Late Shift
The first day of the December hunt was slow, too, but on the second morning we found a young 3x2 bull feeding alone on a grassy finger ridge near heavy timber. With a bad wind and no way to circle up from below, all we could do was watch him as he fed into the timber. Figuring he'd bed there for the day, we made plans for an evening ambush.
Toting a crossbow, Potroast would go in alone and find a spot behind scrub brush to sit on the ground and wait for the bull to emerge from the timber before dark. Eric and I circled around the next ridge and glassed, hoping to see the bull and use hand signals to relay to Potroast if he needed to relocate.
(Don't Miss: Elk Calling Strategies for Today's Public Land Hunter)
And it worked. With a little over an hour of daylight remaining, the bull materialized from the timber and began to feed toward Potroast, just 150 yards up the ridge. Over the next 45 minutes, the elk meandered his way along, never taking more than a step or two at a time without stopping to graze. As the sun set, whitetail does filtered onto the hillside around Potroast. We were concerned that the deer would get downwind and spook the elk as they blew out, but there was nothing we could do but watch and hope. As the bull ambled into range, he rubbed a small tree just 45 yards below Potroast. Suddenly, through our optics, we watched the elk jerk his head up and deer scatter in all directions. The bull turned and trotted back toward the timber. It looked like our fears had come true and the deer had spooked, scaring the bull into heavy cover. But then my phone rang. The shot looked good, Potroast said, fighting to control the adrenaline in his voice. Right behind the shoulder, and I could see blood.
(Camo fleece vest, on sale and priced right.)
A Quick Pistol Fight
Eric and I both whooped and high-fived. I told Potroast to stay put, then messaged Nate and Andy to fill them in. By the time everyone had convened, 45 minutes had passed. With heavy rain in the forecast, we decided to ease down to the spot of the shot and take a look. Bright red blood spattered both sides of the trail in large splotches, and the trail only got heavier as we followed it along. We all agreed that no animal could bleed that much and go far, so we continued.
As we neared the spot where Eric and I had lost sight of the bull, Nate, at the front of the line, held up his hand. The bull was bedded, but alive. Just as he stood, Potroast sent a second bolt through his lungs, and the bull vanished over a near vertical cliff. We listened as he rolled and crashed down the mountain.
Just like that, the front door slammed open, and two men emerged and began firing shots into the darkness.
After surveying the terrain, we quickly realized that once we dropped over the edge, there would be no way to climb back up, much less pack out an elk quarter. Eric said there was a road that would take us to below were the elk had gone, and that he had a key to the locked gate we would need to pass through. We decided that Nate, Potroast, and Andy would shuffle down the mountain to recover the elk, and Eric and I would take the trucks and pack frames down from the road to hopefully get on the same level for the pack out.
When we got to the gate, we found a new lock, and we didn't have a key for it. Eric started back up the mountain to get enough cell service to call to see who might have put the new lock on and might have the key we needed. I waited by the gate.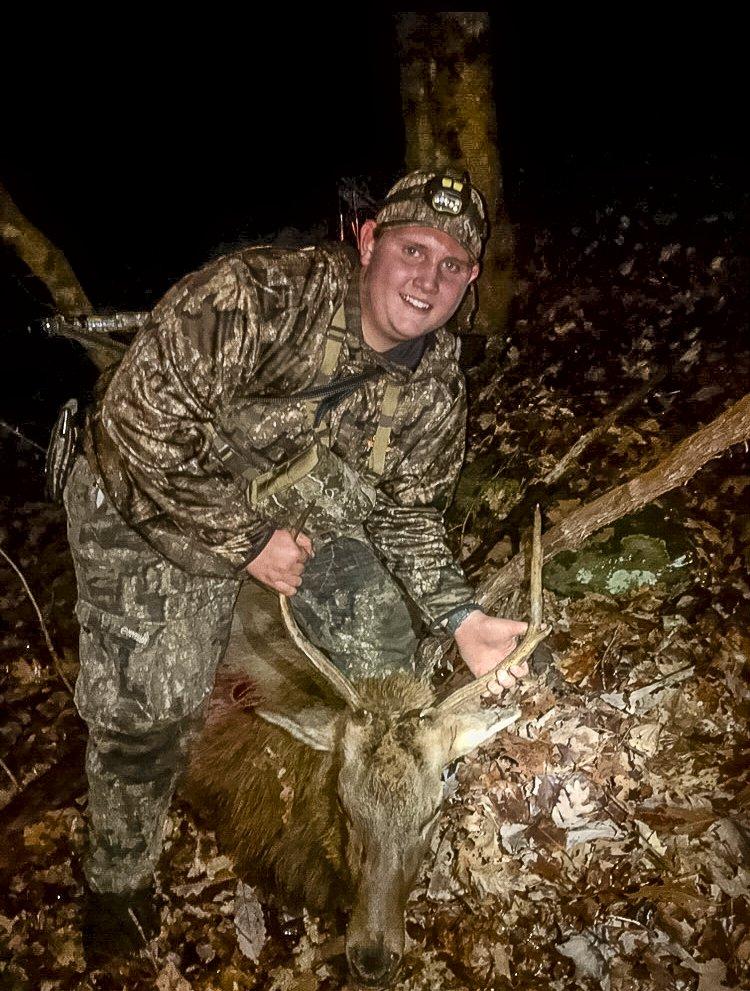 As I stood in the darkness, I noticed a ramshackle singlewide trailer below. I assumed it was abandoned, but then an outdoor light bulb flickered on. Just like that, the front door slammed open, and two men emerged and began firing shots into the darkness.
I dove to the ground as a truck started and roared up the hill. Not knowing who they were, and armed with only a small carry pistol, I stayed low and quiet as they opened the gate and drove past.
(Check out the Best Gun Stores in America)
Eric, hearing the shots, immediately rushed down to investigate. After a tense conversation, with us explaining why we were there and who had given us permission to hunt the area, the guys apologized for shooting — they claimed they'd had some scrap metal stolen recently — and then they became downright jovial. They opened the gate, and even told us about another side road nearby that might get us closer to the bull.
The Search Continues
Not knowing where the elk had ended up, and with no way to contact the rest of the group, all we could do was wait at our planned meeting spot for word from the others. We sat for over an hour in the dark, and it seemed like forever to a worried father. But then we saw a pinprick of light in the timber below. It was Nate's headlamp.
He told us that they had followed a massive blood trail down the mountain, sometimes sliding down on their behinds because it was too steep to stay on their feet. They eventually caught up to the bull, which had just enough life left to dive over one last cliff to the flat bench below before dying.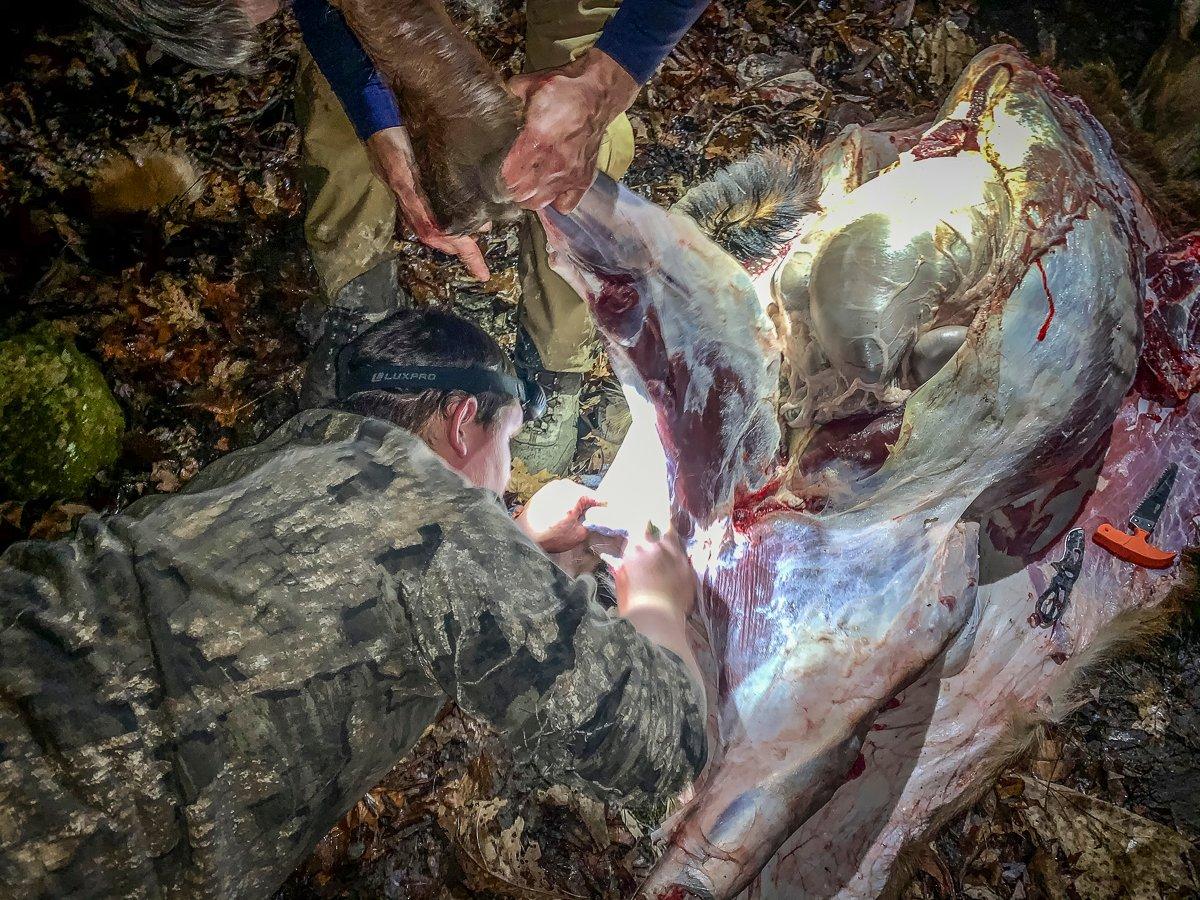 The elk was now on the same level as the trucks, but washed-out ravines meant we couldn't get closer than a mile with a vehicle. We gathered pack frames and meat bags and started back in to where Andy and Potroast were butchering the elk.
The storm was still coming, and so the pair had started the work only after snapping one quick phone photo of Potroast with his first elk. That was my only disappointment of the entire hunt (even more so than being shot at). By the time we got there the bull was skinned, and they were removing the quarters.
With multiple hands, we made quick work of the remainder. Soon, every scrap of meat was stuffed into game bags and loaded on pack frames for the walk out.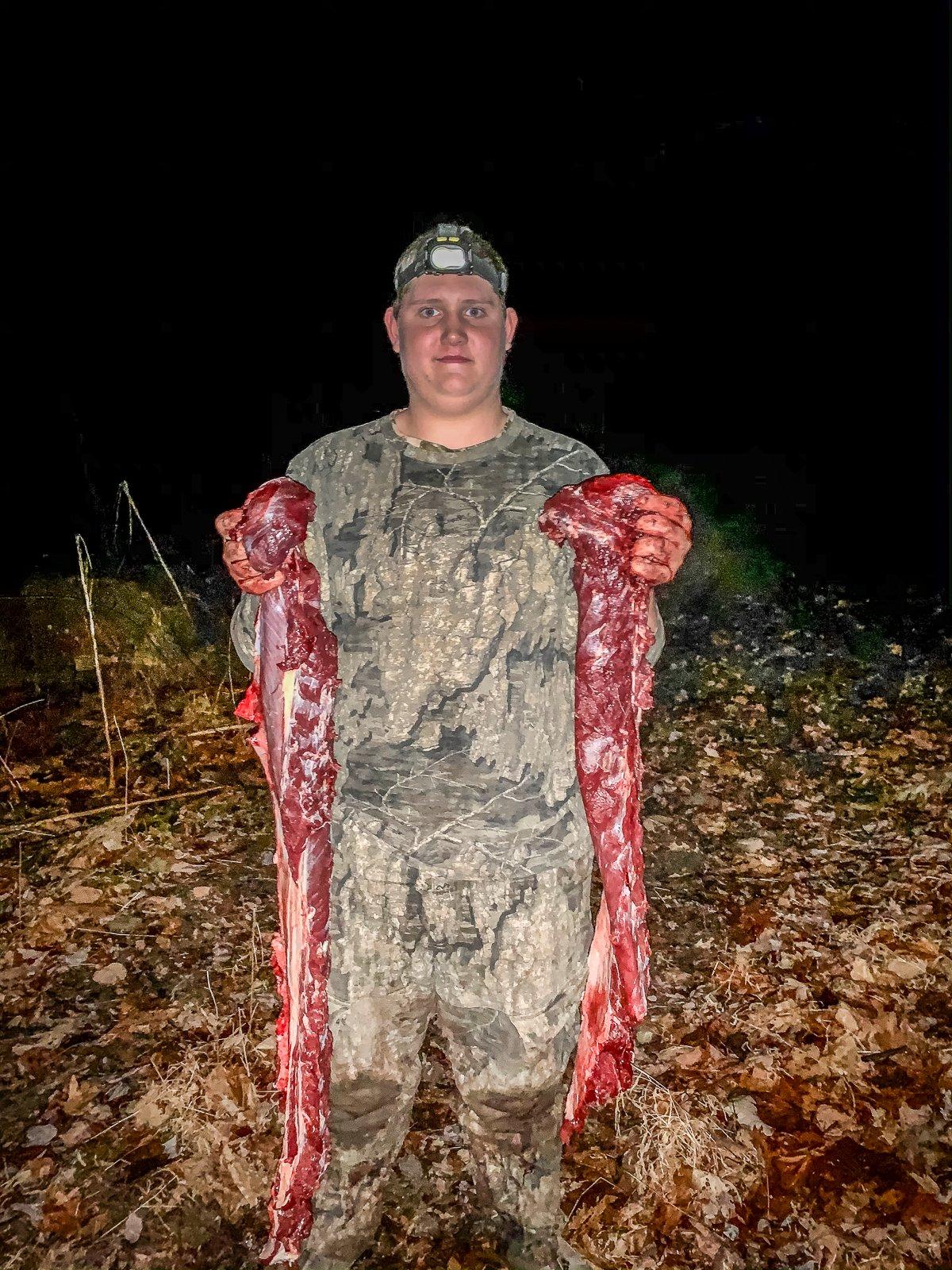 We made it out with everything in a single, grueling trip. And despite the quirks of elk hunting in Kentucky, Potroast's hunt was a success. Out of 175 allocated archery and crossbow tags, Potroast was one of only 74 hunters to tag a Kentucky elk.
I've been asked, would I do it again? You better believe it. I put in this past spring, and like all the others previously, I didn't get drawn. But it can happen, because I've seen it.
Listen to the full tale of this Kentucky elk hunt on the Realtree Outpost Podcast:
Sidebar:
Elk in Kentucky?
The last known native Kentucky elk died sometime in the early 1800s, and for decades, there was no bugling in the Bluegrass State. But that changed in the mid 1990's when Tom Baker, a Kentucky Department of Fish and Wildlife Resources commission member and chairman of the Kentucky Chapter of the Rocky Mountain Elk Foundation decided that he, along with a team of Fish and Wildlife employees, wanted to bring elk back to Kentucky.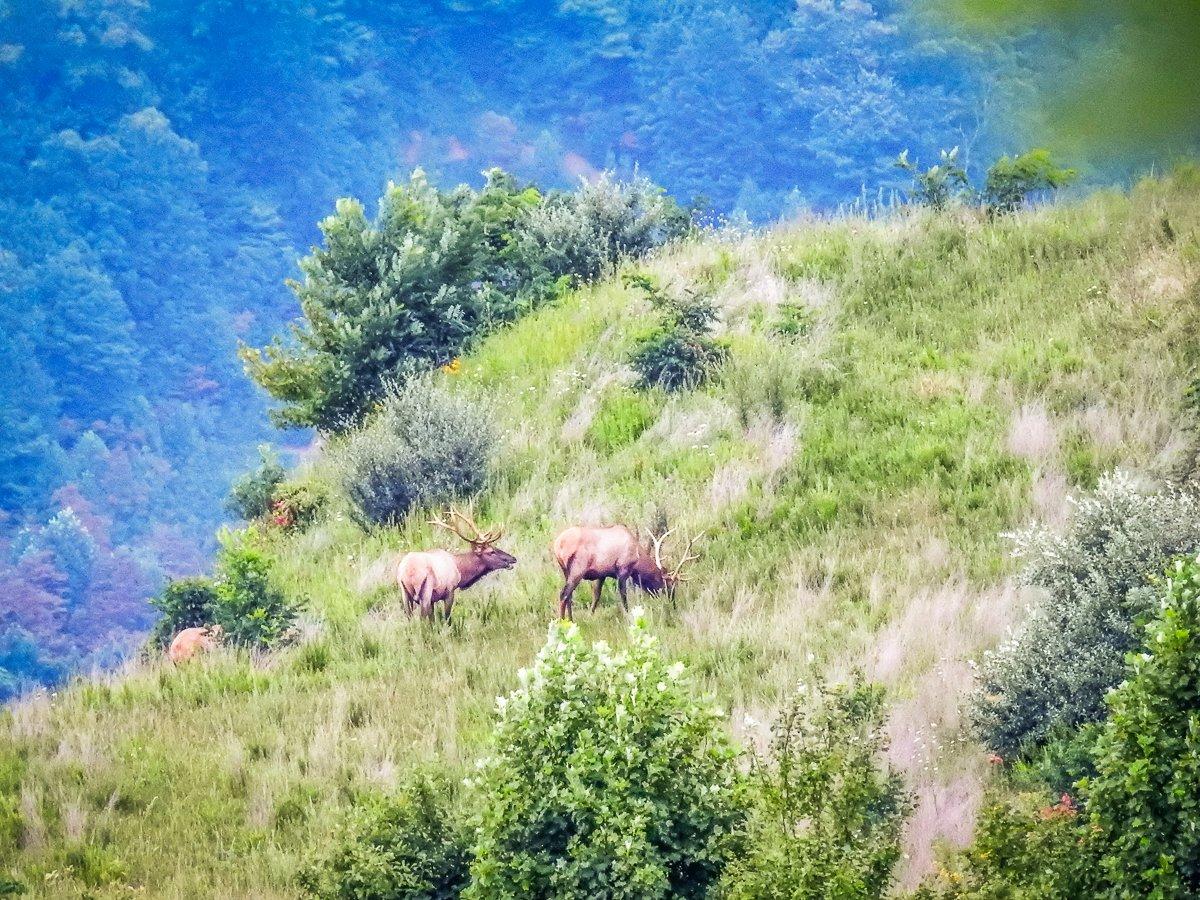 Many were skeptical that western elk could survive in the Eastern U.S. because they hadn't developed a resistance to brainworms, a parasite that occurs naturally in moist eastern climates. But Baker found research showing that western elk could live in Kentucky. He convinced a federal judge to divert the fines from a baited dove hunting case as seed money for a test herd. In 1996, 29 elk were released into a 700-acre high fence area of Land Between the Lakes wildlife area in western Kentucky. The elk not only survived brainworm, but they thrived on the lush vegetation and mild winters.
The next step was to establish a free ranging herd. The reclaimed mine land of the Eastern Kentucky Appalachians was the perfect location. Of its 2.3 million acres, only 1 percent was crop land, and the remaining 6 percent grasslands and 93 percent forests made perfect elk habitat.
While the KDFWR now knew the elk would survive here, paying the enormous cost of the restoration process was an issue. When the Rocky Mountain Elk Foundation pledged 1 million dollars, the final piece was in place. On December 17, 1997, the first wild elk to roam Kentucky in more than 150 years were released. A crowd of more than 4,000 people looked on as the elk left the trailer and disappeared into the dark hills.
From the beginning, the Department had the goal of a huntable population, and permits were awarded via a lottery. Initially, only a handful of applicants got drawn, but as the herd grew through repeated releases and natural reproduction, the number of tags drawn each year also grew. While tag numbers increased quickly in those early years, they have now leveled off and still remain miniscule compared to the number of applicants. For the 2020 season, 45,878 hunters entered the Kentucky elk draw. Only 594 of them successfully drew a tag.