Anthony Dixon gave us an overview of the 2013 Elite Hunter at the ATA Show last January, and our test panel of female archers reviewed a 40-pound, 24-inch version back in March. But I've been shooting a 60-pound, 28-inch Hunter for a while now, and figure it's time to wring it out in a bit more detail.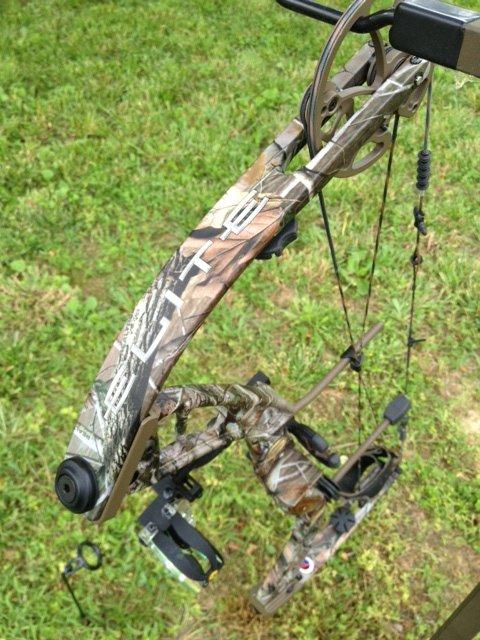 First, the specs. The Hunter, despite sharing a name with the 2012 bow, is a new design. It's 31 1/2 inches axle to axle with a long 7 3/4-inch brace height and modified cams that give it a modest speed bump over the 2012 model. It comes from the factory with custom Winner's Choice strings and cables and retails for $899.99. That's expensive, but really not a bad MSRP compared with other flagship models.
Elite makes, in my opinion, the sharpest-looking bows on the market right now. Everything about the Hunter seems well-finished, sleek and high quality. The metal parts of the bow such as the cable guards, limb pockets and cams sport a Cerakote finish that Elite claims offers impact, scratch and corrosion resistance. If I were to abuse the bow enough to test the claim, Elite's marketing folks would probably invoice me for it. So I didn't do that. But it is a nice looking touch, and I'm guessing an advantage in the woods.
Appearance aside, how's the thing shoot?
Well, it has a crisp draw cycle, 80 percent let-off, a solid back-wall and valley unlike anything else you're likely to shoot right now. It's almost difficult to lower the bow from full draw. In short, it's very comfortable and very shootable.
The shootability comes at a cost in speed. The bow I'm shooting launches a 357-grain finished hunting arrow at 277 feet per second (that's through a Whisker Biscuit; expect it to break 280 with a drop-away rest). That's fast enough to kill any critter you want. But it's lagging way behind most other 2013 flagship bows. A Bear Motive 6 and Hoyt Spyder Turbo (both of which we'll be reviewing here) clock 292 and 299, respectively, with the same specs and same arrow.
The speeds are largely a product of the brace height. Both the Hoyt and Bear have 6-inch brace heights. The Hunter's 7 3/4-inch brace height, built in for added forgiveness, is reminiscent of bows from five years ago. And so are the speeds.
Personally, I'm a harsh judge when it comes to speed. I like a fast bow. But the ease of shooting this bow does make up some ground lost by those slow numbers. I'd have no qualms about hunting with it. At the end of the day, shooting the Hunter is maybe like dating the slowest, but hottest, girl on the track team. Sure, she gets left behind on the 100-yard dash. But does anyone care when you're out on the town that night?
If your idea of a good bow centers around comfort and shootability, then this is a bow to consider. Visit Elite Archery's web site for more details.