Check out these whitetail fights hunters witnessed in the woods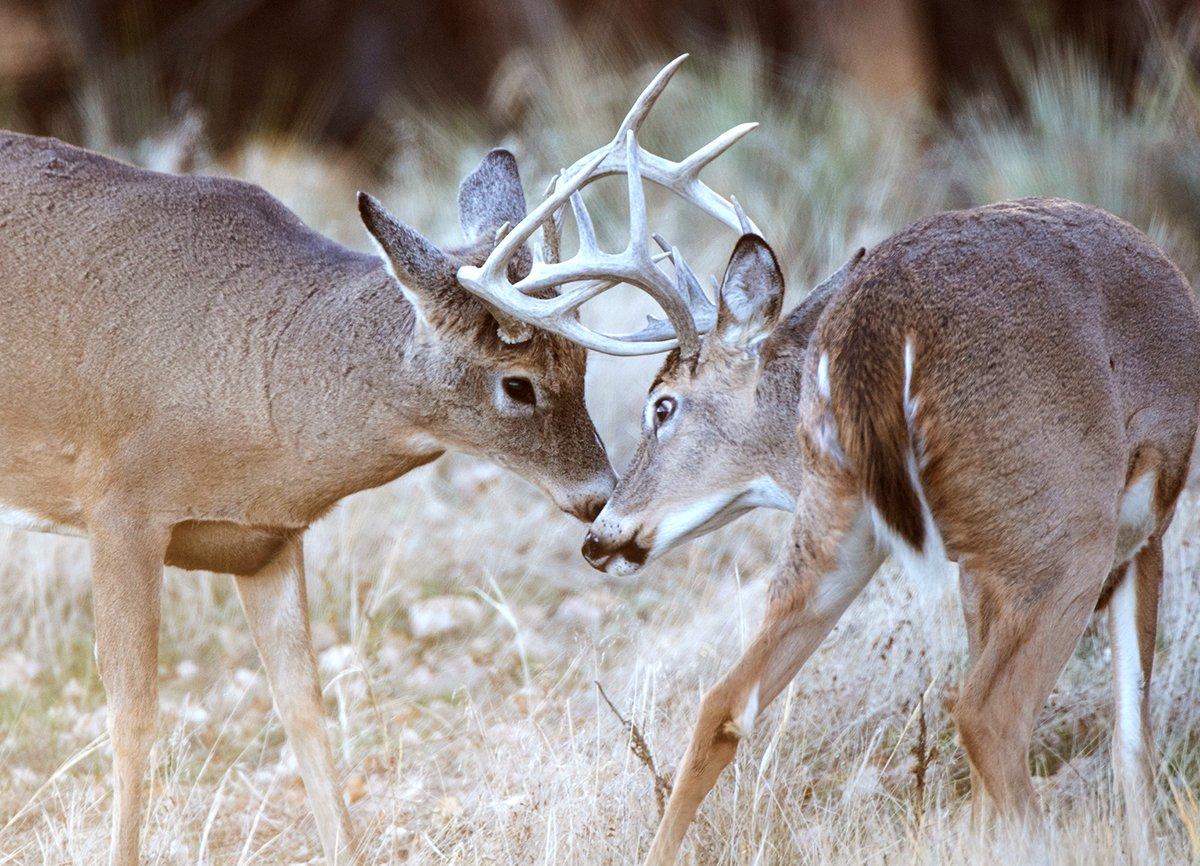 Buck fights are some of the most interesting scenes hunters can experience in the wild. Seeing two big deer brawl for dominance is something to behold. Generally, these encounters are brief or not very visible. But sometimes, things get interesting. These eight buck fights are prime examples. Check out these cool videos.
Dominant Buck Gores Dead Deer
Realtree pro-staffer Josh McDaniel is a serious whitetail hunter. He spends a lot of time pursuing deer in Indiana, which is where he filmed a unique encounter. He shot a great buck during gun season. Minutes later, another mature deer walked into view, postured toward the downed deer and then gored it repeatedly.
Big Bucks Fight in a River
Midwest Whitetail's Jared Mills is an accomplished Iowa deer hunter. He's logged countless hours in the whitetail woods, and he's seen some incredible things. One of those was an intense buck fight between two Midwestern studs, which occurred partly within a shallow river. Talk about testosterone. These bucks were feeling it.
Rut-Vamped Southern Bucks Duke It Out
Bone Collector's Michael Waddell has logged a lot of time chasing whitetails, and he's seen several buck fights. But he hasn't seen many fights in the South. On this hunt, he watched two Georgia deer go at it. Interestingly, the smaller-bodied, smaller-antlered buck won the slugfest.
Three Bucks Square Off
Texas whitetails are known for their massive racks, but they have attitudes, too. In this video, two bucks fight. Then, a third challenges the victor and pins him to the ground. All of that occurred in front of the two guys filming the encounter.
Bruiser Bucks Brawl on Prime-Time Trail Camera
Trail cameras set to video mode often capture interesting things, but they rarely get footage of two bucks fighting. That's what Urban Hillbilly Outdoors found on one of its card pulls, though — footage of an intense brawl between two bruisers.
Buck Gores Rival to Death
Brief to moderate sparring matches and fights are common among bucks. They happen every day. Serious fights that play out for several minutes are rarer, though. Although it occurs, death from a fight is even less common. That makes Chad Yousey's video unique. He filmed a buck kill and repeatedly gore another whitetail. No compassion. No mercy. Just unbridled rage.
Locked-Up Bucks Freed with Chainsaw
Owen Reigler of Midwest Whitetail has tagged many big whitetails, but a few seasons ago, he encountered something he hadn't seen before. Two bucks were fighting and also locked up. In a haste to keep them alive, he freed them with a chainsaw. Note: Don't try this yourself. This is very dangerous.
Game Warden Shoots Antler to Free Locked-Up Bucks
Bucks rarely get permanently locked up during fights, but it happens. One example was made known to a Kansas game warden, who freed the two seemingly doomed deer and kept them alive. By covering the deer with a blanket to calm them and then shooting one of their antlers, he unburdened the tension that kept the bucks locked together. Again, don't try this yourself, as such situations can be very dangerous.
(Don't Miss: 30 Reasons You Won't Get Your Target Buck This Fall)