Budget Bow Review: Cabela's Regulator by BowTech
Thumb through the archery section of a Cabela's or Bass Pro Shops catalog and you'll see several fully rigged bowhunting packages. These compounds are typically sold ready to go with a sight, rest, quiver and other accessories. A new, and much talked about, entry into this category is the Cabela's Regulator, a single-cam made by BowTech. Like some other package bows, this one has a wide range of adjustment, capable of draw weights ranging from 50 to 70 pounds and draw lengths of 26 to 30 inches. It has a 6 1/2-inch brace height and 32-inch axle-to-axle length. The package includes the bow in addition to an Apex 3-pin sight, Hostage Rest, Octane Quiver and stabilizer, peep, d-loop and wrist sling. The cost for all that is $549.99.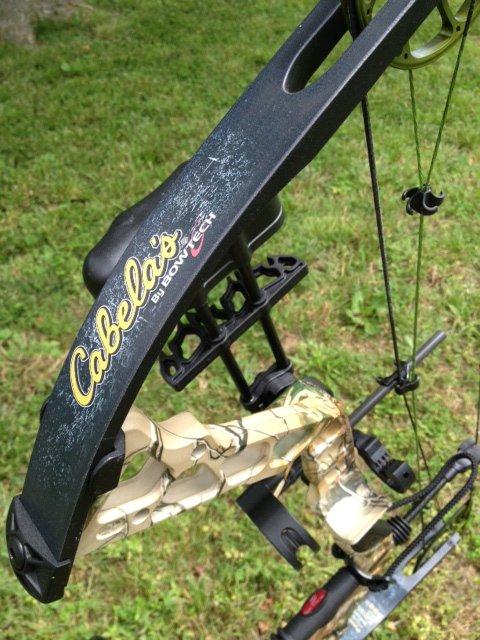 Shooting a 357-grain arrow through the Hostage rest with the bow set at 60 pounds / 28 inches, I got chronograph speeds of 286 feet per second. Not bad at all for any single-cam set at those specs. Max out those limbs and replace that capture rest for a drop-away, and this bow should break 300 fps with a finished hunting arrow.
The draw cycle is consistent and smooth, with a decent back wall and nice valley. It's not what I'd call whisper quiet, but it's not loud, either, especially considering there's not much built into it for noise suppression. It is equipped with a string stop, and, for the most part, is vibration free. The plastic grip feels cheap, but it's thin and comfortable. I could live with it.
I'm lukewarm to the accessories. Apex makes some good sights, but the one shipped with the Regulator is only a bit better than toothpicks taped to the riser. It has a flimsy plastic housing, pins that will break given time, and a rather complicated 2-part pivoting adjustment that requires loosening two hex bolts. While it allows a lot of adjustment, the system makes no sense to me for a 3-pin sight. Replacing that would be step one for me. The Hostage rest works well enough, and is easy to adjust. The little included stabilizer won't do much of anything for you, but it doesn't hurt to have it.
All in all, this is a fine bow for the price, with performance not far off several pricey flagship bows I've tested this season. I'd order it in a heartbeat, and use the money I saved to buy extra doe tags. And a different sight.