First Legal Buck of 2012?
I've posted before about the early rut timing in South Florida. While I've never deer hunted down there, I have done plenty of hog hunting near Clewiston in February and March. Seeing spotted fawns at that time of year is a regular occurrence.
Since 2010, several South Florida counties have offered bowhunters the earliest crack at whitetails in the nation -- and rutting ones at that. My buddy Alan Clemons, managing editor at Deer & Deer Hunting, experienced it for himself the other day. The buck he killed could be the first buck legally taken anywhere in America for 2012.
We invited him over for a guest post. Check out his story below and by visiting the Deer & Deer Hunting site.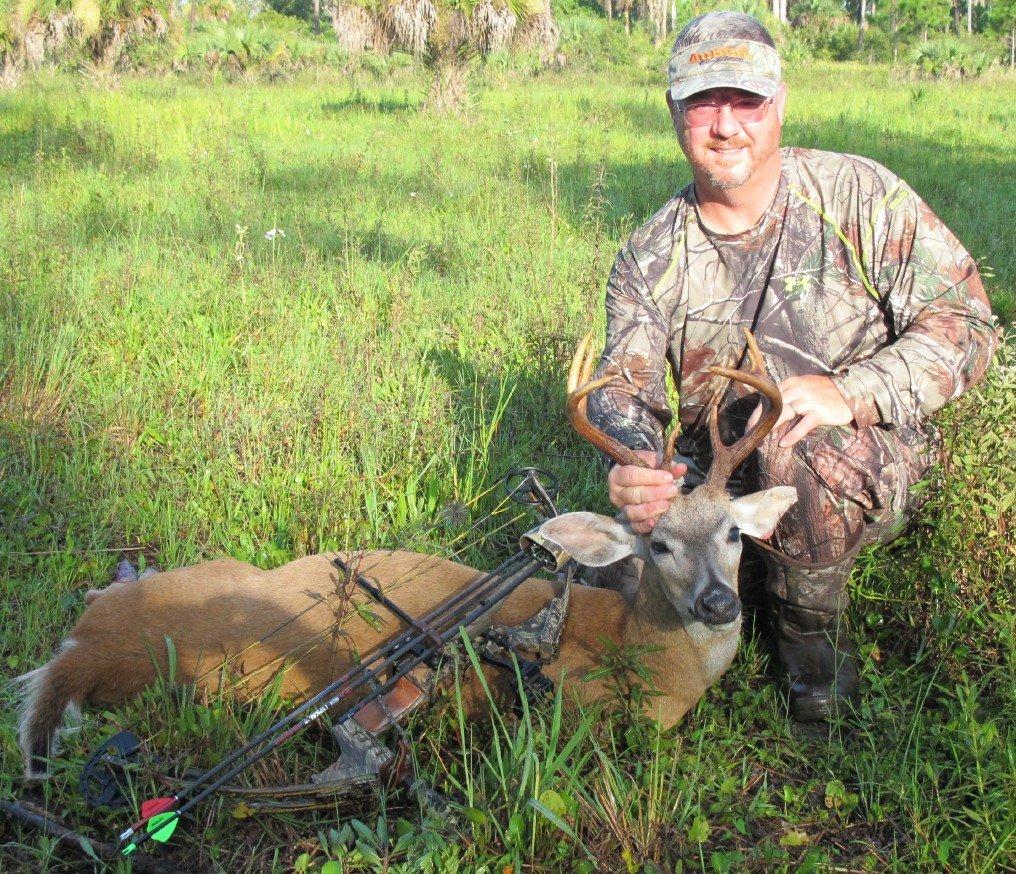 Florida's south zone early bow season always has intrigued me because it always has been one of the first to open in the country, which is pretty cool. Any opening day is special but to have only one, or maybe a handful, of states or areas to open an entire hunting season like this is neat and unique.
In 2010 the Florida Fish and Wildlife Commission reorganized the zones and dates to coincide more with the rut throughout the state. Remarkably, the Zone A rut in the 16 southern counties is going on right now. We saw scrapes and rubs, and watched a buck chasing a doe outside our hosts' camp house. The local cowboys on the cattle ranches have said bucks split up three to four weeks ago and have been showing more aggressive signs of following and chasing does. They drop their antlers in January and February, and start growing again in spring.
To say you hunted the rut in July with temperatures in the mid- to upper-90s each day is just mind-boggling. My buck was alone Saturday morning on his way to a food plot and feeder, which is legal in Florida, and I definitely had Lady Luck with me. Dane Walker was assisting us with our hunt and did a superb job of blood-trailing. Our hosts, Charlie and Laura Palmer, said they believe Dane is one of the finest outdoorsmen and hunters they know, and I wholeheartedly agree.
We started thinking in February about this project of covering deer season in the United States from start to finish, from the first day in Florida's southernmost zone to the final day of whatever state ends its season in February. I believe that will be Arkansas. That's about seven months of deer hunting. Deer & Deer Hunting's editors and our television crew will be traveling from Florida to Wyoming this year hunting whitetails. We'll be exhausted when the season ends but are looking forward to it, as any deer hunter would be.
Our son asked me if this was the first buck anyone killed in Florida and, honestly, I don't know. But I think it probably was one of the first ones, and definitely was one of the first deer killed legally in America this year. That's pretty cool and something I'll always remember. I'm already looking forward to going back next year. -- A.C.