Road trips and air plane rides can take their toll on archery equipment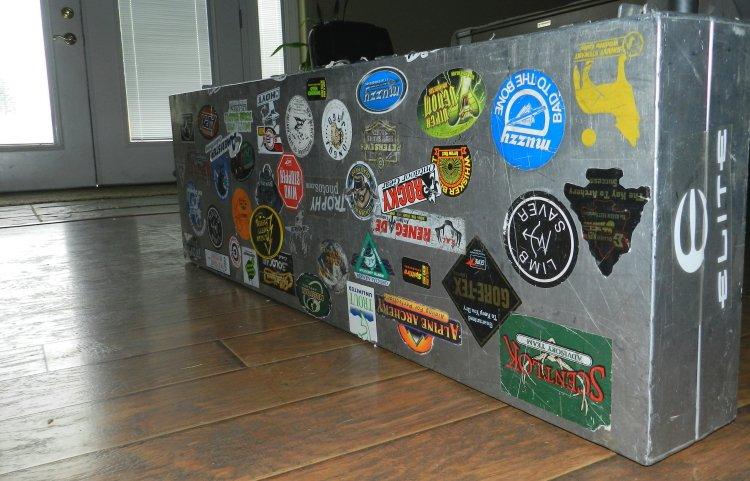 Flying to bowhunt has become increasingly challenging (and costly) thanks to money-grubbing schemes adopted by most airlines. There are now lowered baggage-weight allowances in conjunction with shakedowns for checking more than one bag, even if the passenger beside you requesting the seat-belt extension outweighs you by three times the weight of your second bag.
Here's the challenge: Pack everything you'll require for a prolonged bowhunting sortie into a single bag weighing only 50 pounds. Of course, your bag may weigh more, but you'll pay dearly (to cover the cost of keeping additional employees ready to assist in lifting "heavy" bags).
If you wish to travel with compound bow, and will be bowhunting cooler climates (requiring bulkier insulated clothing), two bags, a hard bow case and big duffle, become mandatory. The bow case will cost you a minimum of $60 (assuming that it weighs less then 50 pounds). It'll cost you more with anti-hunting carriers charging more for weapons cases than, say, items that are more unwieldy but less "threatening" such as golf clubs or skis. Consult your carrier's web site for details. When at all possible boycott companies with discriminating policies.
In the good old days (pre-2008), the baggage allowance was two bags and each could weigh up to 70 pounds. This made even 20-day, do-it-yourself forays into the Alaskan bush (something I've enjoyed some 15 times) possible.
But those days are gone. Here's what you should do now.
Bag No. 1: The unavoidable hard bow case, all left-over space stuffed with clothing and essential archery gear. That case doubled as a camp table.
Bag No. 2: Large backpack containing all camping and cook gear; clothing, hip boots and arrow tube. Food was purchased upon arrival, despite Alaskan markups. Today, Alaska preparations involve parcels shipped ahead via UPS, or contacting equipment rental outlets.
Here's how I juggle for an "average" airline ride today: Strip all the internal padding from the hard bow case. Place the bow in a padded soft case (welcomed during ATV rides or in pickup beds during hunt) and stuff inside hard case. Place required hats, gloves, base layers and minimal bow gear in available space. Step onto a bathroom scale, note the weight, pick up the case and subtract the difference. Toss out whatever isn't absolutely necessary or can be purchased affordably, to make 50 pounds.
Install all broadheads (sans blades), field and stump-shooting points on arrows and stuff into a hard tube (Easton offers a good one). Choose only clothing with high warmth-to-weight ratios -- read synthetics, especially in cold weather. Stuff all into a roller duffle. Wear hunting boots on the airplane if necessary. Weigh bag. Place excess, and anything possibly tempting theft by minimum-wage goons who'll be rifling your bags (save TSA-prohibited items such as nail clippers and toothpaste vessels exceeding 4 ounces, of course) into your carry-on; my own is a 3,200-cubic-inch daypack.
And that should pretty well do it.