QDMA Fights Captive Deer Breeding
Efforts to legalize captive deer breeding were stopped in three southern states—Mississippi, Georgia and Tennessee—during the 2012 legislative session. The QDMA reported in a press release this morning that additional legislative victories (at least in QDMA's eyes) regarding captive deer breeding were had in Indiana, Missouri and West Virginia. Most of the bills in those states focused on the topic of whether captive whitetails are classified as wildlife or livestock, and therefore whether authority over them is under state DNRs or departments of agriculture.
The QDMA is opposed to captive deer breeding, and they make a good case as to why. The typical reaction I hear from hunters is, I don't want to kill a deer in a high fence—but this is about property rights. If I want to grow a freak buck in a pen on my farm, I should be allowed.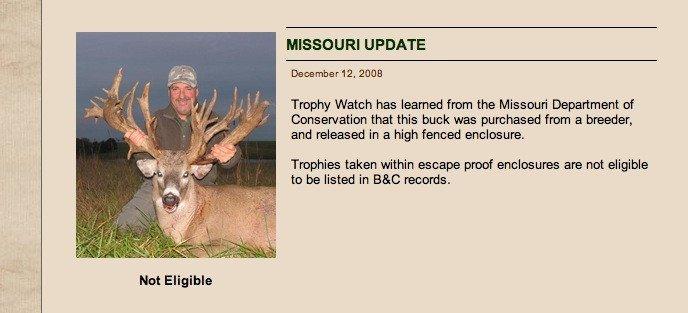 Makes sense, but QDMA addresses that very issue in their stance on captive deer breeding. The North American Model of Wildlife Conservation—you know, the one that saved whitetails from near extirpation—says that wildlife is collectively owned by all citizens. QDMA contends that captive breeding has a potentially negative impact on native whitetail herds—and hunting. Introduction of disease, namely CWD, is one. Beyond that, do you really want your favorite 100-acre farm bordering your neighbor's deer pen? Like dumping oil in the creek because it's running downstream of here, things that negatively affect others need to be regulated.
Take the time to read QDMA's full stance on captive deer breeding. It's straight-forward but compelling stuff that addresses a litany of issues. And although it doesn't say it on the QDMA site, it could be argued that those issues don't just apply to deer—but with the whole high-fence/captive-bred game animal industry.
Most deer hunters have a big problem with buying an inbred freak of a buck, releasing it into a pen and killing it three days later. But what about some of the high-fence enclosures that are 10,000 acres and full of exotic species? Populations of critters such as black buck antelope are actually so big in Texas that they've been used to restock the animals in their native range in Asia. Seems that's a good thing—but the animals have also escaped, and are competing with native wild species, whitetails included, right here on our soil.
I guess at the end of the day, we've got a high-fenced, captive-bred mess on our hands—one that may never be corrected. And though I've shot quail on preserves, bowhunted pigs on a ranch in the Cumberland Mountains, and have had numerous articles complemented by photos of big bucks that were no doubt taken behind fences, I've got to stand with the QDMA on this issue. Commercial captive breeding of game animals would seem to be a negative thing in the long run. What say you?