We reveal our thoughts after a full year of testing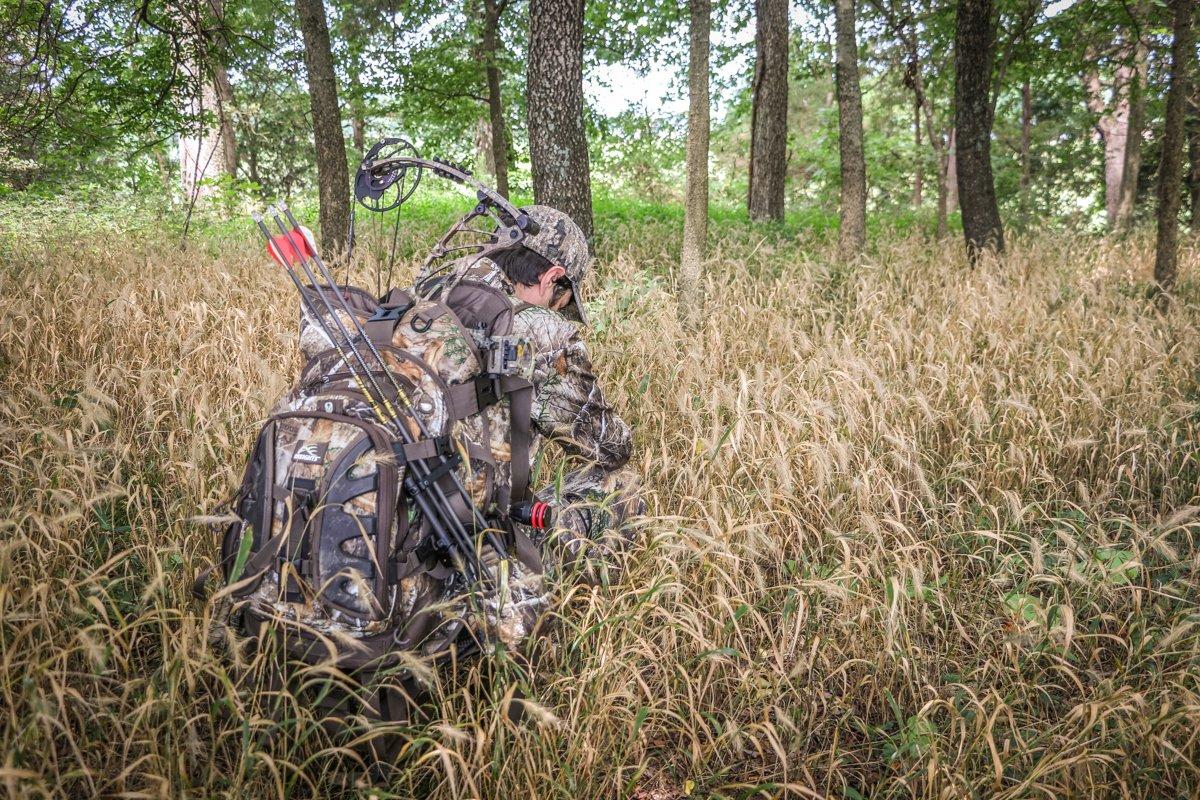 I've been putting The Vision pack from Insights Hunting through the wringer since last September. If you've never heard of this pack, it's pretty innovative, and you can even strap it to the tree.
A full season (and off-season) with this pack has shown me its true worth. Here's the rundown.
Comfort and Fit

Rating: 4.9 out of 5
With padded straps and even weight distribution, The Vision is a comfortable pack, even with a full load. The waist strap is adjustable to help reduce the load on your back and shoulders. Packs with bow or rifle carriers often protrude and poke you in the pack, but this one doesn't. Plus, its compression-molded gear shields also function as an anchor system, making it a well-balanced backpack.
Stealth

Rating: 4.5 out of 5
With 1,780 cubic inches of space, this is a big pack, as whitetail hunting packs go. It isn't going to be as quiet as smaller, sleeker designs, such as The Element. Still, the fabric material is made from micro-brushed Tricot with a spray on poly backer for water resistance, which almost has a fleece-like feel to it. It also comes with waterproof fabric, which improves the longevity of not only the pack itself but also the contents inside of it. Buckles, straps and zippers are relatively quiet, too, though you'll still need to use them with care to remain completely silent.
Pockets
Rating: 5 out of 5
This thing has all the pockets you'd need. There are nine compartments of various sizes that create plenty of places to stash your stuff. It easily carried my calls, rattling antlers, quiver, optics, haul line, straps, emergency kit, camera gear and everything else I carry afield. A favorite feature of mine is that the pockets are on all sides, even in the waist strap. That made it easy to get to stuff while in the tree. I placed the most important items in the most readily accessible pockets.
Functionality

Rating: 4.5 out of 5
At 30 inches by 18 inches by 3 inches, The Vision is a fairly large pack. However, it's still balanced and functional. With the TS3 front panel system, this pack is one of the best big-game-specific models I've ever tested. This design offers increased balance, stability and storage. It's hands down my favorite for the solo, do-it-yourself deer hunter. I self-film most of my deer hunts. Because of that, I have to use a pack that can fit all of my hunting gear and camera equipment, too. This pack met that demand with ease.
It also has a unique feature that allows you to securely strap the pack around the trunk of a tree. This keeps it out of the way and easily accessible whether in a treestand or hunting from the ground.
The pack itself weighs 4.5 pounds. I weighed my pack last fall to see how heavy it was once fully loaded with the gear I use. It was over 30 pounds with all of my hunting stuff and camera equipment. That said, it never busted out at the seams.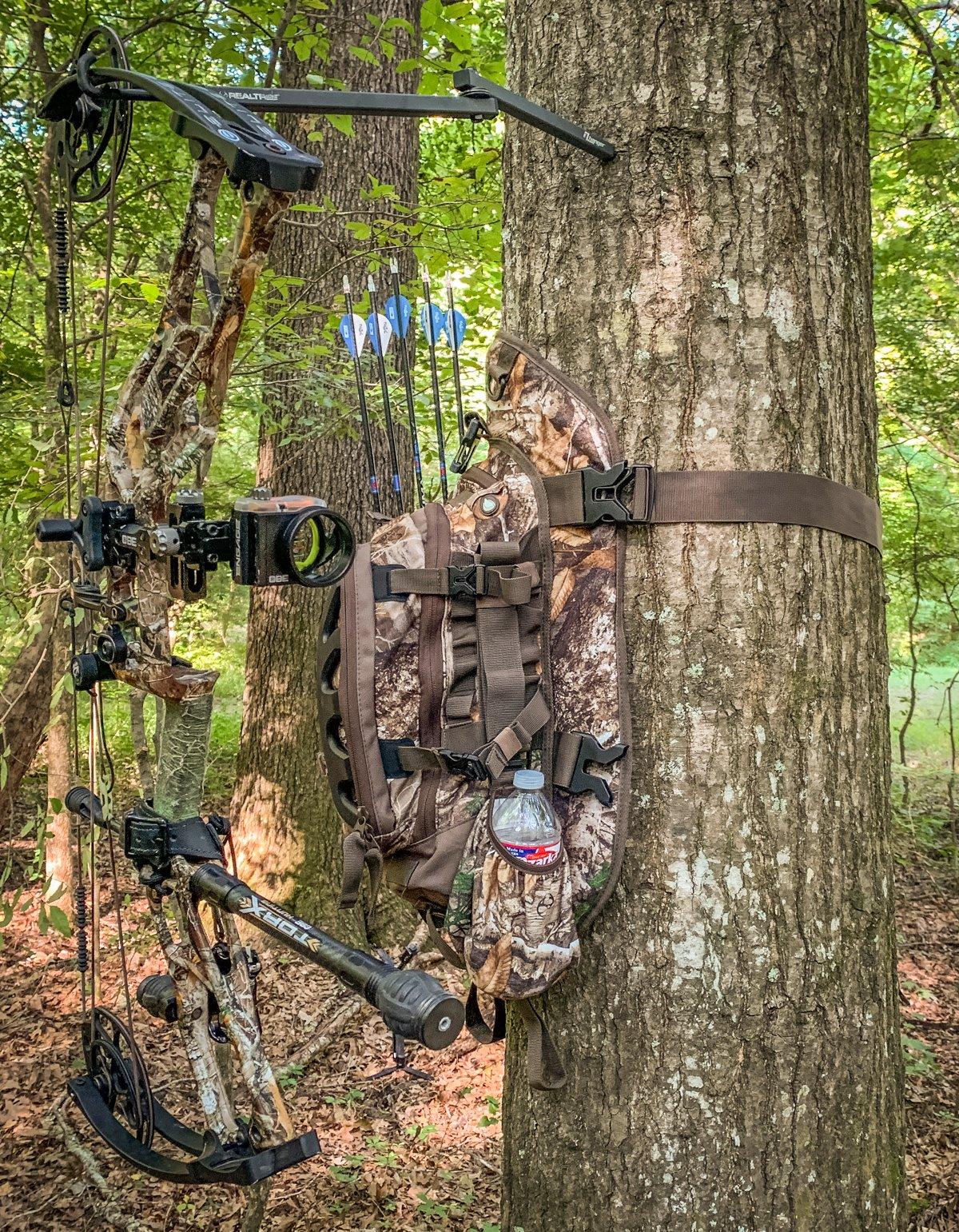 Bow Pouch
Rating: 5 out of 5
This pack is designed for the hunter who wants a bow pouch. And the one featured on The Vision is perfect. It fits all compound bows on the market, and provided adequate protection from my bow. But it's useful beyond that. As mentioned, I film my hunts, and so I typically put my tree arm, arm base and other camera gear in the pouch and carry my bow. I'd highly recommend this pack to DIY bowhunters and videographers.
Durability
Rating: 5 out of 5
I'm rough on stuff. And after a year of testing, the pack still has no holes, rips, tears, busted seams or inoperable zippers. Any pack that can make it through a full season without malfunctioning gets my vote. If something does go wrong with the pack, it's covered by the Built Right Lifetime Warranty.
Price

Rating: 4.8 out of 5
This pack comes in at $169.99. That's priced appropriately. It's affordable, but seems to be made with ruggedness, toughness and longevity in mind. That's a fine line for manufacturers to walk, but Insights does it well. They don't sacrifice quality. And your checkbook doesn't take a hit either.
Overall Performance

Rating: 4.81 out of 5
Average all of the scores together, and you get a high-ranking 4.81 out of 5. This is a great pack, all things considered. I'm going into my second season with it, and I expect it'll perform just as well as it did during its rookie year.
We put the Realtree antler logo stamp of approval on it.
Don't Miss: Why Veterans Make Great Hunters
Check out more stories, videos and educational how-to's on deer hunting.