A
600000
Est. Whitetail Population
120000
No. Licenses Sold Annually
$53-$38
Resident hunting license is $20.50. A whitetail-only permit is $32.50 for general residents, $17.50 for a resident landowner.
Resident hunting license and deer permit
$419.46
Non-resident hunting license is $72.50 and a non-resident whitetail permit is $346.96.
Non-resident hunting license and deer permit
199 2/8"
The top-scoring Kansas typical was picked up in 1999 by a farmer. It's the 19th-largest typical whitetail on record.
Record B&C Typical Stat
366
Total B&C Typical Entries
280 4/8"
Taken by Joseph Waters in Shanwee County in 1987. The buck is the 14th-largest non-typical whitetail on record.
Record B&C Non-Typical Stat
288
Record B&C Non-Typical Entries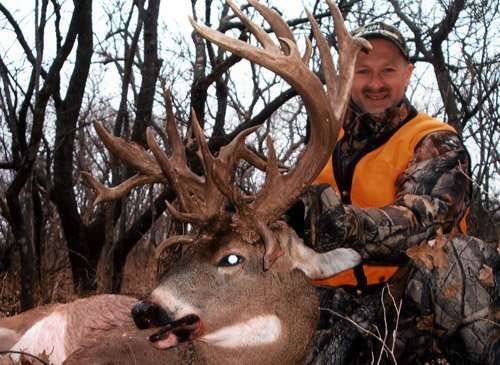 Season Dates (2013): Archery season opens Sept. 16 and runs through Dec. 31. The muzzleloader season is Sept. 16-29 and rifle season is Dec. 4-15.
The Grade: A-
Kansas is one of the nation's most revered whitetail destinations -- and with good reason. The Sunflower State has a booming population of whitetails and the right mix of food, terrain and limited hunting pressure to allow bucks to reach maturity.
If the state has a downside, it is access. The state has very little publicly-owned land. But access is greatly enhanced by the state's excellent Walk-In Hunting Access Area program which pays private landowners to allow hunters on their land. It is primarily intended for use as a pheasant hunting program but there are just enough areas of whitetail habitat to make things interesting. The few state-owned game areas that exist are very good deer habitat along river corridors.
The terrain in Kansas varies from East to West with the East harboring much of the "traditional" Midwest deer habitat. The further West one travels, the more mule deer show up and the more sparse the whitetail habitat becomes. There are still giant whitetails in the West, but hunting them and finding access to prime areas is more difficult.
Non-resident tags were once very difficult to draw in Kansas -- and if that situation remained, it would have cost this state its "A" rating -- but now more tags are available and your odds of drawing are very good.
Antler Nation Knowledge: Kansas' all-time top-scoring typical tagged by a hunter is a 198 2/8-inch giant from Nemaha County, taken by Dennis Finger in 1974. Two other whitetails that would have surpassed that mark have been illegally taken and the poachers attempted to submit the deer to the Boone and Crockett records. A 199 7/8-inch typical was poached wtih a rifle in 1999 and was confiscated when it was revealed that a non-resident hunter had used a relative's resident permit to tag the buck and, more recently, a buck reportedly topping 198 7/8 inches was confiscated at a deer hunting expo last winter.