A
500000
Est. Whitetail Population
150000
No. Licenses Sold Annually
$45
This fee includes a $25 license fee and $20 deer permit.
Resident hunting license and deer permit
$280
Non-resident hunting license and deer permit
192 5/8"
Taken by Jason Boyett in Pushmataha County in 2007 and is currently ranked No. 83 of all time.
Record B&C Typical Stat
86
Total B&C Typical Entries
247 2/8"
Taken by Bill Foster in Johnston County in 1970.
Record B&C Non-Typical Stat
107
Record B&C Non-Typical Entries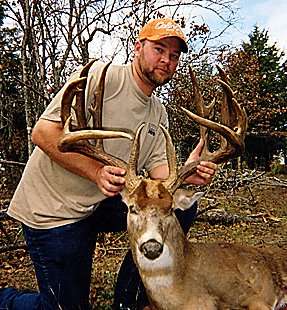 Season Dates (2013): Oklahoma's liberal archery season runs from Oct. 1 through Jan. 15. Muzzleloading opportunities occur from Oct. 26 to Nov. 3, and rifle hunters can hit the field from Nov. 23 through Dec. 8.
The Grade: A
Although Oklahoma is often overlooked by serious whitetail hunters, the Sooner State is an exceptional location to kill a gagger buck. Tags are available over-the-counter and are priced to sell for both the resident and nonresident alike. Without question, the best hunting is found on private land; however, with nearly 1.7 million acres of public ground, much of which is managed to produce a quality hunting experience, hunting opportunities are rich in virtually every region of the state. Lease prices can be good when compared to their neighbors to the north and south, but as news travels about the potential Oklahoma has to offer, you can bet those rates have inched up the past few years. Regardless of whether the choice is private or public, the Sooner State is a very good option for the trophy seeker.
Deer Nation Knowledge:: The McAlester Army Ammunition Plant in southeast Oklahoma offers a unique opportunity for the traditional archer. Heralded by many seasoned hunters as the best patch of public ground Oklahoma and perhaps in the entire U.S. to arrow a top-end whitetail, McAlester offers several three-day draw-style hunts only for traditional recurve or longbow shooters. The average age of bucks taken annually is in the 4- to 5-year range, and one look at their top-10 list of most wanted bucks and you'll see what the fuss is all about.