From megalodon teeth to moonshine stills to getaway cars, you never know what you'll find in the great outdoors
Years ago, a friend and I were walking down a dusty Texas dirt road in search of gobblers when something fell from the sky and landed with a thud at our feet. Upon closer inspection, we discovered it was a recently hatched turkey poult. Since there was no way that such a young bird could fly, we concluded that a bird of prey must have lost its grip on a tasty treat right above our heads. Sadly, it was the closest we came to a turkey that day. If you spend enough time outdoors, you'll eventually run across something unexpected. Read on for stories of strange, scary and humorous discoveries afield.

Prehistoric Finds
Gary Smith was scouting for hogs in Englewood, Florida, when he stumbled upon a remarkable find - a megalodon shark tooth that could be approximately 22 million years old.
When I first saw it, I just stared at it for about a minute, Smith said. I picked it up and looked at the back side and saw that it was perfect as well. I was pretty pumped. I found six that day, but none as nice as that one.
Smith is no stranger to amazing finds. In fact, he's discovered teeth from mastodon, woolly mammoths, three-toed horses and saber-toothed tigers during his hog-hunting and scouting excursions.
Missing Man's Abandoned Truck
Jeff Hughes, owner of Hughes Design, and his hunting/filming buddies once found a truck sitting on top of a dry waterfall in the Red Desert area of Wyoming. The license plate had expired eight years earlier, and they discovered a briefcase and personal effects in the cab.
The briefcase contained a planner, as well as notes and drawings that appeared to be from the truck owner's children, Hughes said. Everything dated to 10 years prior. We called the county[DN1] sheriff's office and provided them with the info we had. We gave them the truck's description and plate numbers. They asked for GPS coordinates and said they'd be there in the morning. Sure enough, at first light, they showed up with two trailers full of ATVS and a bunch of folks.
Hughes says it turned out that the truck's owner hadn't been heard from in approximately 10 years, and a body had never been found.
There wasn't a road going into that location. It looked like God himself had to have put that truck on top of that waterfall, Hughes said. There was no way we could see that it could have been driven in there. In hindsight, that was likely due to the passage of time and the growth of brush.
Hughes heard the truck owner was an alcoholic whose job it was to check the natural gas wells.
The theory is, he got drunk and disappeared during a blizzard. Perhaps he made a wrong turn and got lost. He was never seen or heard from again.
Getaway Car
Outdoor writer Steve Sorenson and his father also found an abandoned vehicle with quite a backstory while turkey hunting in Pennsylvania in the 1980s.
We were about a half mile back in the woods when we made the discovery, Sorenson said. We didn't notice the car at first because it was obscured by some treetops left by loggers.
Sorenson's father reported it to the local police, who eventually determined it had been used by a young man to commit a robbery.
If I recall correctly, it was a tavern that was robbed. Locating the car helped the police make the arrest, Sorenson said.
Creepy Bear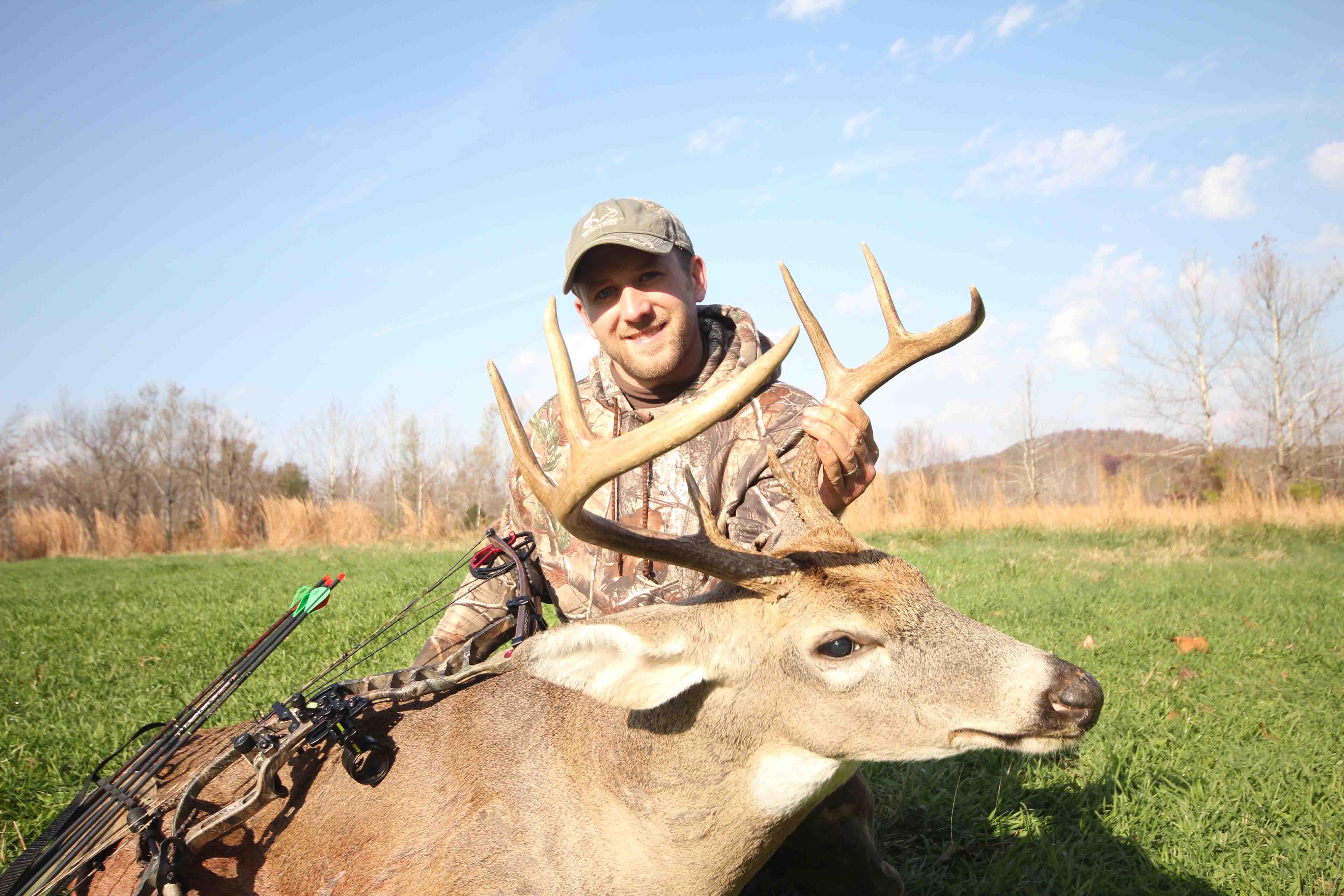 Outdoor writer Will Brantley and his wife, Michelle, had been saving their pennies to buy their first piece of hunting property. They found a 30-acre tract that they liked, went through the process, and closed on it. Shortly after, they bought a cheap little camper off Craigslist to make the place into a genuine camp. The campsite was right next to a power line that was grown up in brambles and brush.
After we moved the camper in, I mowed the power line with a tractor and generally started cleaning things up, Brantley said. That was when we first noticed a small teddy bear, nailed through the throat onto the power pole, maybe 6 1/2 feet high. There was no context whatsoever for why it should be there, but it had the vibe of a redneck voodoo doll. We decided no good could come from taking that teddy bear down, and so it's still there to this day. The hunting out there has been fantastic, so maybe it's a good luck charm.
Jailbird
Dodd Clifton, Realtree marketing director, says his unusual find wasn't an object, but a person — a prisoner, to be exact. A teen at the time, Clifton was scouting for deer along a thick fencerow when he spotted someone walking toward him on the other side of the bushes.
I said, 'Hello!' fairly loudly in case he was small-game hunting, Clifton said. He said, 'Hello!' back. I could catch glimpses of his arms and legs, and that's when I saw the prison stripes. It still gives me a chill just thinking about it.
Clifton didn't say another word and hustled through the woods to the road.
My plan was to make good time back to my Jeep, then get to the prison, which was about 5 miles away. But when I got to the county road, there was already a prison truck with chase dogs on the scene. I ran up to it and found the guard slumped over with his head against the driver's side window. I sort of freaked out, but it turned out he was just sleeping. Seems the warden got permission from the neighboring landowner to release prisoners with good behavior on the land, let the guys go hide, then send the bloodhounds out to locate them for practice.
Birds of a Different Feather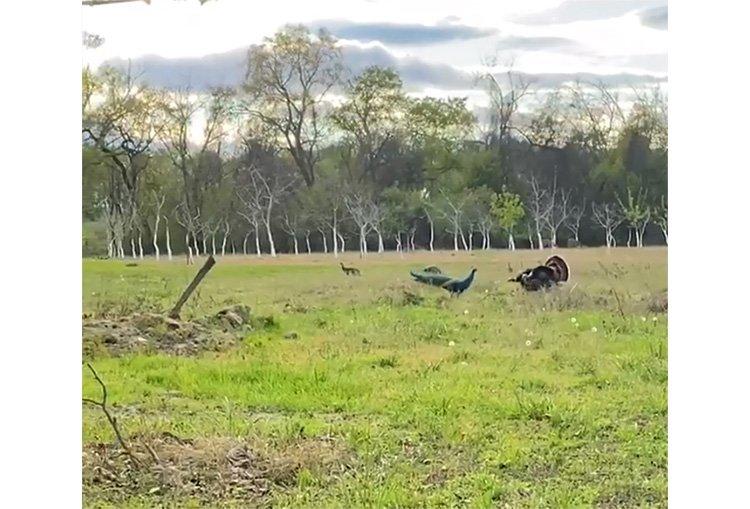 The 5 p.m. end of shooting time had just passed, and R.J. Sola was packing up to leave his California turkey blind after a long, unsuccessful hunt. Suddenly, a flock of turkeys showed up with, of all things, a peacock in tow.
Since shooting light was over, Sola enjoyed just watching and filming the peacock's interaction with the turkeys, especially the longbeards, which the peacock sparred and fought with. The peacock is wild and lives among the turkeys, Sola said. However, it did not like the toms.
Moonshine Stills - Old and New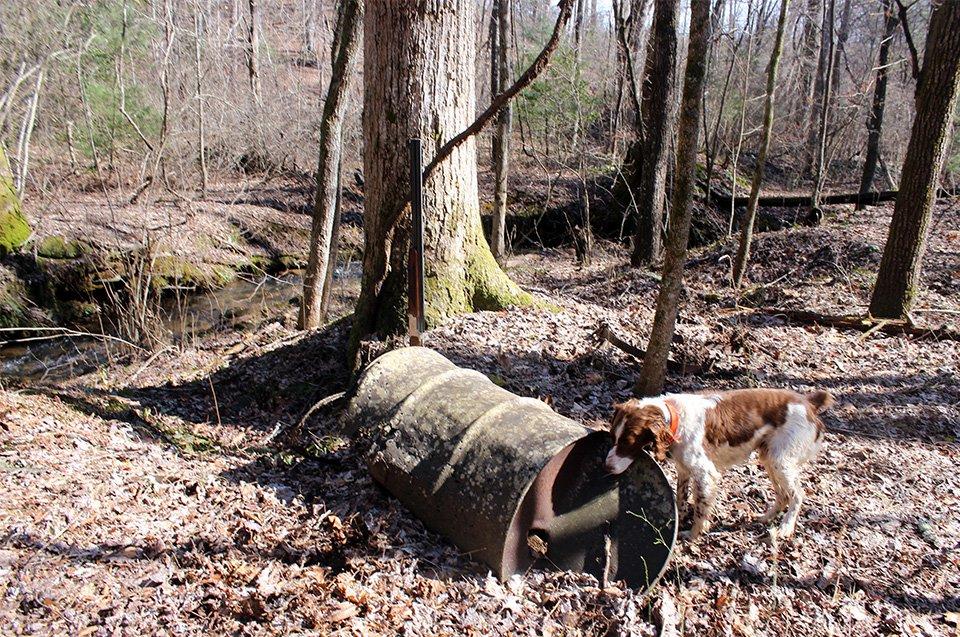 On a couple of occasions, outdoor writer Jimmy Jacobs and his hunting buddies have found remains of moonshine stills along creek beds back in Georgia's hills and hollows. Usually the revenuers also had found and destroyed them, leaving behind remnants of the contraptions, Jacobs said.
Not all of the stills that Jacobs has found have been old and busted, though. He was fishing the Dog Fork in Kentucky for brook trout when he discovered a still that was very much in working order.
Suddenly, one brook trout felt like all I needed, and prudence seemed the best course of action, Jacobs said. I reversed direction and hotfooted it 2 1/2 miles back to the car.
Squatters
Matt Walker was scouting private land on the outskirts of Arcadia, Florida, when he stumbled across a homeless encampment.
I left after a tense 15 minutes, Walker said. I told the landowner he had squatters on his property. He thanked me and assured me he'd take care of it, but I never returned.
Monkey Business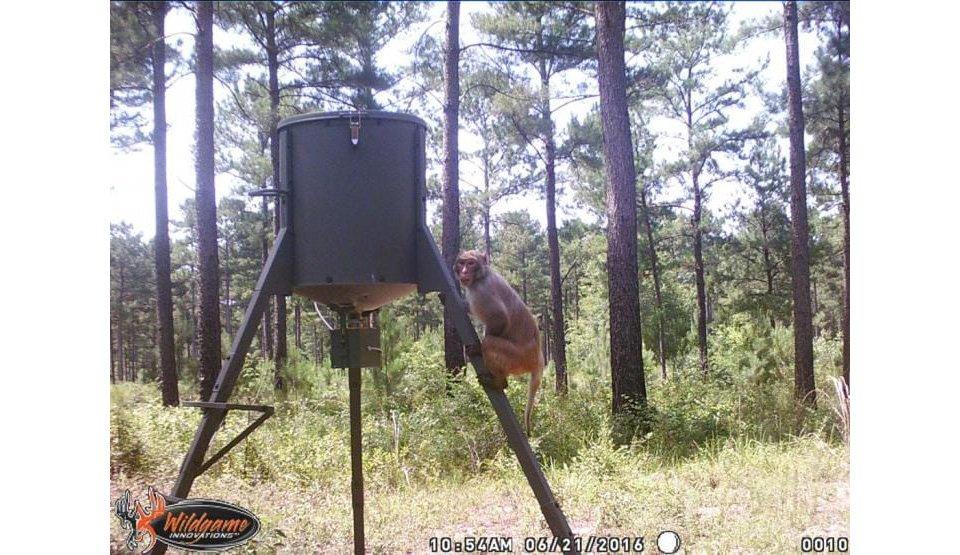 Jesse Artrip, a guide and cameraman at Trophy Room Adventures, says the most unexpected thing he's ever encountered during his extensive time in the Georgia woods is a monkey. Game cameras had captured images of the monkey on Trophy Georgia Hunts property along the Ichawaynochaway Creek. Some of the images even made local news.
At the time that I saw him, I had set up a box blind along that creek and baited it to kill hogs, Artrip said. Late in the evening, I killed a hog and sat back to enjoy the rest of the evening. Well, about 15 minutes after I shot and right at sunset, the monkey climbed down from the trees and crawled over to investigate the hog. I had to use my binocs to confirm it was him, but sure enough, he stood on his back legs and stared back at me. Then he turned and ran back into the trees. We had a few other clients at the lodge that said they heard or saw something strange swinging in the trees.
Confederate Grave
William Lee Cooksey, sportsmen outreach coordinator at Vanishing Paradise, was hunting public land in Tennessee that was only accessible by boat when he stumbled upon the long-lost grave of a confederate soldier.
The grave was last noted in 1952, and the folks who found it then stated it was difficult to find, Cooksey said. According to the cemetery organization, the soldier was wounded at Shiloh and went home to recuperate. He died two days later, and the family buried him at the foot of a hill below their house. There were supposed to be two other graves, but no sign of them remains, and I've been unable to determine where the house was.
Out of Place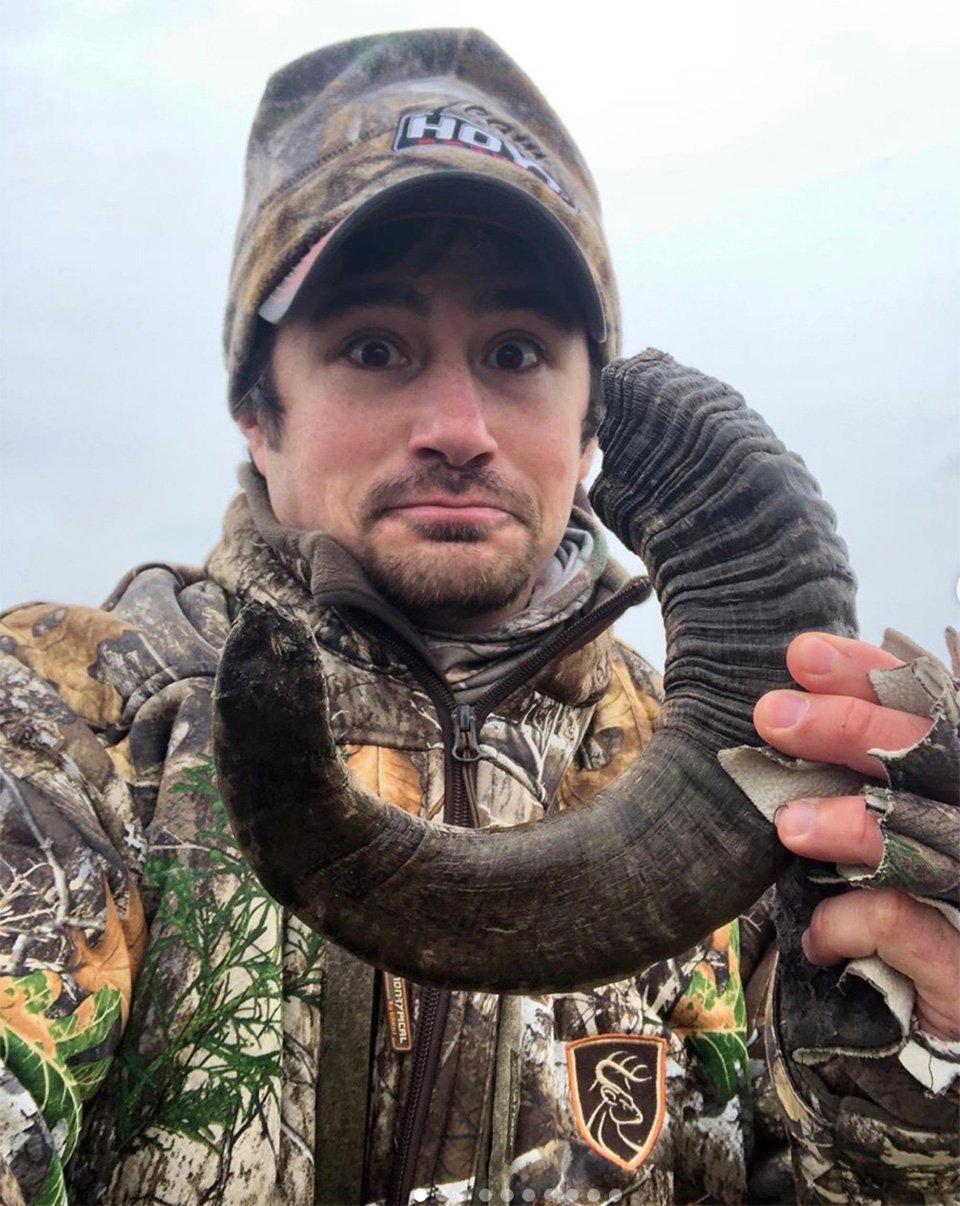 Josh Honeycutt, Realtree Brow Tines and Backstrap blogger, has discovered quite a few oddities in the outdoors, with one of the strangest items being a ram's horn.
I stumbled across a ram's horn in the middle of a 200-acre Kentucky farm covered in continuous, expansive CRP, Honeycutt said. A neighbor has a sheep and goat farm, so I'm sure that's where it came from. Still, it was an odd find.
But his most interesting shed-hunting discovery? A toilet seat in the middle of a wide-open cornfield.