TRY A NEW TACTIC TO FILL YOUR TAG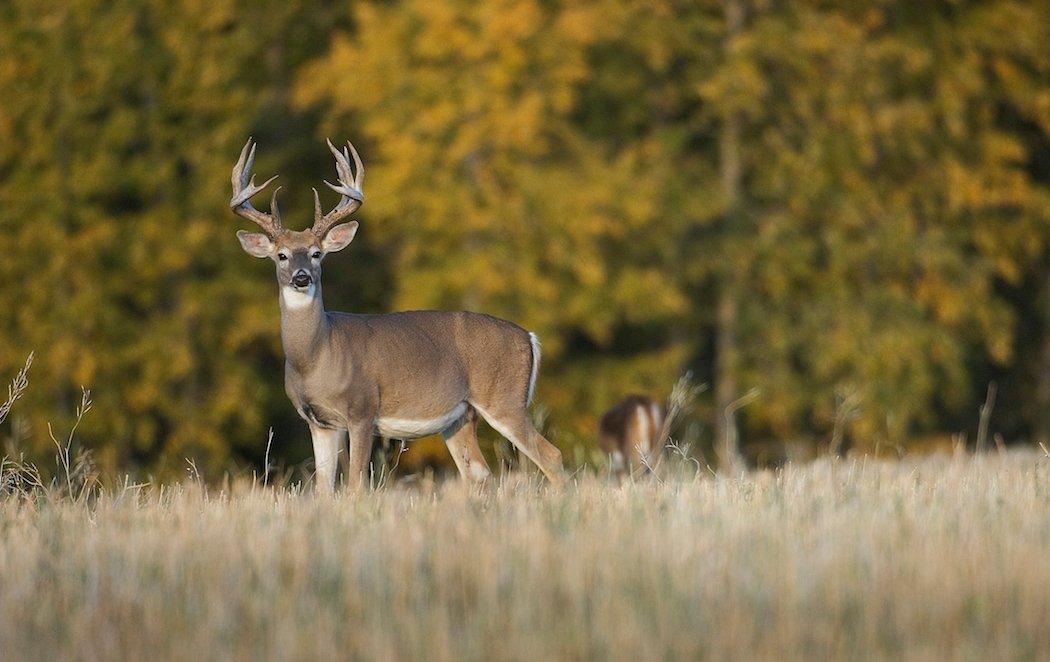 Let's cut right to the chase. Deer hunting is a complicated endeavor. It takes serious know-how to be good at it. A good hunter possesses both an analytical and a creative mind. They change things up. They think unconventionally. And they try things that others won't.
1. Velvet Bucks and Rifles
Cold beer, spotlights, and redneck truck hunters come to mind when I hear velvet bucks and rifles in the same sentence. But, wildly enough, it's legal in South Carolina. And some counties allow you to shoot velvet bucks as early as August. It's hard to believe. And, surprisingly enough, it's one of the best-kept secrets of deer hunting in the South.
Velvet bucks are still in bachelor groups during the month of August. This is a prime opportunity for hunters to tag a velvet buck. Velvet bucks are vulnerable bucks. They aren't as wary or as likely to disappear due to outside factors. And it's a prime time to capitalize on their number one weakness: predictability.
Lieutenant Ken Simmons, conservation officer with the South Carolina Department of Natural Resources, knows a thing or two about the early rifle season. He sees it every year.
In game zone 3, you can rifle hunt or bow hunt starting August 15. In game zone 4, archery season opens August 15 and gun season opens September 1. These dates provide prime opportunities to tag a velvet buck with a gun. Simmons concurs with this and encourages people to pay attention to it. Go online and get our rules and regulations, Simmons said.
Simmons also gave a little insight as to what to expect and how to approach this early-season hunt.
Have a ThermaCELL and be able to tolerate heat, Simmons said. My suggestion is to have patience. This early in the year, deer only move at last light.
2. Deer with a Spear
I don't know whose bright idea it was, but I have to say, this barbaric style of hunting looks pretty freakin' cool. How often do you see a guy spear a deer? Never. You have better odds seeing Oprah Winfrey host a hunting show than me spearing a whitetail. I can't even throw a knife…let alone a 5-foot atlatl.
However, there is at least one fellow we know of that is good with one. Mr. Tim Wells, host of Relentless Pursuit Television, seems to have mastered this tactic patented by the cavemen. Check out his whitetail spear hunt. If Tim Wells were the Dos Equis commercial man, I think he'd say, I don't always kill big bucks, but when I do, I chuck a spear at them.
Tips
Put stands directly over trails deer are using
Hang stands higher to prevent detection
Keep at least two spears in the stand with you
Take into account movement during the throw
Practice often
In all seriousness, it's a legitimate method, I suppose. Check your state's regulations. It isn't legal everywhere. But for those who can do it, why not give this ancient tactical approach a try?
3. Backyard Bucks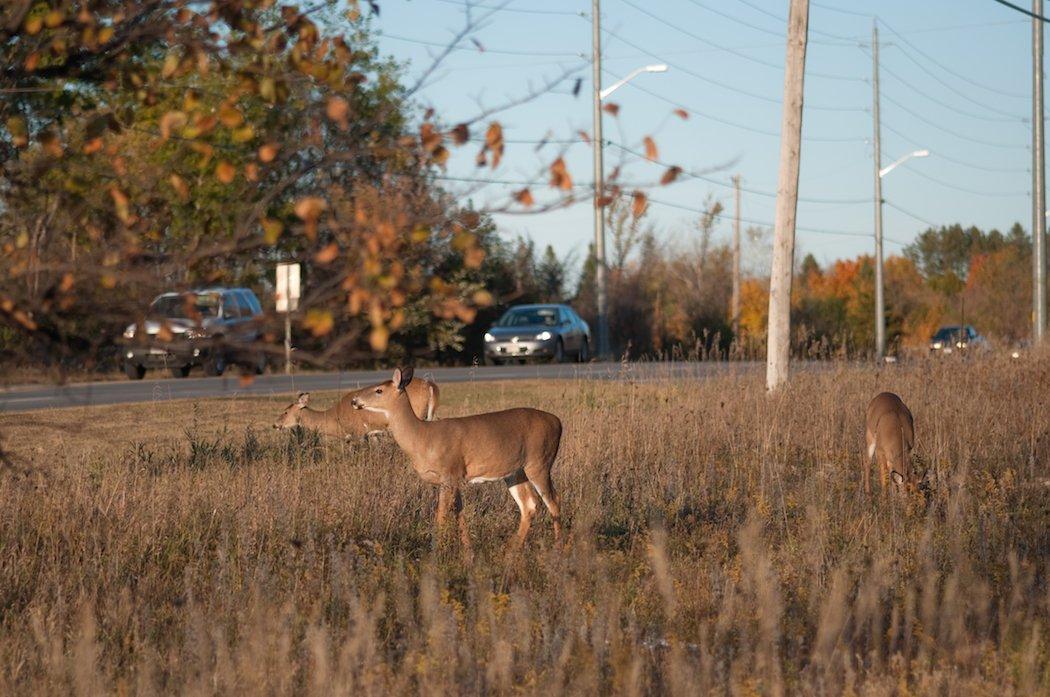 Whitetails are infiltrating metropolitan areas more and more. These deer are the bane of many hunters' existence—especially for those who hunt properties just outside metropolitan areas. Deer know they avoid hunters in urban landscapes where all they have to worry about are passing cars. The solution? Pack in and take down these city-slicker whitetails. If it's in the city limits, make sure you use a bow, and follow all regulations that apply.
I considered one of the bucks I killed early in my hunting career to be an urban buck. He wasn't in the city limits. But he was in a pretty populated area. The buck was within sight of five different houses (and one old vacant home place) when I shot him. In fact, a family of thirty or more was having a family reunion less than 250 yards away when I pulled the trigger.
Travis T-Bone Turner has quite a bit of experience with this sort. If you don't take my word for it, take his.
Tips
Knock on doors (people don't like paying insurance deductibles)
Focus on small woodlots within populated areas
Note that some cities and towns still have inholdings where crops are grown (hunt them)
Apply the knowledge you already use to hunt rural whitetails (it's still hunting, folks)
When push comes to shove, hunting backyard bucks is a legitimate practice that not many take advantage of. Don't pass up a chance to hunt city deer.
4. Bedding Area Invasions
Hunting near bedding areas is frowned upon by some. Luckily, there are ways to hunt near bedding areas and not obliterate your chances of tagging a deer. Realtree.com Editor Tony Hansen is well versed in hunting close to bedding areas.
If I really want to hunt near a bedding area—especially during the rut—I have to beat the buck into it, Hansen said. Which means an absurdly early wake-up call. When I do it right, I'm sitting in the dark for 90 minutes. Sometimes a bit longer. And that's in the dark. Pitch dark. I'm not counting time when it's just starting to break dawn. I mean dark. By doing this, I'm in the area before most deer. And I can't really even tell you the number of deer I've heard walking underneath my stand. The parade usually starts about 60 minutes before first light and ends about 20 minutes prior.
Hansen killed a droptine buck in Michigan a few years ago. Hansen said the buck walked underneath him in the dark, and he could tell it was the buck due to an exceptionally bright moon and a reflection of the deer in some standing water. It was about an hour before daylight when he witnessed this. Hansen killed the buck at 1 p.m. later that same day.
5. Bellies on the Floor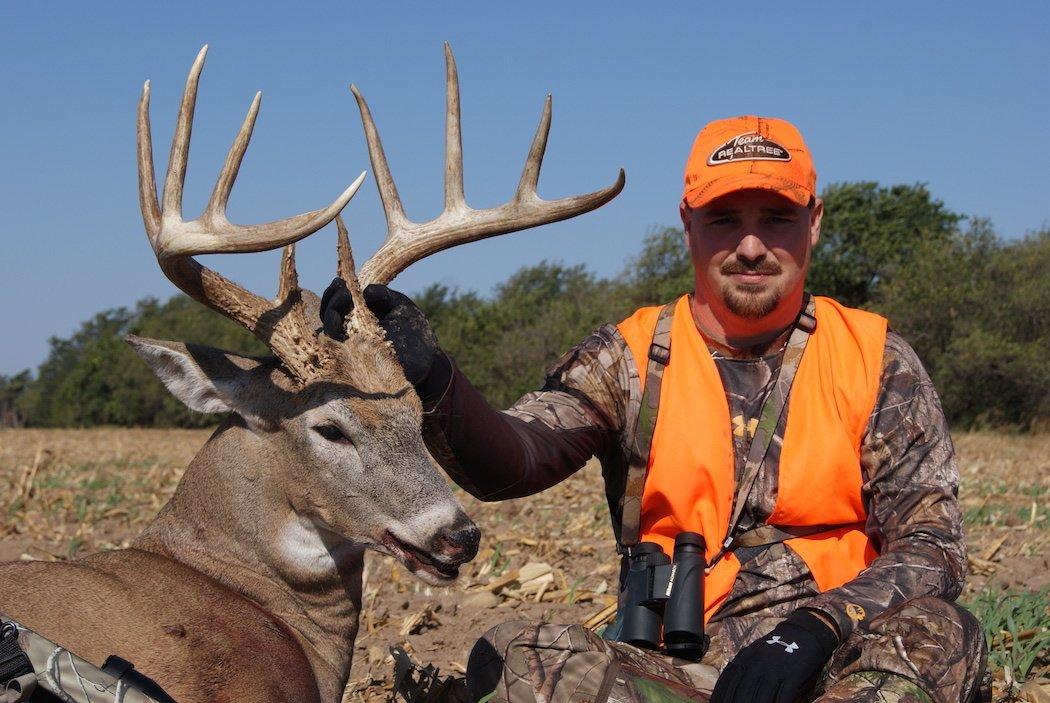 Sometimes you just have to get low. I'm not talking about the kind of low you get when you're listening to Snoop Dog or P. Diddy, either. I'm talking about crawling several hundred yards on hands and knees out into an open field where you'll wait for a trophy-class buck.
Not a lot of people can say they have done that. But Daniel McVay of Buckventures can. And he's here to tell you how it's done.
This particular hunt took place in a cut corn field, McVay said. Some people cut it to the ground. This field had 6-inch stalks. The buck I shot came out of an 8-foot CRP field. I was afraid to put out a ground blind, so I crawled in and laid on my belly. I cut a few green cedar browse, and we lay on our bellies. He stepped out…and the rest was history.
Tips:
Spend time scouting
Use this tactic for short hunts
Wear knee pads while crawling
Bring cushions for your chin, chest, waist, and knees
Occasionally roll over onto your side to prevent aching
Don't hesitate when you get a shot
This may not be the easiest tactic for your knees. It actually sounds like it shreds them. But when it comes to whitetails, you do what you need to do.