These advanced hacks can help you scout more efficiently, plant better food plots, find your way to the truck and more
Hunting is uniquely primitive, but technological advances continue to modernize it. This includes texting trail cams, bow-mounted rangefinders, shot-tracking devices, and apps that do everything from helping you scout one particular deer to helping you track it after the shot.
In fact, apps have exploded in popularity in recent years, and one of the more useful — and popular — ones for hunters is onX Hunt. Many deer hunters use onX afield, but not everyone harnesses its full horsepower. There's more to this tech than merely observing property lines. It's actually full of features and next-level applications within each primary function. A monthly or annual subscription is necessary to access all features.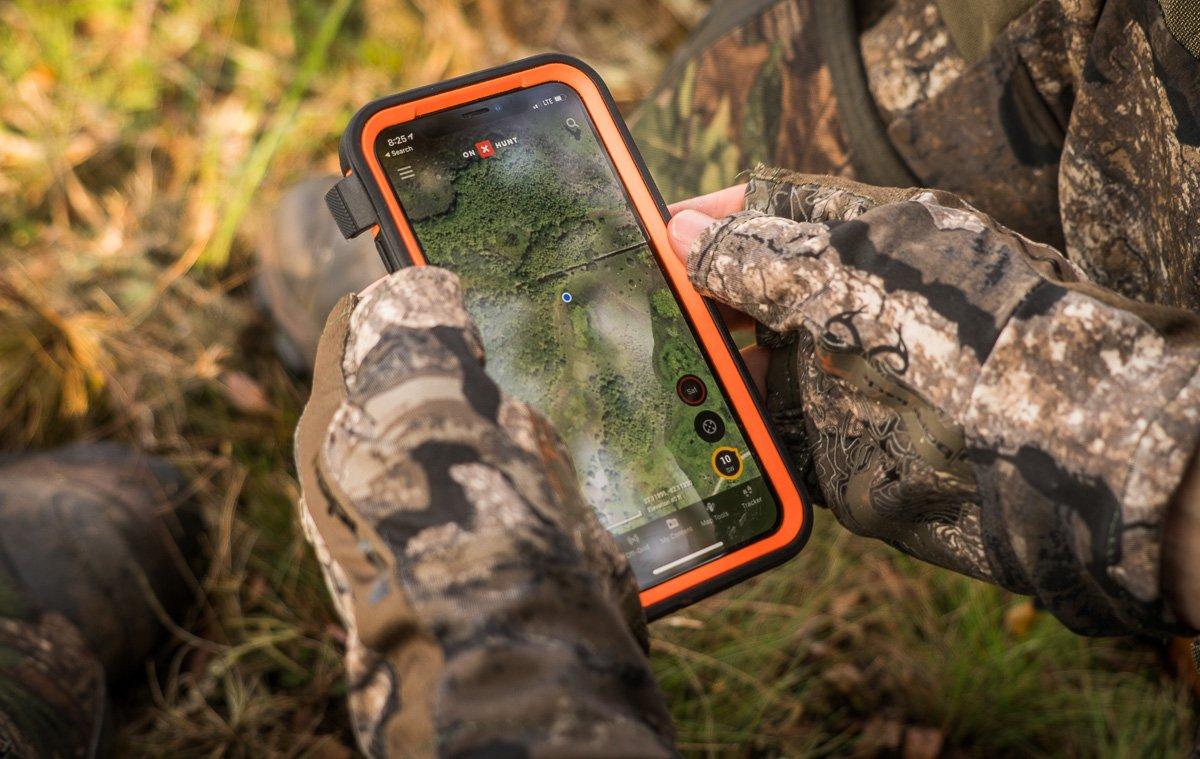 1. Map Layers
Property boundaries aren't the only borders to watch for. This app shows county lines, state lines, game zones, and more. One property I hunt is split by a county line, which can be tricky because here in my home state, we have to accurately report the county of harvest. Naturally, the best spot to hunt is right around that border. The good news is, onX tells me which side I'm on when I kill deer, turkeys and other game.
Various types of aerial, topo and hybrid layers help you read the terrain much better, too. Placing transparent topos over aerial images is officially a thing of the past. Quickly identify saddles, pinch-points, benches, draws, ridges, points and other important terrain features.
More modern aspects of deer hunting, such as finding public lands, are much easier with this tool. Quickly identify private lands, federal ground, state properties, possible access and restricted areas. Basically, it lets you have fun and keeps you out of trouble at the same time.
The Boone & Crockett Whitetail Trends and the B&C Trophy Big Game Records layers show where most of their big bucks hit the dirt. Use this layer to find hotspots with reputations for superior antlers, like searching for high-quality public-land spots and researching private property that you're interested in purchasing or leasing.
Other layers, such as NWTF record entries, nautical charts and more can be helpful, too.
Upon concluding my search of a property this shed season, I pulled up onX, looked for possible missed spots and noticed a 1-acre low spot in a clover field that didn't have my digital tracks in it. I went over there, and boom - I found my biggest shed ever.
2. Off-Grid Maps
Do you hunt in a service dead zone? It might pay off for you to use onX's offline maps feature. I've used this tool countless times on private and public lands when I can't access cellular data. It's invaluable, and allows hunters to study aerials and topos even when service is minimal or nonexistent.
Before leaving civilization, save an offline version of the area you'll be hunting, and it'll be ready to use in the field even if Mother Nature takes your bars away. For best performance, and to save your battery, turn off Wi-Fi and Bluetooth or turn on your airplane mode. Disable unneeded layers, too, and carry a portable phone battery charger for all-day or multi-day hunts.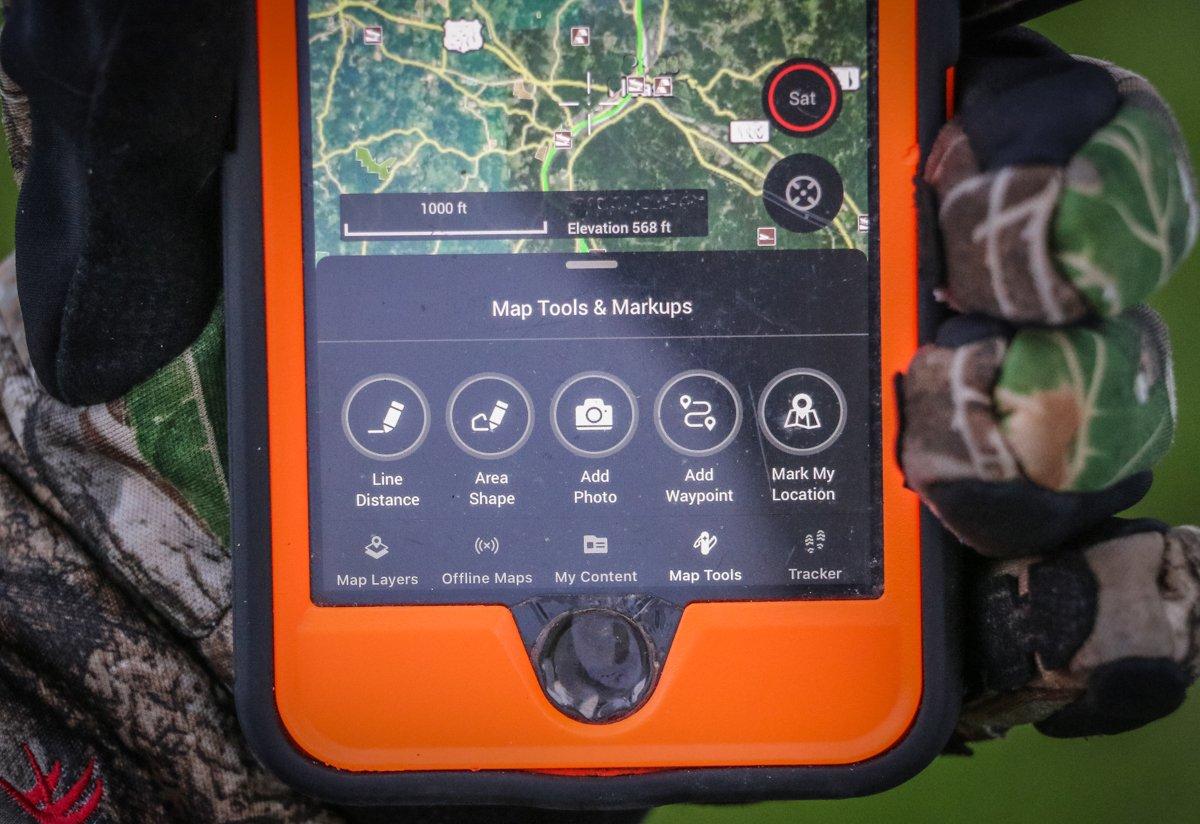 3. My Content
This feature is one of the most underutilized in the entire app. It's full of info-storage potential. You can use waypoints as rub line indicators, trail markers, stand locations, camera locations and more.
Now, app users also have the option to upload trail camera photos as waypoints. If you spot a buck while scouting or on the hunt, you can upload a photo to remember the sighting. Collecting all of these data points in one location paints a picture of how deer use a particular property, and you can even create layers dedicated to patterning specific target bucks.
4. Map Tools
Are you putting in a food plot? Then you'll need to know how much fertilizer and seed to buy. No need to guess, though. The onX area tool measures your food plot dimensions. It also measures land size for purposes like gauging tract acreages before leasing (or buying), the size of bedding areas, and more.
Similarly, you can use the line distance tool to measure how far public-land spots are from roads and access points. It's never been easier to determine if that potential honey hole is further than most hunters are willing to walk. It also helps measure other point-A-to-B distances, including stand locations to property lines and hunting spots to residential areas.
5. Tracker
The tracker feature is one of the app's most applicable and powerful tools. I use it for one reason or another almost every trip afield. It's incredibly useful when scouting. It lets you know where you have and haven't been. It keeps track of your mileage, if fitness is your passion. But one of the best things you can do is chart the entire trail network on a property. This takes time, but if you turn on the tracker and walk all the trails on a property without ever stepping off one, you can learn how deer truly maneuver a property. Screenshot that puppy and never delete it. Hang stands where multiple trails intersect.
Hunting expansive, monotonous timber? Hiking miles back into swampy or otherwise challenging public terrain? Turn those tracks on. I've lost or had more flashlights fail on me than I care to admit, but even when they work it's easy to get lost in an unfamiliar place. But an onX track will get you back to the truck, even in the pitch-black dark. In fact, I commonly use this method so I don't have to turn on a light and spook deer along my exit route. (Just don't do this on public land, near other hunters, or near dangerous terrain, such as steep bluffs, bodies of water, ditches, etc.)
It's a safety function, too. Upon arriving at your treestand, screenshot your tracks and send the location to someone. Sharing a waypoint with family and friends accomplishes the same thing, but that doesn't help if something happens along your entry or exit route.
This feature is also great after the shot. Hard tracks and complicated recoveries for wounded game are forever changed. And if it comes to grid-searching, this feature is a must. I use it to comb properties for shed antlers. I run the tracking function while walking and driving to identify overlooked locations. Upon concluding my search of a property this shed season, I pulled up onX, looked for possible missed spots and noticed a 1-acre low spot in a clover field that didn't have my digital tracks in it. I went over there, and boom - I found my biggest shed ever.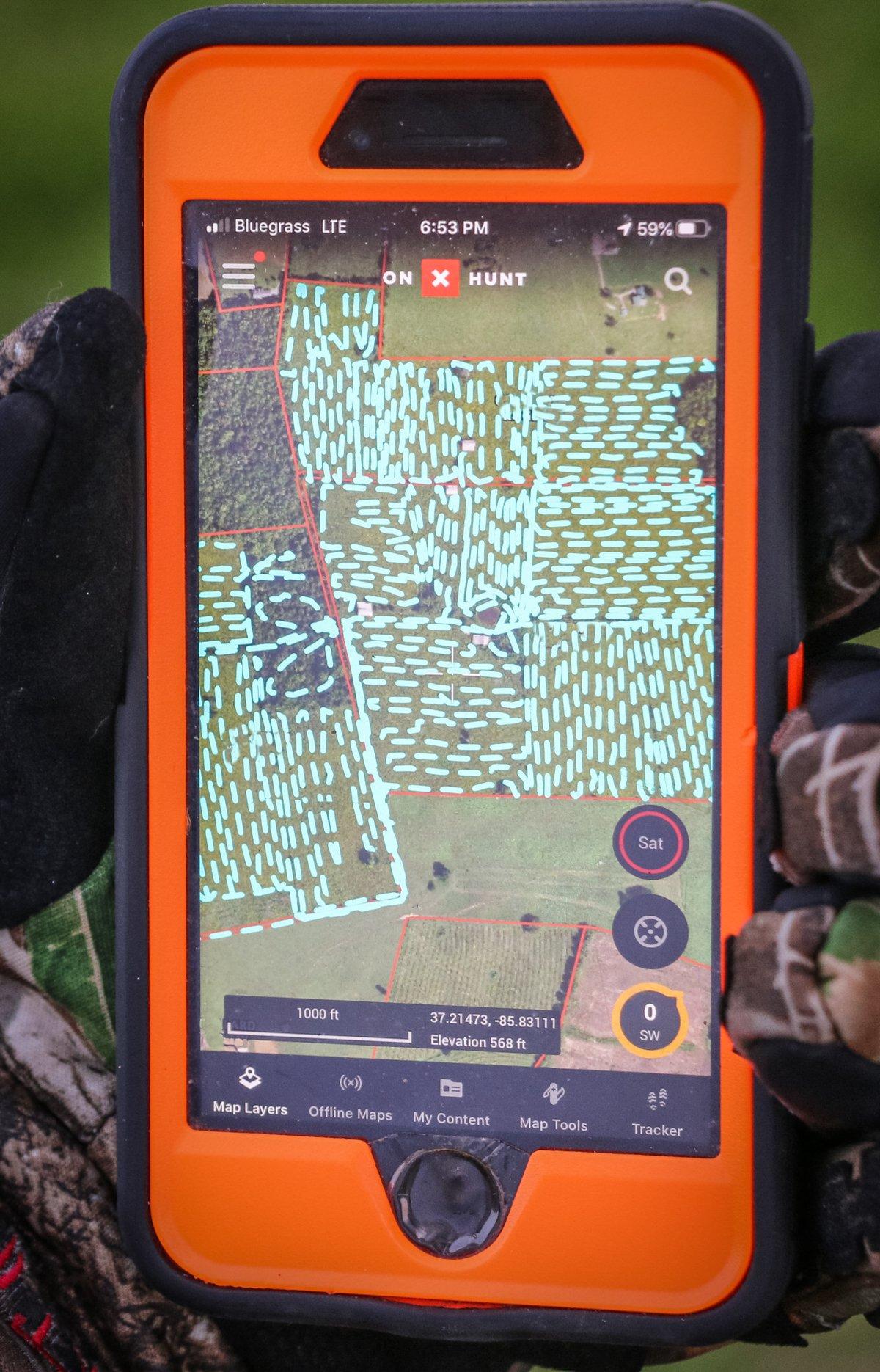 6. Main Page
In addition to property lines and landowner names, the main page offers several features without the tap of a screen, button, layer or anything. For starters, it has a compass, which is invaluable to hunters and hikers.
If you're in an area where Siri or Google Maps won't work, often the little blue dot that indicates your location still shows up on the onX map. It moves as your phone moves. Don't use that feature while driving, but if you're riding shotgun, you can use that to navigate when your roadmap apps fail. You won't always have good service between the hotel or campground and the hunting spot. Plus, Google Maps generally doesn't know how to navigate to the treestand down in the holler.
It also has a quick-reference distance-measuring tool. It's not as efficient as the actual line tool, but it'll work in a pinch. And the main map even has a wind speed and direction indicator right there in the lower right corner. Plus, you can easily check your coordinates and elevation. This too is a solid way to send someone your exact location. That's precise information that could save your life in a serious pinch.
That hamburger menu tab is also loaded with features, too. For starters, you can share your location with friends. That's huge. It's also filled with useful notifications from onX, informational blog posts, map settings, account info, FAQs and more.
7. Bonus: Landowner Search
And our parting gift for you and yours: It's never been easier to find out if that rich uncle who lets you hunt is hiding any secret parcels. Use either landowner names or location search queries to discover tracts of land or find the ones you already know about again.
Don't Miss: Public Land Deer Hunting You Don't Know About
Check out more stories, videos and educational how-to's on deer hunting.