Hunting licenses and camper sales both soared during the pandemic. Here's why RVs still make sense for traveling hunters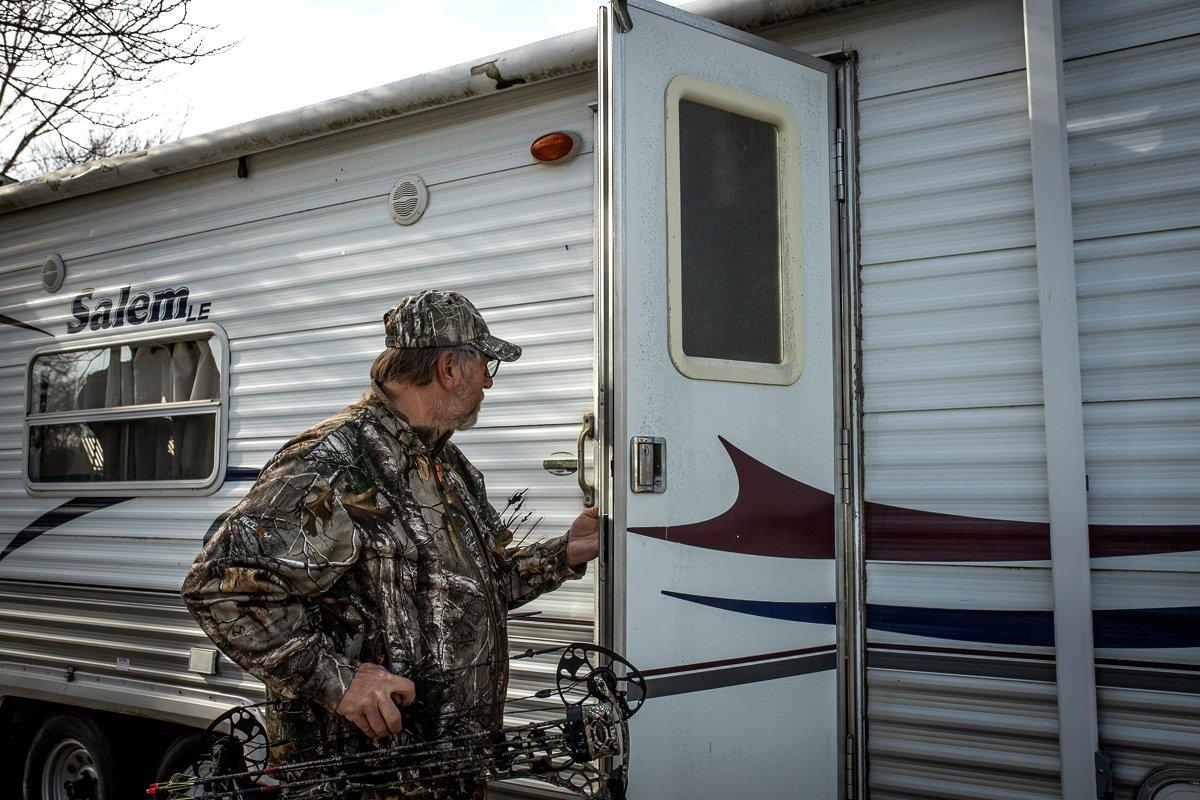 Thanks to the COVID-19 pandemic, hunting license sales skyrocketed across the country in 2020 as folks turned to the fields and forests to enjoy outdoor recreation away from large crowds. Hunting is a great option for entertainment and low-risk for COVID-19. But if your hunting destination is a long distance from home, you can run into a few problems. Crowded lodging and public transportation are poor options for those who want to avoid exposure to the disease. For this reason, many hunters turned to RVs, which are not only great for travel but make the perfect home base during the hunt.
Renting, driving, and operating an RV can be a bit intimidating for the first-time user. After all, there's a lot to consider. Outdoorsy, an RV rental website that connects RV owners with those who want to experience RVing without ownership, offers some tips for hunters venturing out in an RV for the first time.
Why Stay and Travel in an RV?
RVing is socially distant by design, and it's an ideal way to travel for those wanting to control the cleanliness of their environment and to camp away from crowds.
Jeff Cavins, the CEO and co-founder of Outdoorsy, who is also a hunter, says, In an RV, you can stay on-site, whether you're hunting on a lease or on a closed piece of land. It allows you to get much closer to the action and you don't have to spend a lot of time traveling to your hunting destination. It's also more economically practical if you're taking a hunting trip for multiple days.
Traveling in an RV is a good option for a variety of hunting scenarios, but it is especially handy when hunting on property where there are no nearby lodging options.
If you're hunting on undeveloped property, it definitely makes sense to consider an RV, Cavins says. It's also smart when hunting for extended periods of time or when you're in no man's land and hotels are miles from your hunting destination.
An RV also offers a more comfortable option for those who are used to camping in tents during their hunting trips. RVs not only keep gear dry and protected — they offer hunters a warm, dry location to rest and sleep that a tent simply can't provide.
Where Can You Stay in an RV?
There are many RV-compatible campgrounds on private and public land within short distance of great hunting spots around the country.
Some campgrounds are only set up for small RV campers and tents, but others can accommodate large RV combinations. Be sure to do some research before renting your RV and booking your campsite to make sure the two are compatible.
Both private campgrounds and public land campgrounds can be found in every area of the country. The USA RV Camping Map provides links to where you can find public lands RV camping resources for every state.
You can also visit Outdoorsy.com for links to the top RV parks and campgrounds in each state.
The BLM (Bureau of Land Management), USFS (US Forest Service), FWS (US Fish & Wildlife Service), and USACE (US Army Corps of Engineers) also offer opportunities for boondocking at many locations. Boondocking is defined as camping outside designated campgrounds. Boondocking-Dispersed Camping has info on the rules and locations for boondocking. This type of camping takes even more planning and forethought. Don't simply assume all public lands allow boondocking. Many do, but some don't.
First-Time RVing?
One of the most common misconceptions about renting an RV is that you need a commercial driver's license to drive one, especially a big one. But you don't. Even the majority of Class A RVs, the biggest options on the market, do not require a special driver's license, but a little study and preparation before you take off in an RV is smart. You'll want a basic understanding of the operations and functions, such as how to fill up your RV's fresh-water tank, how to tow a car behind your RV, and how to empty the holding tank.
While operating an RV is surprisingly similar to driving a truck or minivan, the biggest challenge for most first-time renters is frequently the mental hurdle. To help ease those newbie nerves, Outdoorsy offers a library of how-to videos, educational blog articles, and more than 400 Road Trip Guides to help you brainstorm where to go and what to see and do along the way to your hunting trip.
Choosing Your RV
With so many models and features to choose from, how do you know what type of RV to select for your specific hunting needs?
Outdoorsy CMO and co-founder Jen Young says renters should look for a vehicle that fits their personal style and travel needs. There are so many models with various features, looks, and qualities to consider. For example, there are Sprinter vans with wood-paneled interiors and solar-paneled roofs. There are teardrop trailers that can be towed by a Prius. Instagrammable Airstreams are a big favorite among the hip crowd, and it's hard to go wrong with a drivable Class B camper.
Sizes range from compact 10-foot trailer units that can be towed behind a pickup to luxurious 40-foot Class A motorhomes. Class Bs and truck campers are the perfect fit for one to two hunters, while Class C RVs, fifth wheels, and Class A RVs are best if you're planning to travel with a group and are looking for a bit more room to spread out. Will you be taking your hunting dog(s) with you? If so, you'll want to make sure your rental is pet-friendly and spacious. Also, don't forget to take into account the amount of gear you plan to bring along. Even if only a couple of you are going on the trip, all that hunting gear can take up a lot of storage space.
For adventure seekers looking to go off-road and stay off-grid for a bit, I recommend looking into renting truck campers (where sleeping quarters are placed over the cab of the truck and the living space sits on the bed of the truck), Young says. The higher ground clearance a vehicle gets and the more sustainable features it supplies (solar panels, extra water storage, high gas mileage, etc.), the better equipped the vehicle will be to get you away from the crowds and closer to nature.
In addition to the size consideration, you'll want to select an RV with features that will enhance your hunting experience.
Cavins says, Outdoor showers, sinks, and kitchenettes are incredibly useful for cleaning off before you step back into an RV. They're also great for cooking or preparing a meal, while keeping an eye out for game in the background. A lot of hunters have had success with this, especially for dove hunts. Propane tanks, a generator, and a toy hauler for ATVs are also helpful.
RV Supply List
Of course, in addition to your typical hunting gear, you'll also need to check off a list of supplies for your RV.
Young says, Drinking water, coffee maker, phone chargers, flashlights, and an emergency kit are a few necessities for every RV adventure. Some less-obvious RVing items to pack include comfortable clothes, your own bedroom linens and any other sleeping essentials, as well as cooking supplies and ingredients and games to pass the time. If you're wanting to stay connected to the front-country while you're away, consider investing in a roaming Wi-Fi booster like one from Skyroam.
You may also want to consider including a lockable storage container inside the RV for your firearms. And don't forget whatever you'll need to keep your canine companion comfy and content.
Check out this comprehensive list for everything you may need for your RV hunting trip.
Practice Campground Manners
Last but not least, be courteous when sharing a campground with other RVers. Koa.com lists a few Rules for Courteous RV Camping, which include following posted campground rules, observing campground guidelines for parking your rig, following the rules for utility hookups, being responsible for pets, respecting quiet hours, keeping the campsite clean, and more.
While an RV hunting trip can be a bit intimidating for the first-timer, just a bit of planning and preparation can make it well worth it. Chances are, even after the COVID epidemic has passed, you will still appreciate the freedom, comfort, flexibility, and budget-friendly cost so much that you'll want to continue traveling and hunting from an RV in the future.