Robby Bishop and Hunter Wood put more than 325 inches of velvet antler on the ground during the Bluegrass bow opener

Robby Bishop and Hunter Wood were destined to be friends. Robby's dad and Hunter's grandfather were best friends and hunting partners. Their cousins and uncles all hung out together. So, when the two started talking about mutual outdoor interests years ago, it was only natural that they became friends. There's a little bit of an age difference, so I kind of feel like a big brother to Hunter, Robby said.
From deer and turkey hunting to small game and fishing, the pair can nearly always be found together. If one of us is out and the other isn't, or if we are in different deerstands or hunting different farms, we constantly text back and forth about deer movement and other stuff, Robby said.
This year, both hunters had big bucks showing up on trail camera. They spent the summer and early fall running cameras and hanging stands in hopes that at least one of them could close the deal on a big deer.
(Don't Miss: How Far is too Far to Shoot Whitetails With a Bow?)
As season approached, Robby's buck was on a morning pattern. He was familiar with the deer when it first appeared on camera back during the summer. Both he and his dad had passed on the buck the year before. I estimate that he would have scored about 135 last season, but we knew he was young and hoped he would really blow up this year, Robby said.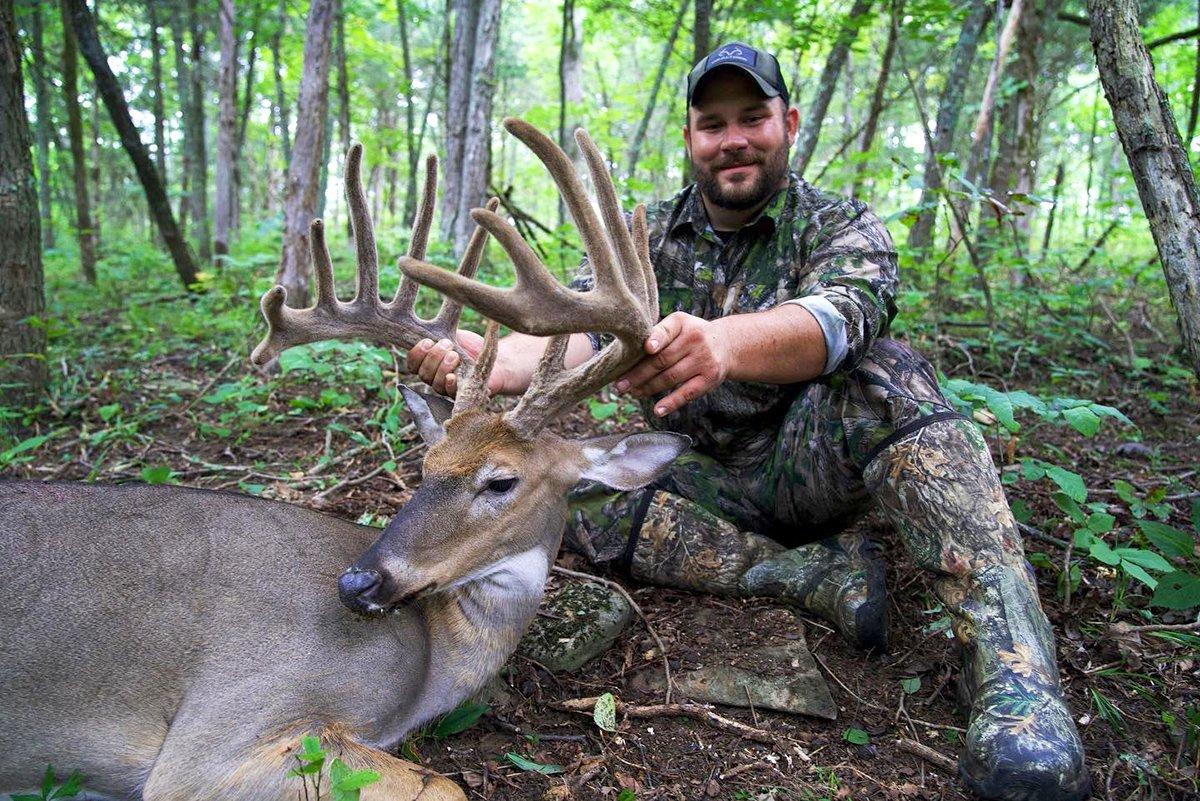 The buck did, putting on 30 to 40 inches of antler growth. The morning pattern would be tough for the early season, but Robby thought he could get in super early and be in position when the buck passed by his stand.
(Don't Miss: The Sixth Sense, Part I: A Whitetail's Secret Weapon)
Opening morning found him in the stand well before daylight. He could hear raccoons and deer walking through he woods around him. Daylight came and a young fork-horn buck was standing in front of Robby's stand. Soon, the young buck lifted his head and looked toward the sound of another approaching deer. It was a hard-horned 10-pointer, just recently shed, but not the buck Robby was looking for.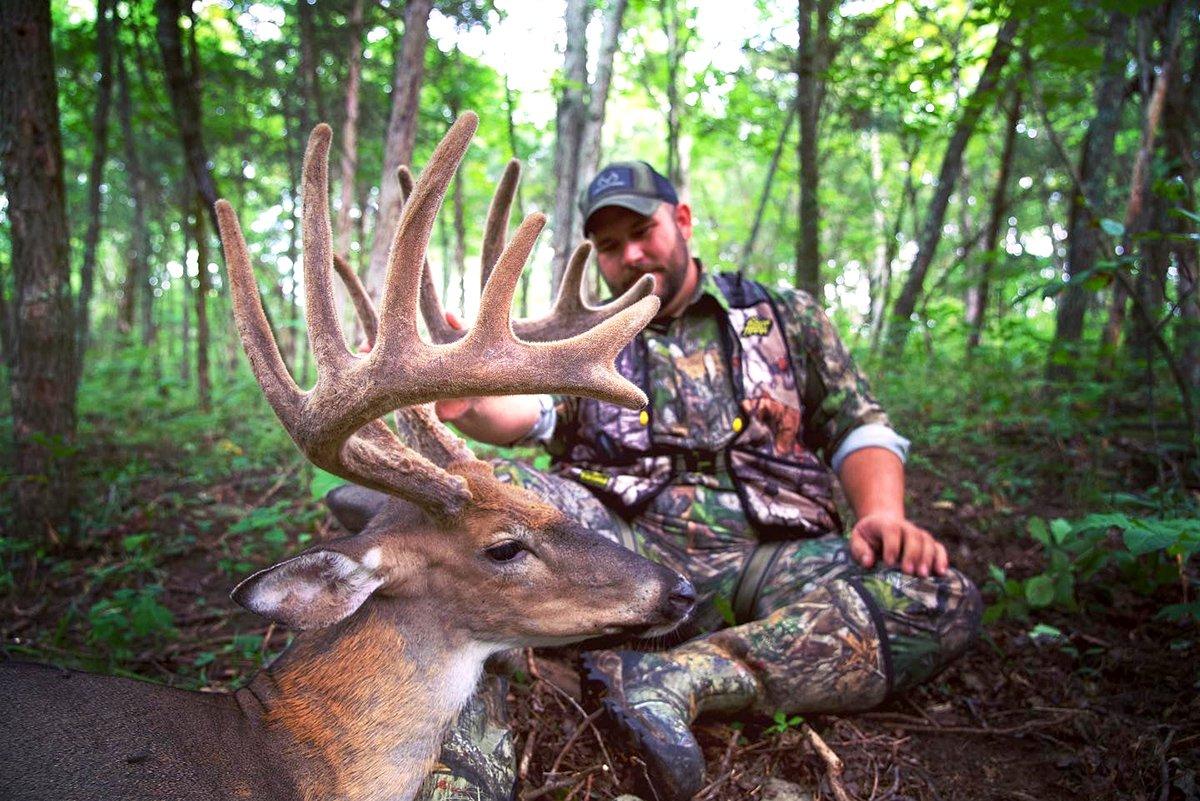 After several minutes, the 4-pointer moved off the trail and out of sight. Robby soon heard yet another deer making its way down the trail. It was the buck he was after. I was shaking, watching him head toward me, Robby said. The buck came in to just 17 yards. Before Robby could draw, the young 4-point that had left just minutes before had made his way around the hunter until he was downwind. The little buck stomped and my buck looked up to see what was happening. I knew it was now or never and drew and shot."
The buck bolted into the cover at the shot. Robby heard him crash nearby. One of the first calls he made was to Hunter to let him know he had shot the big buck. After a short track, Robby laid his hands on the buck's rack. It was a mainframe 12-pointer, nearly symmetrical except for a drop tine near the end of the right beam. The buck green scored 170 4/8 inches, and was Robby's biggest buck to date.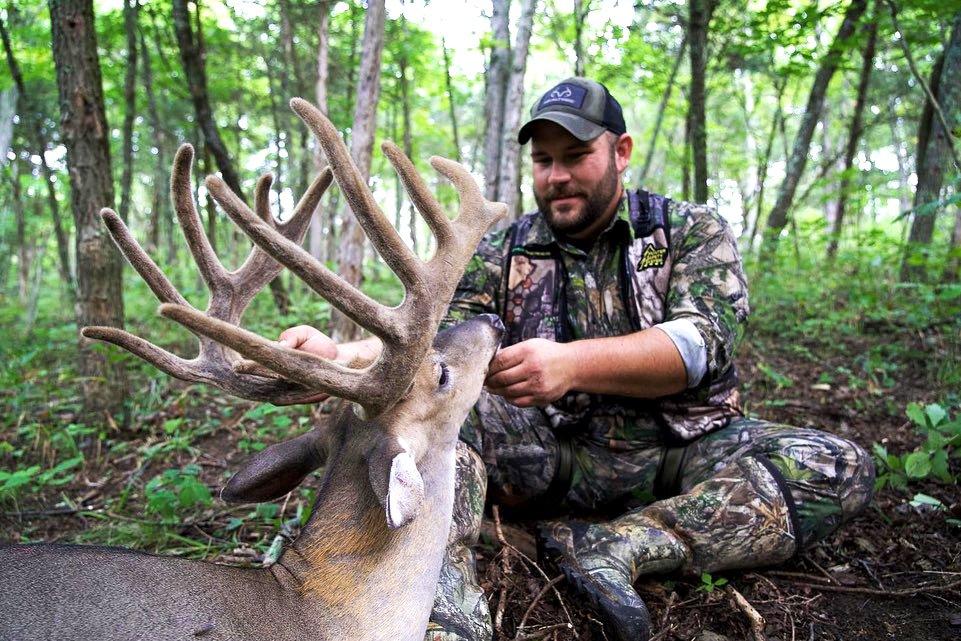 But the day wasn't over. Knowing Robby had killed his buck took some of the pressure off Hunter. His buck was on an evening pattern, and he also had some history with the deer. I'm pretty sure I had him on camera both in 2019 and again in 2020, but last year he never showed up, Hunter said. This summer, the buck returned, showing up on a trail camera back in June. As soon as he saw the photos, Hunter knew immediately that, should he be successful, this would be the biggest buck he had ever killed.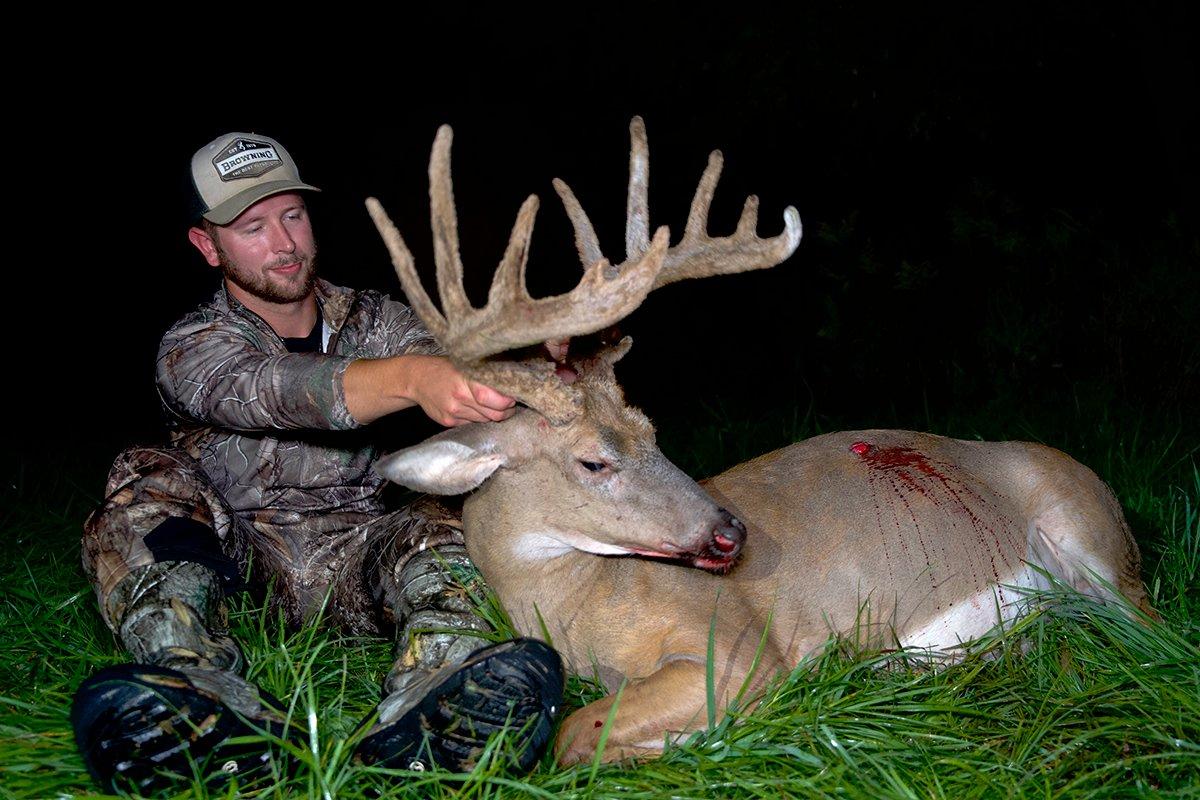 With the unsettled weather and thunderstorms of opening evening, Hunter was worried that swirling winds might hinder his chances. After studying the forecast, he decided to go ahead and hunt. He got in the stand early in the afternoon and it soon started to rain. At 6:45 that evening, the rain let up and deer immediately began to move.
A steady string of bucks began to parade by Hunter's stand. From 7 o'clock on, he saw a total of eight bucks. He knew his target buck had been showing up between 8 and 8:15, so he was on high alert as the evening progressed. As the evening drew to a close, one of the younger bucks lifted his head and turned his attention up the trail. Hunter slowly turned to see his target buck at 60 yards. The buck saw the younger buck and ran toward it until he stood just 13 yards in front of Hunter's stand. When the buck turned his head to look away, Hunter drew his bow, settled his pin, and released the arrow.
The shot was good. The buck bolted out of sight and Hunter heard him crash just seconds later. Like Robby's, Hunter's buck was also a mainframe 12, but with three additional kicker points. The rack green scored 155 inches, making it easily the largest buck Hunter had ever taken.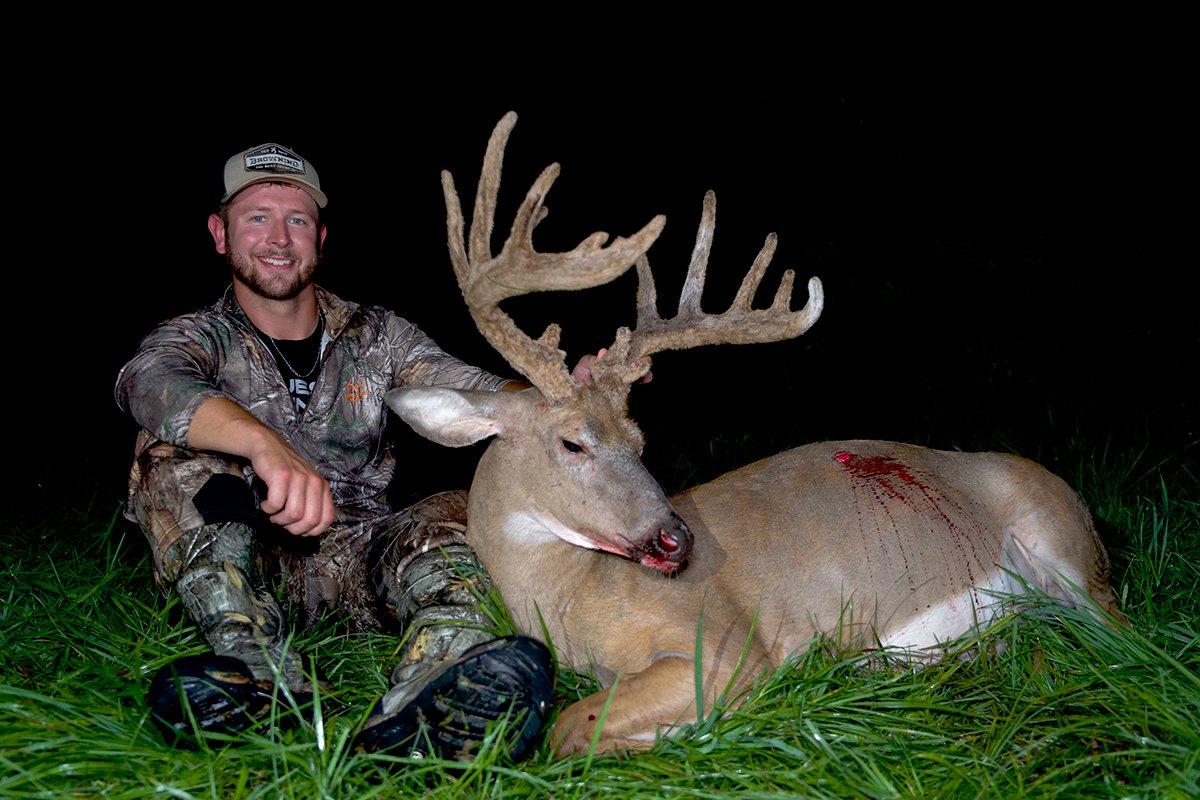 It was one of the best days of my life," Hunter said. "For 15-plus years I've hunted for a deer like this and it finally all came together. I harvested my biggest buck ever and in full velvet. The fact that Robby also killed his biggest buck made it even better."
The pair of hunting buddies had pulled off a nearly impossible task, putting over 325 inches of velvet antler on the ground on opening day of season. No matter what happens in the coming years, both hunters say that this was a season they will never forget and that they were both just as happy for the other hunter as they were for themselves.