This lady has killed nine trophy bucks on her 80-acre farm since 2006. Here's how she does it.

(Editor's Note: This Realtree Retro article was originally posted in August of 2011.)
One hectic morning last fall, Jeff and Lisa Brunner were setting about doing what millions of you do: scrambling to grab a bite of breakfast while dressing for work and getting their two daughters ready for school. Jeff happened to glance out the kitchen window. A 10-point buck was eating in the food plot behind the house.
He yelled for Lisa.
She took a peek and yelled back, What the heck? I'll try and sneak up on him!"
Lisa threw on her camo, grabbed her bow and ran out the door, shoeless in the cold Wisconsin morning. The buck was moving away down the edge of the plot. Lisa darted to a logging road that runs just inside the woods along the field. The wind was right and the ground was quiet and wet, squishy between her toes. She crouched and snuck down the road, closer, closer.
Jeff and the girls watched it unfold from the kitchen window.

Suddenly Lisa stopped behind some cover, smoothly drew her Martin Pantera and drilled the 156-incher perfectly through the lungs at 47 yards.
We even managed to get the kids on the school bus on time, Jeff said.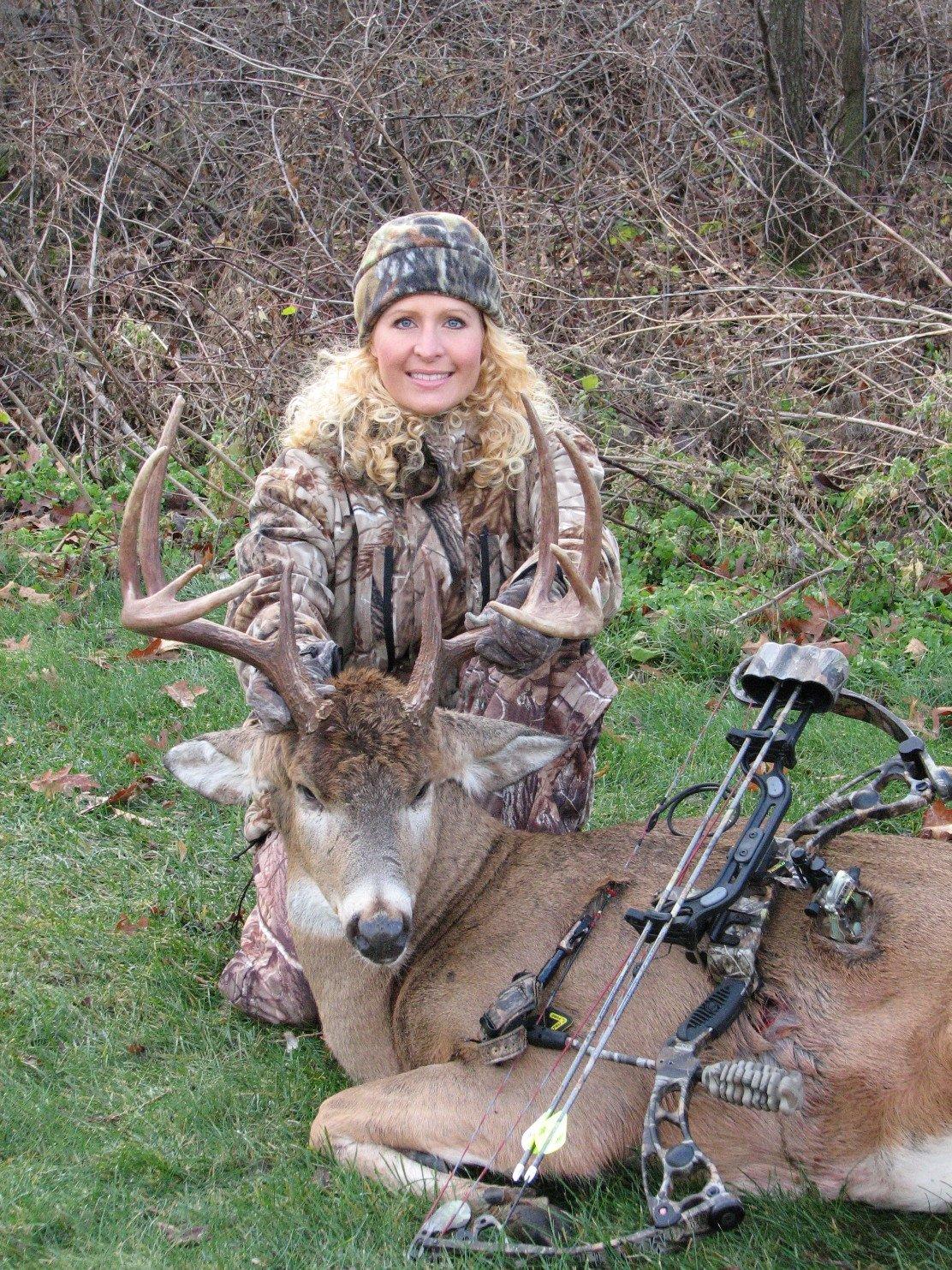 Lisa is one of the best big-buck huntresses in America that you might never have heard of. I first became acquainted with her in 2006. At the time, I was blogging about whitetails for Outdoor Life. Out of the blue, Jeff sent me a spectacular picture and email that read:
My wife Lisa shot this buck on the gun opener in Wisconsin. He scored 185 inches gross and 179 5/8 net; a 6x6 with one sticker. Big-time massive, nearly 7-inch mass between the G2 and G3.
I was impressed and made it a point to keep up with this girl, mostly through Jeff, who is her biggest fan and supporter. Since then, I have posted multiple pictures and blogs about Lisa and her big deer exploits at mikehanback.com. Some excerpts of those posts:
Late one afternoon in October she rattled in a heavy 140-inch 8-pointer and shot him with her bow.
One November day, exactly one year after she shot her Booner, she dropped a 165-inch monster with her lucky Browning BAR.
Lisa put down this heavy 8-pointer one Saturday morning, he's 20 inches wide. …
Lisa has shot nine mature bucks with a gun and bow since that magnificent Boone and Crockett trophy in 2006, all of them on the 80-acre family farm that she and Jeff manage in Buffalo County, Wisconsin. She has become so well-known and respected on my blog that I have dubbed Lisa, The Best Huntress Ever on BIG DEER!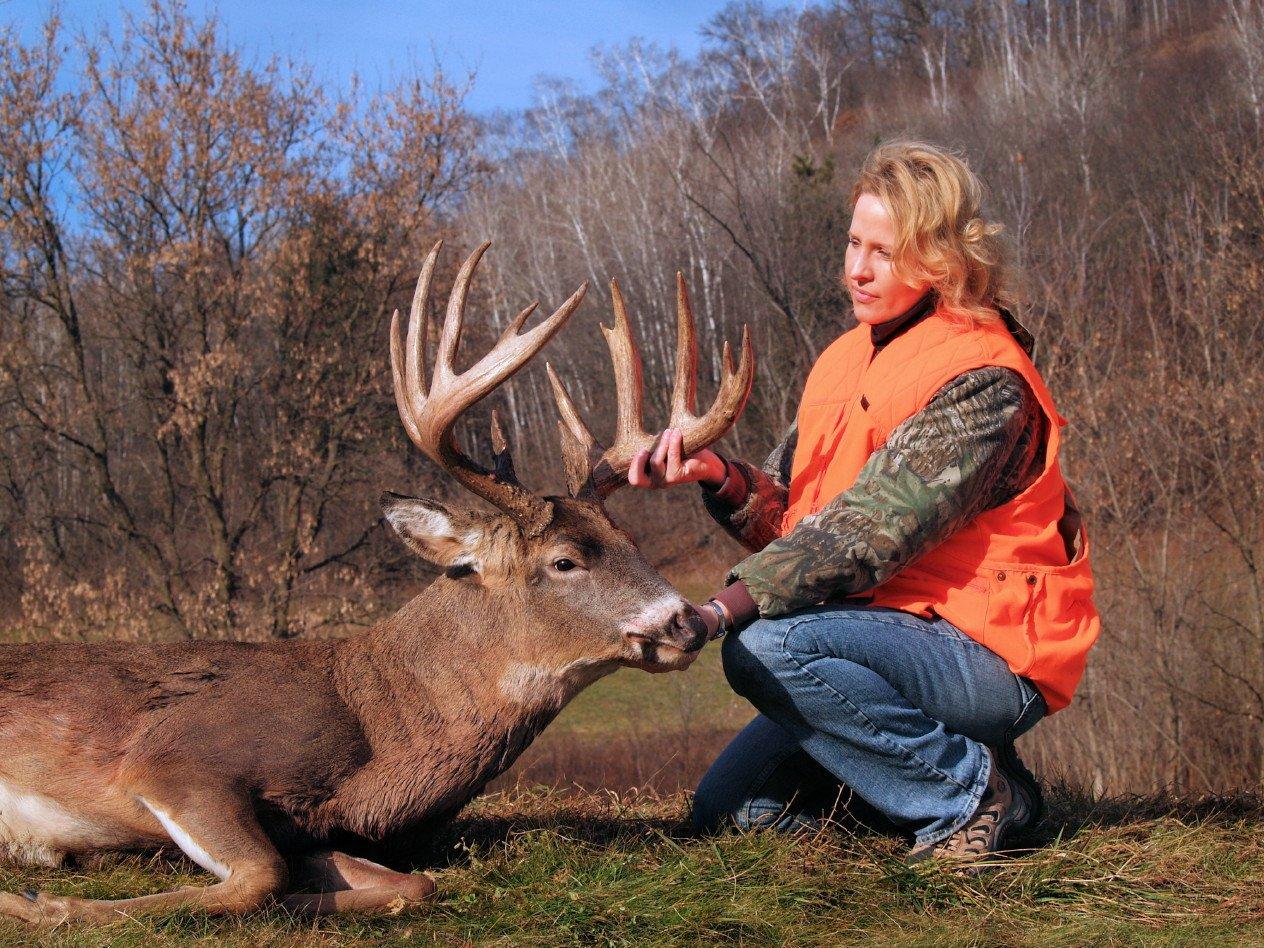 Lisa is Midwestern friendly, polite and humble. When I told her we'd like to profile her and her big-buck prowess on Realtree.com she said, I'd be honored.
This unassuming mother of two beautiful daughters, Lauren and Kylie, works as a licensed veterinary technician. But she lives to hunt and has been at it for more than 20 years.
I milked cows one summer to buy my first bow when I turned 16, she said.
She's never looked back and cannot imagine life without deer hunting.
I love to be in the stand to watch and learn all the fascinating deer behaviors, Lisa said. For sure, I love the adrenaline rush of the hunt.
Deer hunting is a way of life for us, she continued. Between shed hunting, food plots, trail cameras, scouting and hunting, we stay busy all year.
This Realtree girl must have a lot of great hunting secrets, right? I asked her for some, and this is the one I liked best.
I don't hunt with Jeff, she said, tongue in cheek, but serious, too. We take turns watching the kids or we split up.
Lisa gets her big bucks by hunting hard, often all day, on her own terms, abiding by her set of rules—just the way she likes it.
That's right, she's great, said Jeff, who also shoots some good bucks on the farm (I don't want to leave the boy entirely out of the story).
He promised to keep us posted on Lisa's upcoming hunts this fall and in the future, though sometimes I do feel my masculinity is questioned.
Update: Keeping Up With Lisa Brunner
So what has this amazing huntress been up to since we first posted her exploits back in 2011? Killing more big deer with her bow!
In the summer of 2012, Lisa and her husband, Jeff, got another huge buck on camera (see picture) on their Buffalo County farm. Lisa didn't waste any time making her move. She hung a new stand in a funnel where she thought she got a glimpse of the giant sneaking through the woods one August evening. On the archery opener in September, she shot him from that stand 20 minutes before dark.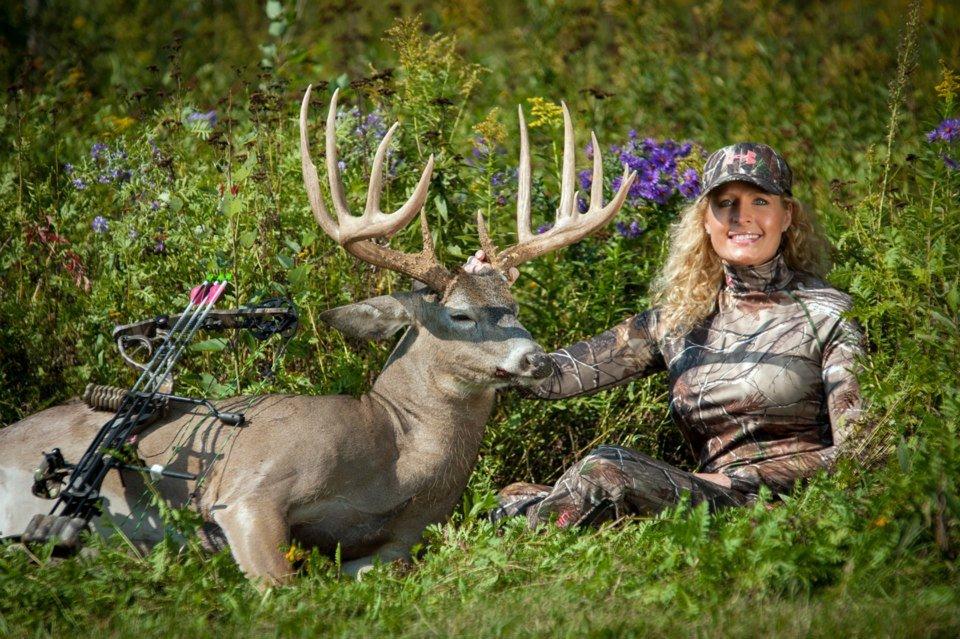 The buck ran 80 yards and Lisa heard him pile up. She called Jeff and their two daughters, and they shared yet another awesome moment in the woods with Mom. The monster buck had 13-inch G-2s and scored 174 6/8 gross.
Later that fall during muzzleloader season, Lisa let a mature buck walk because his rack was busted up from fighting in the rut. Nine months later, on a September afternoon during the 2013 bow season, she saw the buck again.
As he closed on her treestand, she noticed the buck's rack had lost some inches and points from the previous year, likely due to the record-breaking hard winter of 2012 in Wisconsin. Still, this was a great old 8-pointer; 5 ½ or 6 ½ years old, thick-bodied and a good 215 pounds. Lisa drew her Bowtech Experience and drilled him with a perfect shot.
I had history with this old buck, she said. I'm happy I got him, but a little sad to see him go.
At last check, Lisa and Jeff were busy putting out and checking their cameras. Lisa was heavy into shooting her bow in preparation for the 2014 archery opener on September 13. -- Mike Hanback, July, 2014
The Magic 80 Acres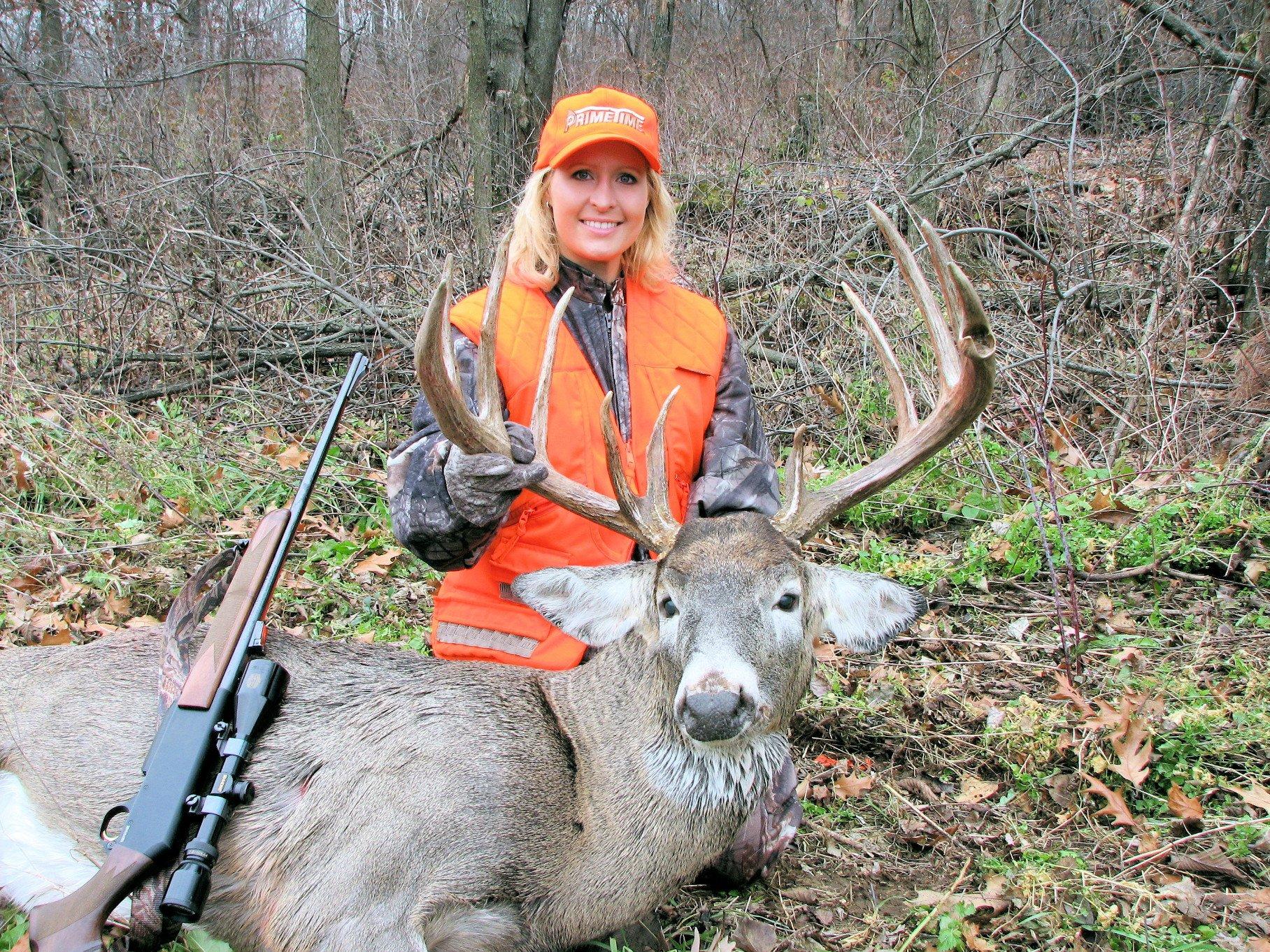 The 80 acres where Jeff and Lisa Brunner live and hunt is in the right big-buck zip code for sure—Buffalo County, Wis., one of the top and most-storied counties in the whitetail records. They've implemented a smart and realistic deer management plan, one that I consider a blueprint for areas of 100 acres or less. Who can argue with their results? Look at Lisa's bucks!
They start by planting about 3 acres of beans and corn. They also put in three smaller plots of clover with chicory.
They have established two refuge areas of about 10 acres each inside the 80 acres—no activity and certainly no hunting is allowed inside those zones. These are places where does and bucks go to bed, hide and feel safe and comfortable, which helps to keep the deer on the property. Jeff also built a pond in the middle of the acreage that catches runoff.
The Brunners' No. 1 rule is, and it's a smart one: selective, low-pressure hunting. If they are not willing to spend $600 to mount a buck that comes by, they don't shoot it—too young and too small.
The second most important rule is to stay out of your refuge areas, Lisa said.
This simple, yet solid plan has made a huge difference in the quality of the bucks on the Brunner place. Our 80 acres is part of my dad's original farm of 520 acres, Jeff said. The last few gun kills of Lisa's are the largest bucks ever taken off the 520 acres since my dad took it over in the 1950s!
Lisa's Bows and Guns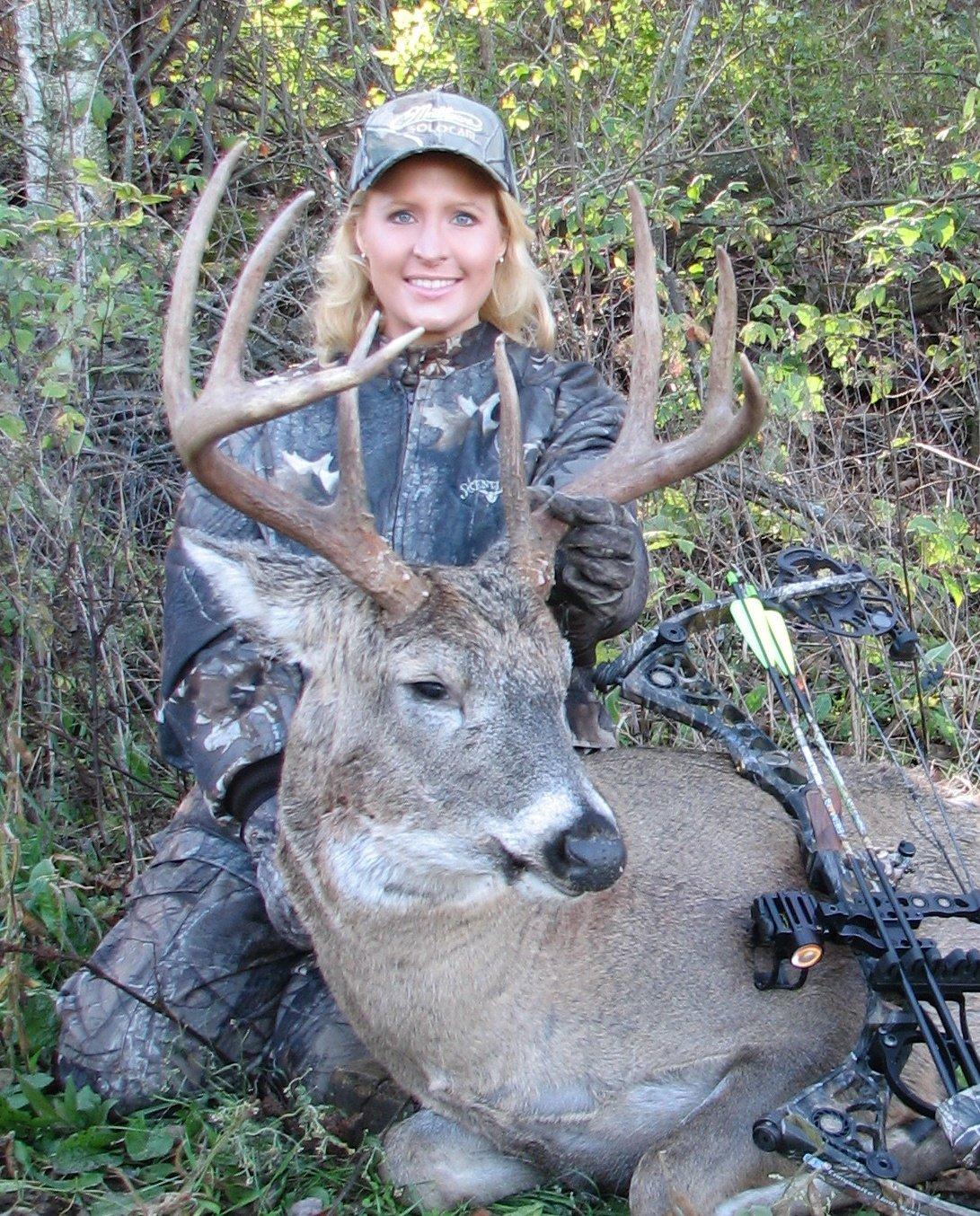 Lisa's current hunting bow is a Martin Pantera set at 54 pounds. She also has a Mathews DXT. She shoots Easton AXIS 400s tipped with G5 T3 expandable broadheads.
She stretched the range to 47 yards on the buck she stalked and killed last fall. But, most of the deer that I have shot with the bow have been between 20 and 30 yards, Lisa said.
Lisa's Bowhunting Tips for Ladies
Build up your stamina. Pick a bow that you like and that feels good, and then shoot as often as you can so you'll be comfortable pulling it back when you're freezing in a stand, or when you're cold and excited and a trophy buck is standing in front of you. Also, plan on putting a lot of hours into the hunt. I hunt from dawn to dark, sometimes for several days in a row.
Lisa's deer rifle is a Browning BAR ShortTrac in .300 WSM, a compact short-action with an alloy receiver and 23-inch barrel. She uses 180-grain soft-point bullets. I like to use the higher powered, heavier loads in the bluff country up here, she said. It's a tough drag if you shoot a deer and it runs far over a ridge top.
Lisa's Gun-Hunting Tips for Ladies
Make sure your rifle fits you well. That's why I shoot a BAR ShortTtrac. It fits me perfectly.
With regards to the .300 WSM—it's certainly not the cartridge most women choose. Don't be afraid of your gun, no matter the cartridge, Lisa said. If you shoot your rifle enough and practice enough, you won't even think about the recoil.