Deer are moving from crops to mast across the Northeast, and it's been warm. Still, activity has been decent, and will only get better in the days ahead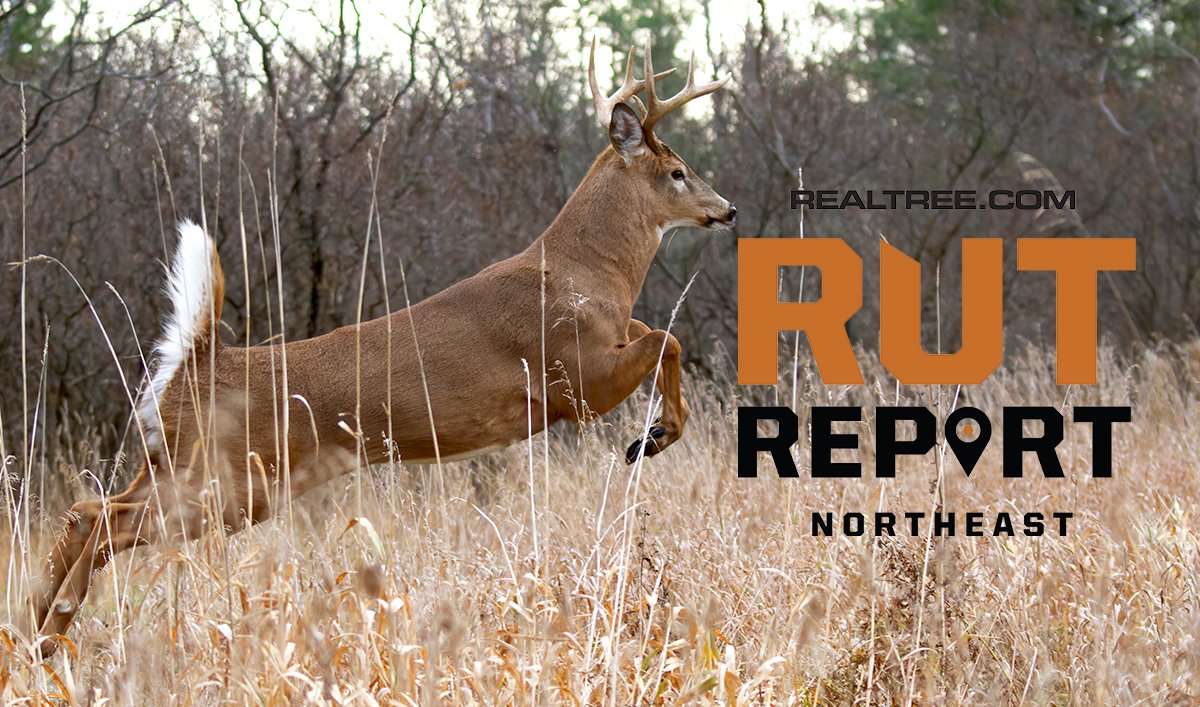 Many folks overlook the warmer days of early October, electing to stick home and catch up on family activities and chores. But now can be a great time to take advantage of consistent daylight movement on food sources, especially in the evenings, and recent reports from the Northeast Region prove just that.
Overall, deer activity has remained high from Maryland to Maine despite warmer-than-average temperatures across much of the Northeast during the last few weeks. While some hunters have been holed up waiting for the famed rut, others have been selective in picking the right days to head afield, with more than a few already scoring big. Case in point — a friend and client of mine arrowed a once-in-a-lifetime buck that stretched the tape to almost 180 inches on the second day of New York's Southern Zone Archery Season (Oct. 2). The buck fed in a clover and radish plot nearly an hour and a half before the close of shooting light!
Bucks and does have continued to maintain their summer feeding patterns on green food sources, browse, and other early-season favorites like soft and hard mast. Apples, clover, alfalfa, and acorns have all been reported as being top preference food sources right now. Find the food source, find the deer. Activity on beans and corn has been slim but should pick up as the temps cool and the light fades.
(Buy Alert: Realtree Camo Pro Staff Performance Hoodie)
Reports of daylight activity on the part of young bucks and does remain high. Mature buck sightings have been numerous but not at the level we will see in just a couple of weeks. Young bucks are still daylighting in small bachelor groups while the larger bucks have seemingly separated themselves and assumed different patterns that include activity much closer to each day's end. Rubs of all sizes are popping up every day, but scraping activity is a little less frequent. Still, deer are working licking branches as they sort out their core areas. Light sparring and tickling of antlers has been witnessed by many folks across the Northeast, but nothing too intense yet. That will change in the coming weeks as bucks continue to establish their pecking order and patrol the areas they call home.
In some states like New Jersey, Connecticut, and Massachusetts, movement reports are on the slower side as some deer transition from green ag fields to soft and hard mast. In the big woods of New Hampshire and Maine, sightings have been a little slower but that's to be expected, given the lower deer densities as compared to more favorable ag country habitat.
EHD has become a hot topic in the region with reports of outbreaks affecting several counties in New Jersey and New York, with some impacts potentially severe. Hopefully cooler temps in next week's forecast will slow the effect and mitigate the loss.
While some will argue that the best of the season is yet to come, taking advantage of the last few days of summer patterns is still a great way to punch a tag. If you don't mind the warmer temps and can manage a few mosquitoes, now is a great time to bowhunt. This week's forecast is calling for the temps to drop closer to perennial season averages, and time will tell its effect on the deer activity.
Timothy Kent is a land specialist for Whitetail Properties and brand strategy consultant for Phenix Branding, where he represents hunting industry companies. He spends as much time as possible in the New York deer woods every fall.
(Don't Miss: 5 Best Stand Setups for Pre-Rut Bowhunting)
Day Activity

Rubbing

Scraping

Fighting

Seeking

Chasing

Breeding