Rack Report Details
Buck:
273 2/8 inches
Time of Year:
September
Place:
Muhlenberg County, KY
Weapon:
Martin Pantera Bow, Rage 2-blade Broadhead Bowhunting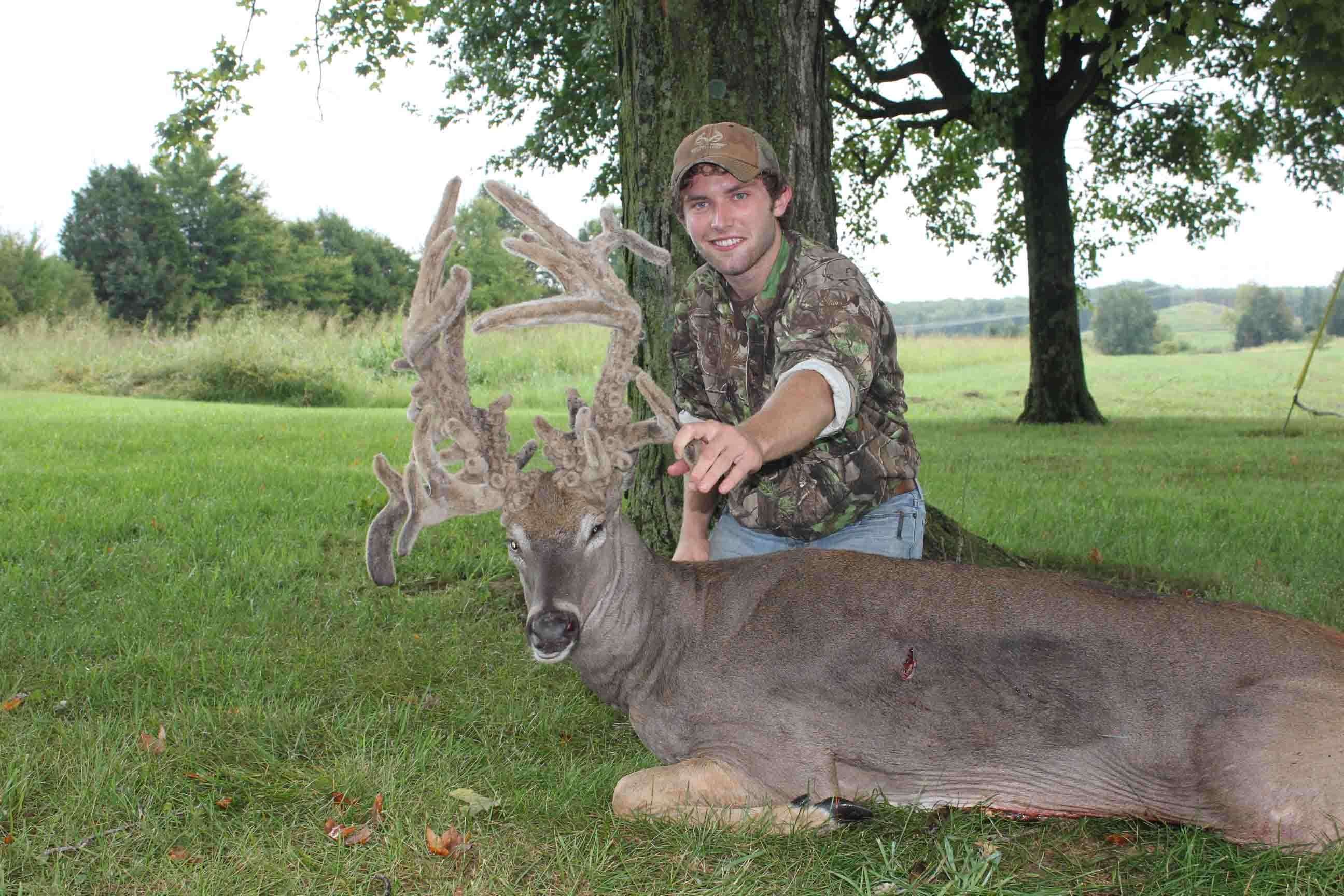 Labor Day weekend was timed just about right for Thad Cartwright. Kentucky's bow season opened that Saturday, and with three days to spend in the woods, Cartwright, a junior at University of Kentucky, decided to head west from Lexington's bluegrass and thoroughbreds and hunt his home ground in Muhlenberg County. Like other counties in this region of Kentucky, Muhlenberg is noted for big deer. And Cartwright had one buck in particular on his mind this season.
We'd tried to get on him last year, he says. Dad and I had been watching him on camera from about the middle of September on. He was a good one last year; more of a 170-inch mainframe 10, with some junk hanging off here and there. I got a shot at him in late October of last year, but got in a hurry and shot over him at 30 yards. After that, he disappeared for a while.
When the buck finally reappeared on camera, it was late November, after Kentucky's rifle season had opened. Things didn't look good. The buck had lost a bunch of weight, and just looked sick. He had a bad scar low on his left side, and we figured someone had wounded him during gun season. But he kept showing up on camera and, gradually, started filling back out.
Cartwright began running bait and cameras in early July this past summer, and it didn't take long for the buck to reappear.
His rack had just exploded by that point, he says. He was a 200-inch deer in the first picture I got of him, and he still had a full month or more of growing time left. I knew we'd need a stand set for a south wind to have the best chance at him in the early season, so we experimented with moving the bait site and cameras into different areas, trying to learn where he was bedding and traveling. Before opening day, it finally seemed like we had the right set figured out.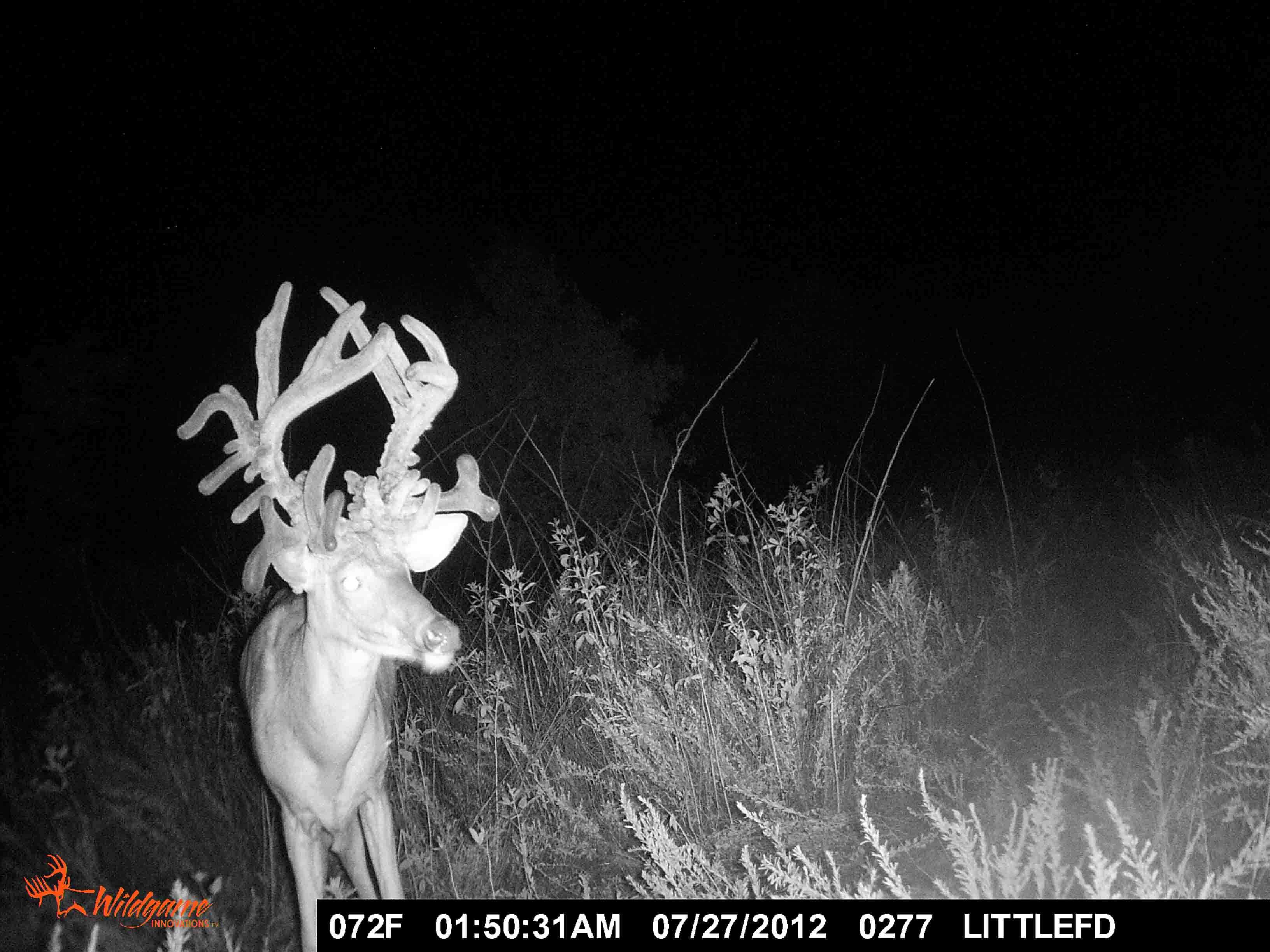 The remnants of Hurricane Isaac blew through Kentucky that weekend, but the storms never turned quite as violent as the weathermen predicted. Rather, it was just a slow, persistent drizzle for most of the three-day weekend. Cartwright hunted opening afternoon, and just before dark, in a swirling wind, some does stepped out and busted him.
That got in my head; I was thinking all that scouting work, and those does probably ruined it for me, Cartwright says. The buck didn't show that afternoon, and the wind was dead wrong to hunt the next day. It was Monday afternoon before I got back in the stand.
Like many an early season evening, Monday was a slow one, at least until right at dark.
I was swatting mosquitoes when a little buck popped out, he says. Darn if he didn't bust me, too, just like those does had. I was really down then. But as I sat there, I looked up, and there stood my buck, 18 yards away.
Cartwright says he didn't have time to get nervous. Instead, instinct took over. Within seconds, he had his bow in hand, came to full draw, and let fly.
I was pretty sure the hit was good, but from the time I saw him till I shot, no more than 45 seconds passed, Cartwright says. I called Dad to let him know, and then climbed down to get my arrow. I had planned on waiting for Dad before taking up the trail, but I found good blood almost immediately. I tracked him about 100 yards and found him piled up in a thicket. I'd double-lunged him.
With the buck still in full velvet, it's ineligible for Boone and Crockett scoring. It's been green-scored at 265 inches in Pope and Young's velvet category, and scored 273 2/8 inches on the Buckmaster's scoring system. Without a doubt, it'll be a contender for the biggest Kentucky bow kill—and perhaps the biggest Rack Report buck—of the season.
Have a big-buck story you want to share? E-mail us at [email protected].
Watch all the latest video episodes