Ray TenPas says the hunt for the giant velvet whitetail wasn't difficult, but you have to take easy hunts every now and then in your later years
Rack Report Details
Buck:
215"
Time of Year:
September 11, 2023
Place:
Neosho County, Kansas
Weapon:
Thompson Center .50 cal muzzleloader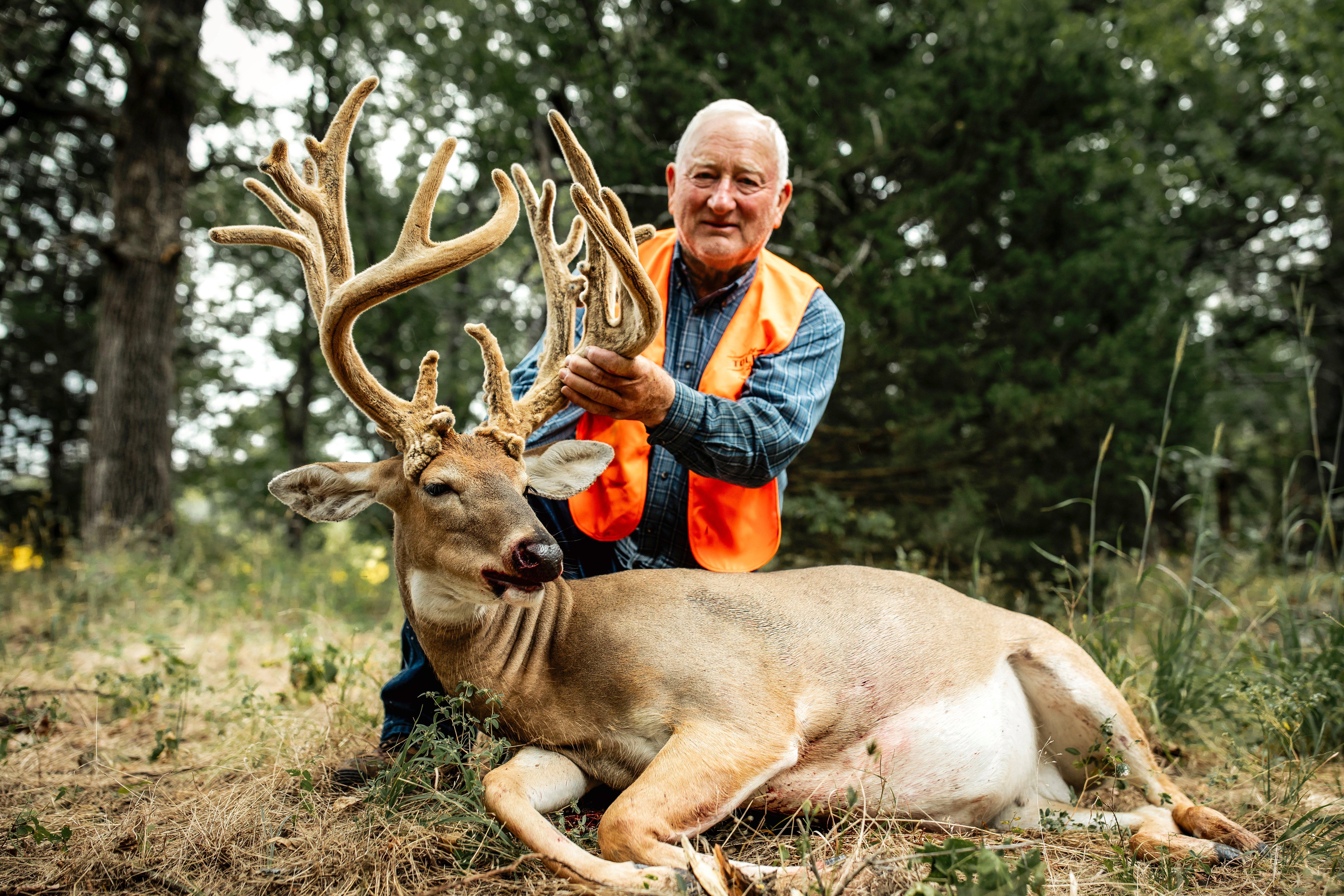 Wisconsin's Ray TenPas claimed this 215-gross-inch velvet buck on the Kansas muzzleloader opener while hunting at Lil' Toledo Lodge. Image courtesy of Holly Rickner
Many hunters, especially those who've been around a few Midwestern deer camps, are familiar with the folklore around "the 30-point buck." Perhaps you've even heard "Da Turdy Point Buck" by Bananas At Large, a song that originated in Wisconsin, where Ray TenPas hangs his hat. It's been playing in vehicles and at deer-hunting camps since 1989, but TenPas never imagined he'd one day get the fabled 30-pointer. But that's exactly what happened on his recent Kansas hunt.
For history's sake, let's rewind just a bit. Now 81 years old, TenPas has been hunting with Lil' Toledo Lodge in Neosho County, Kansas, during the early muzzleloader season for 11 years. In that time, he's taken nine different wall hangers. "Several of them are in the 150s," TenPas said. One year, he shot a 173-inch 12-pointer after hunting for five days straight in 90-degree temperatures. His 2023 buck, which is by far his largest ever, came a lot easier.
The world-class velvet buck that TenPas harvested this September had been showing up on a trail camera at a specific stand location. The guides had set a youth hunter in that stand for a couple of days, but the buck didn't show up. So, the following week, TenPas tried his luck in the stand where the velvet monster was frequenting with his muzzleloader.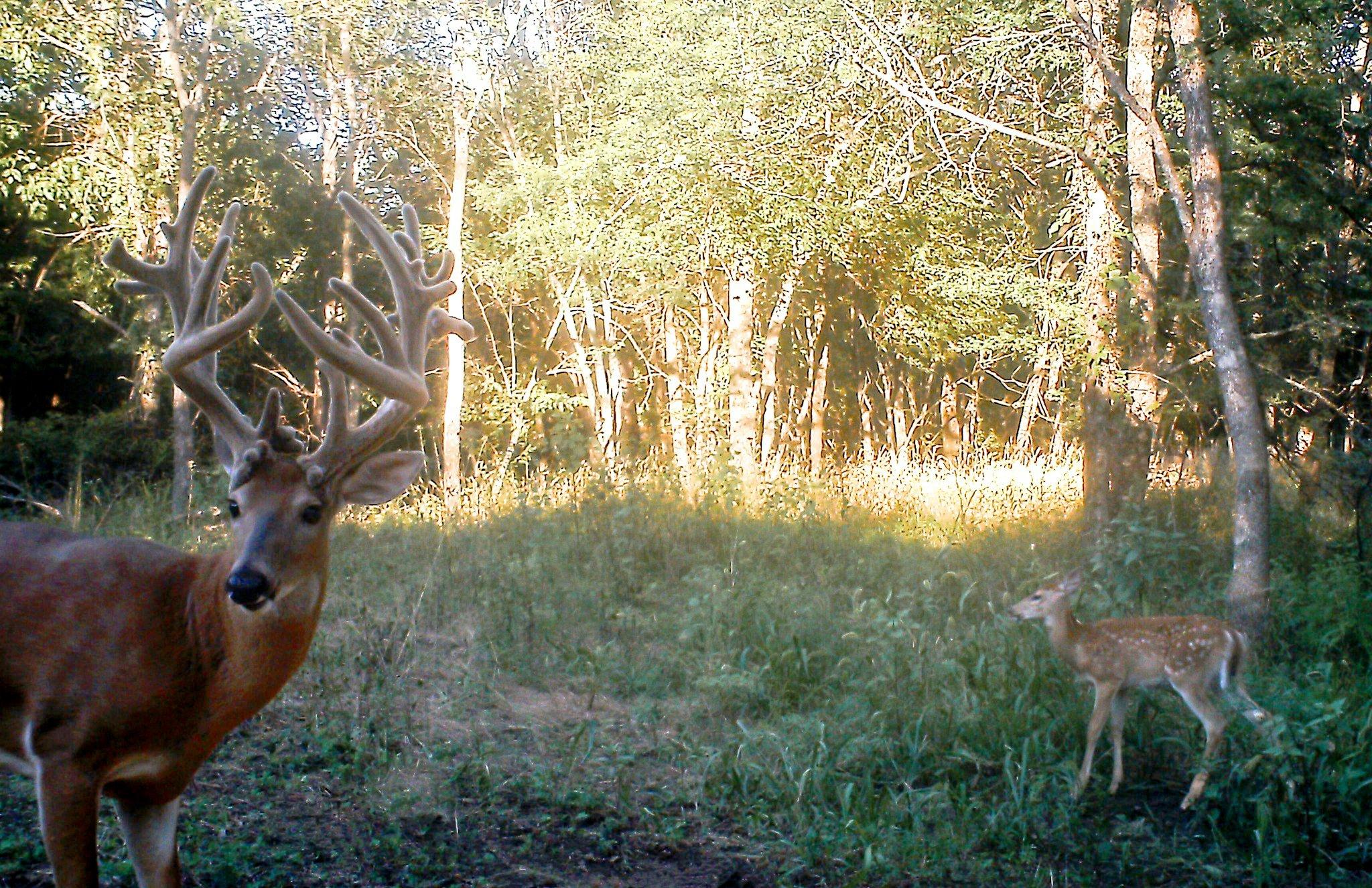 The TenPas buck was missing testicles, which probably explains why its antlers were still in velvet on September 11. Image courtesy of Holly Rickner
"Over the last 11 years, I've only missed two morning hunts," TenPas said. "One year, everyone skipped a morning hunt because it was raining buckets. Opening morning this year was the second morning I've ever skipped. My guide didn't want to risk spooking this buck by going out in the morning, so I went fishing for catfish on the river instead."
After a successful morning of fishing, TenPas headed out early for his afternoon hunt, arriving at the stand by 1 p.m. He was anticipating a long, 7-hour sit since legal shooting time would end at about 8 p.m., but, he wasn't in the stand very long.
"The buck showed up at about 4:50 p.m.," TenPas explained. "I waited for him to give me a nice broadside shot, then I squeezed the trigger. It was a good clean hit, and there was a great blood trail to follow. He went less than 100 yards. He was still in velvet because he had no testicles.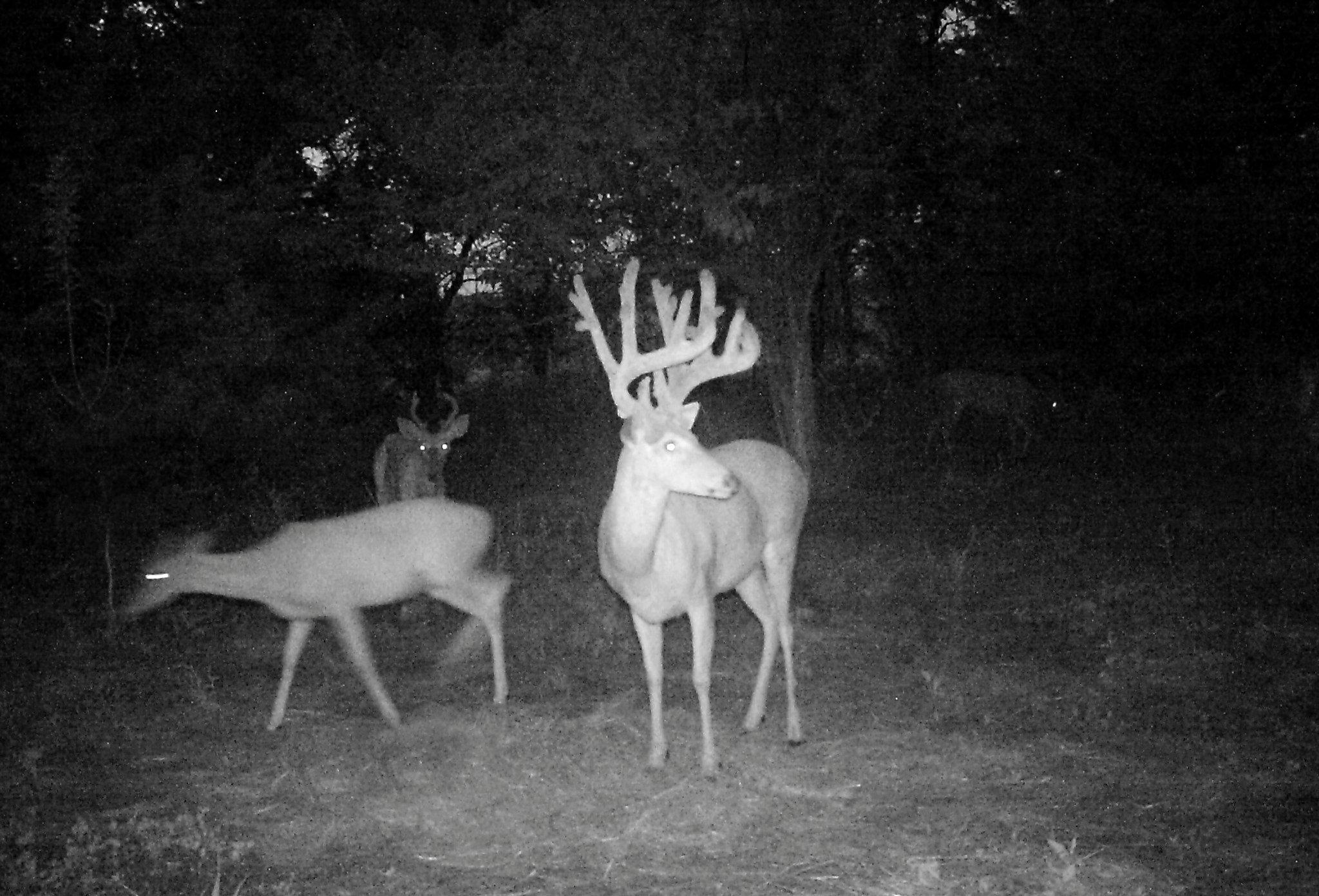 The huge buck sports 23 scorable points but has a total of 32 projections. Image courtesy of Holly Rickner
"There really isn't a big story behind this buck," he continued. "I didn't hunt for four or five days to get him. I got him on the first afternoon. I don't know how to put it other than it was a pretty easy hunt. But, I'm 81 years old. You have to take a hunt like that in your later years. And I enjoyed my time. Lil' Toledo provides great food and lodging. I was treated very well. I couldn't have asked for nicer accommodations."
While discussing the hunt with TenPas, he mentioned that his big velvet buck had 23 scorable points plus multiple other projections measuring less than 1 inch long. He said, "If they grow 'em, I count 'em." All told, there were 32 "ring-hanger points," as TenPas put it. Maybe the 30-pointer isn't just folklore after all.
Don't Miss: BOWHUNTER SLEEPS IN STAND, ARROWS TARGET BUCK 4 DAYS LATER
Watch all the latest video episodes