Rack Report Details
Buck:
160-inches
Time of Year:
Late October
Place:
North Dakota
Weapon:
Bow Bowhunting
The "other" Cianciarulo tags a 160" stud in North Dakota.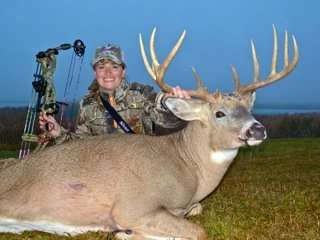 A few weeks ago we featured a dandy North Dakota whitetail tagged by Ralph Cianciarulo of Archer's Choice Media. That buck was another outstanding example of the success that the AC crew has had in North Dakota - it was, however, only half of the story, or the uglier half as Ralph's wife Vicki would probably say.
Here's the rest of the story - and, yes, that is a homage to the late, great Paul Harvey.

Shortly after Ralph downed his Booner, wife Vicki hit the stand in search of her own buck. For those familiar with the Cianciarulos, you might be thinking that Vicki was looking to tag a buck just to keep hubby Ralph from gloating too much about his own success in camp. But that actually wasn't the case.

Strangely enough, Ralph was pretty quiet about his buck, she said. I think it was because he shot his so early in the week and he knew what kind of deer were there. He was a little bit nervous that I might kill one bigger. But he does like to have fun with me - we have fun with each other - but he was being pretty quiet about the whole thing. I think he was a little afraid of eating crow.

Vicki's week had been eventful to say the least. The first night in camp, she climbed into a stand and passed on an 11-pointer that was weighing on her mind.
He just wasn't old enough, she said. But I looked and looked and thought it's the first night, so I'm going to pass. Well the next three nights all I saw were does and spikes. And I was thinking about that old saying about not passing the first day what you'd shoot the last.

Well, the last night had arrived and Vicki had yet to punch her tag. Her stand was situated near a cornfield that had, strangely enough, a large cattail thicket nearby. As she was waiting, she saw three bucks stand up in the thicket including one solid shooter. The problem was they were out of range with really no way to get to them.
I was just getting ready to turn on my phone to text Ralph and tell him what I was seeing when out of the corner of my eye, I saw tines, she said. I tried to stay cool and grab my bow to get ready. I thought my cameraman had said 'wait,' but he had actually said 'OK.' But I had already let down. By the time I drew again there was a doe in the way.
Finally, the lane cleared, the communication between hunter and cameraman was ironed out and Vicki made the shot at 17 yards.
I was really calm up until the shot, she said. Then I started to shake. I really wasn't sure what exactly it was other than it was a fully mature deer and had a good frame.
The buck had a good frame all right. It was a clean 10-pointer that pushed 160 inches and had long tines that sort of sweep backward, giving it the appearance of a Texas buck.
After the shot, Vicki took advantage of the opportunity to have a little fun with the crew.
It was only about 5:30 p.m. when I shot, she said. So I got on the radio and called the guys and said, 'Can you come get me? I don't want to sit here anymore.' And the guys were like 'Uh, is there any particular reason?' And I said 'Yeah, this buck came by and scared me so I had to shoot him.'
Ralph wasn't the only Cianciarulo family member in camp. The couple's son, RJ, was also there and was able to assist in the recovery of Vicki's arrow.
That was really special to be able to share that with him, she said.
So when time grows short in the woods and your livelihood depends on footage and deer on the ground, is there pressure to fill tags? Not in the Cianciarulo family.
Hunting is supposed to be fun, she said. Even though this is what we do for a living, this is still fun. I passed that buck on the first night and said, 'I hope it doesn't come back to bite me.' That last night I got in the ground blind and I started to think about a lot of things and I thought 'Vicki, you are getting greedy.' I never feel that I have to kill a deer. When it's meant to be, it's meant to be.