Rack Report Details
Buck:
200 7/8
Time of Year:
November 2010
Place:
Coal County, OK
Weapon:
.243 Rifle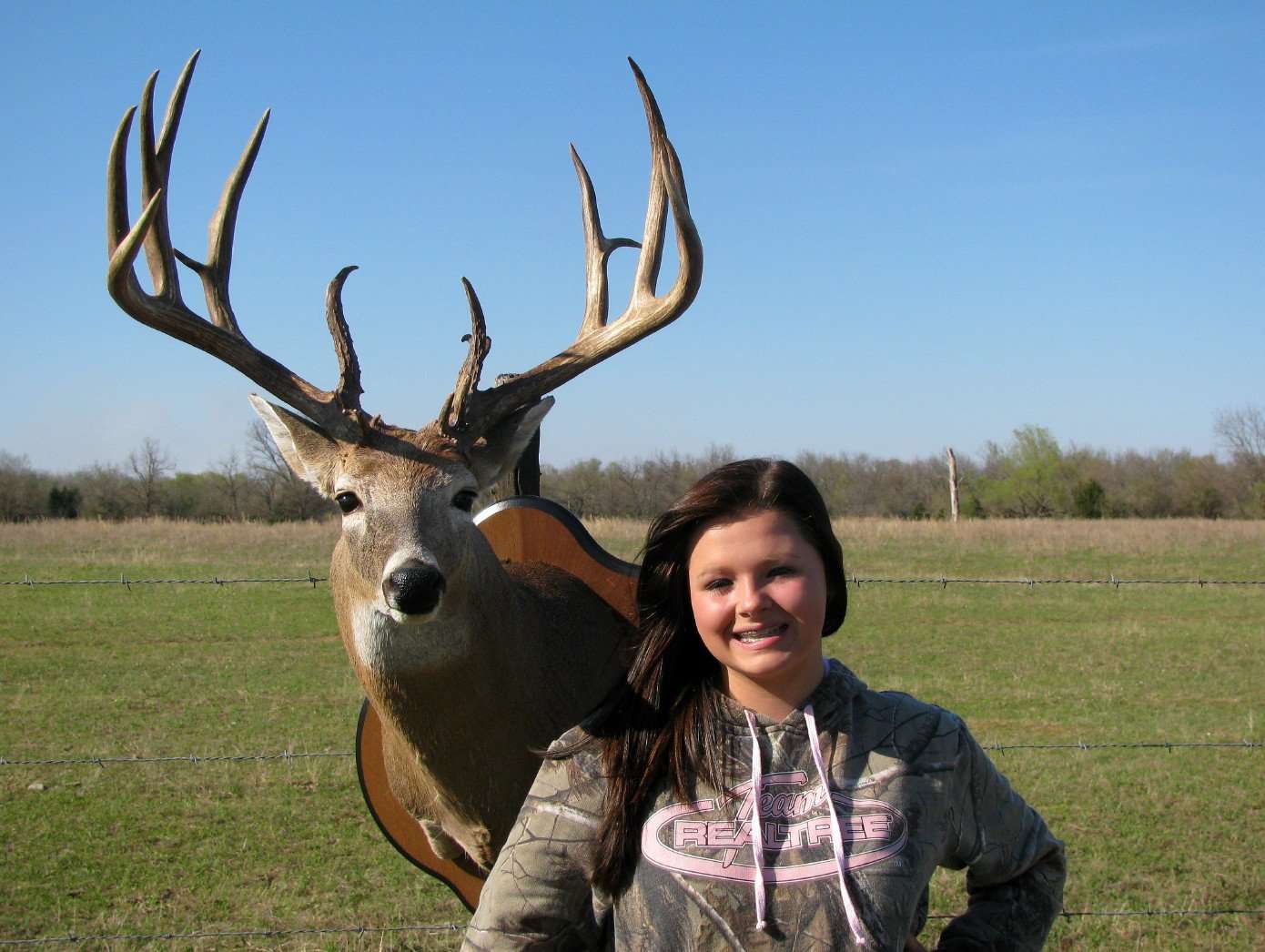 Kelsey McKay couldn't believe her eyes. At the edge of the tree line a big, wide-racked buck stood facing her. Now making an amazing third appearance in a few minutes' time, the brute looked imposing. With mom and dad looking on, she seized her nerves and raised her single-shot rifle. Placing the crosshairs on the big buck's vitals, she carefully squeezed the trigger.
The 13-year-old hunter had no idea that an afternoon deer hunt would lead to her shooting the largest whitetail ever taken in Coal County. The area was rumored to have a monster buck roaming its rugged terrain, and was confirmed when a large shed antler was found by Kelsey's dad, John, while riding his horse.
On the second day of gun season last fall, Kelsey and her mother Helen headed to the woods for an afternoon hunt. Just before 5 p.m., Kelsey got impatient and was ready to leave after no deer sightings. Helen convinced her to stay, reminding her daughter that the deer usually start moving just before dark.
Five minutes later, a doe popped out 25 yards away and was being chased by a buck. A second buck then ran after the doe, followed by a third, bigger buck. Kelsey raised her .243 rifle and shot at the bigger buck, but missed. Upset and dejected from her miss, Kelsey was amazed when a fourth buck walked out. But her single-shot rifle was empty, so she watched the buck trot off into the woods.
Did you see that buck? Kelsey asked her mother. Mom, I don't mind that I didn't get a chance to shoot; just seeing that big buck was amazing!
Knowing her daughter was amped up, Helen reminded Kelsey that she needed to be quieter while they were hunting.
John was riding his horse nearby when he heard the shot and hopped on his ATV to come investigate. En route to his wife and daughter's location, he inadvertently scared the big buck back toward them. The buck ran back to about 75 yards from Kelsey, but she didn't feel comfortable about making the shot. When John arrived, Kelsey and Helen told him about the big buck encounters. Incredibly, the monster buck stepped out again 120 yards away, now facing Kelsey.
If you are going to try for that buck, here's your chance, John told his daughter.
Kelsey raised her rifle and made a perfect shot. The big buck spun and disappeared in the woods. After a short wait John, Helen, and Kelsey walked toward the area to look for blood. Kelsey found the monster buck a short distance from where it stood.
The excited teenager was amazed at the buck's antlers. The monster non-typical was more than 23 inches wide with 19 points. The bruiser eventually net scored 200 7/8.
Kelsey summed up the experience by saying, I am very proud of my buck, and I feel confident that I will shoot a bigger buck in the future!
Have a big buck story you want to share? E-mail us at [email protected].
Watch all the latest video episodes