Rack Report Details
Buck:
206 6/8
Time of Year:
November 2010
Place:
Decatur County, IA
Weapon:
Bear Assault Bow Bowhunting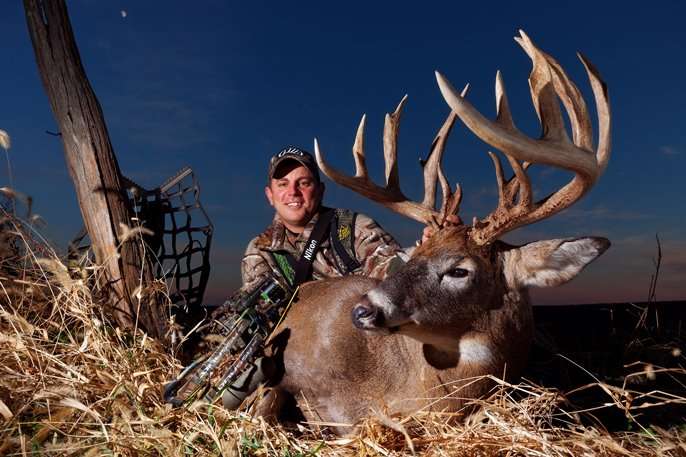 On November 14, 2010, Gabe Adair settled into his stand with Whitetail Properties cameraman Shawn Riley. It was a classic rutty-feeling morning in Decatur County, Iowa - 35 degrees, clear and crisp with a slight but steady northernly breeze.
There was no doubt the deer would move. But it's not likely Adair had any idea just how many bucks would be on their feet.
It was time to get aggressive. We went to a set that we had only set on evening hunts and deer movement was awesome! We saw approximately 15 different bucks by 9 a.m., he said.
Adair had chosen a location that was open enough for calling - and because a buck he'd named The Main Event was known to frequent the area.
Main Event is a buck I'd been hunting for two years. I'd one encounter with him the year before, Adair said. He was huge! The year before he had splits all over his rack and was probably 20 inches larger (than in 2010). This year, he had a bigger frame and was cleaner.
After such steady action throughout the morning, movement slowed for about a half-hour. Then, about 9:45 a.m., Adair saw a wall of tines 450 yards away.
As soon as I put my Nikons on him, I knew it was Main Event, he said. I rattled at him as hard as I could hit the horns together. I knew he could hear me, but he wouldn't give me much of a reaction. He disappeared into the brush for a few minutes and then reappeared 100 yards closer.
As the buck came closer, it approached an area where another buck had been bedded and its demeanor immediately changed. Reading the buck's body language, Adair reacted by hitting his rattling antlers together again. The ruse worked to perfection and the buck began to march right in. At 15 yards, Adair released an arrow from his Bear Assault and dropped the buck where it stood.
He was walking right at us and then started to turn to go north. I knew a limb was going to get in the way and it would more than likely be my last chance for a shot, Adair said. I hit him exactly where I aimed and he folded like a lawn chair. I followed up with another arrow and it was over. He was dead 15 yards from the base of the tree!
Main Event features a massive 6x5 typical frame with about 15 inches of non-typical points that tallied 206 6/8 inches. The buck has everything - great mass, long tines, a crown-like appearance. And it certainly left an impression on Adair.
It was a very surreal experience, he said. It was hard to think straight for a couple of hours.
Got a big buck story you want to share? E-mail us at [email protected]!
Watch all the latest video episodes