Rack Report Details
Buck:
175 2/8"
Time of Year:
November 2009
Place:
Medon, TN
Weapon:
Rifle Rifle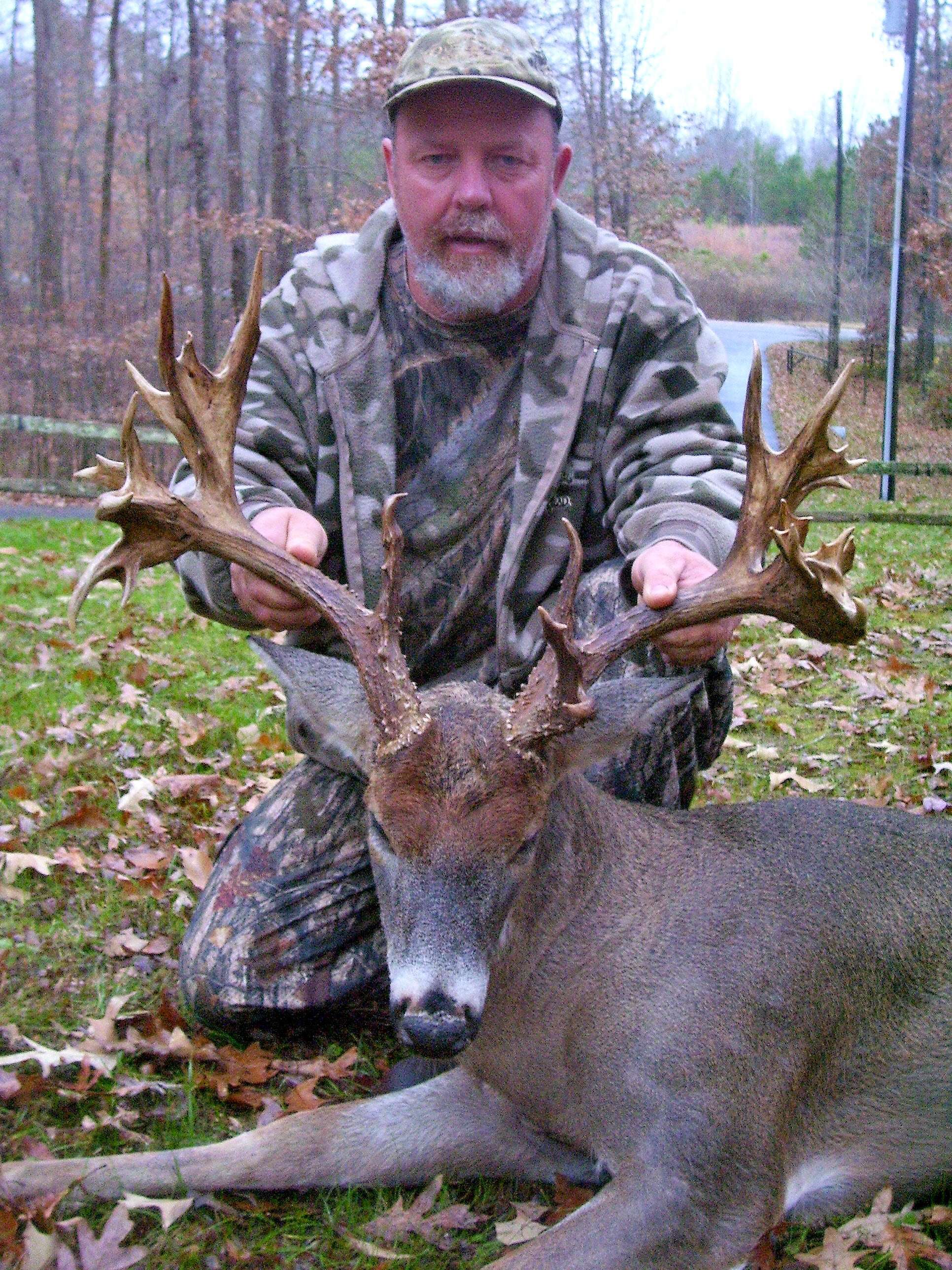 Iowa, Kansas, Illinois, Tennessee - which one doesn't seem to belong? Well, for most die-hard whitetail fanatics, the answer is obvious. Iowa, Kansas and Illinois are regarded as three of the top Midwestern states for giant whitetails. Tennessee - not so much. But, then again, most folks haven't heard of JD Emison.

Emison first started hunting in his home state of Tennessee in 1974. He was very much a self-taught deer hunter as there just wasn't a whole lot of deer hunting happening in those days. It took him three years to tag his first buck, and to say he was proud of the accomplishment would be an understatement.

I still remember with every detail the events that took place that mid-November morning, he said. Little did I realize the fire that had been lit inside me.

Like many hunters, Emison's passion intensified and he soon found himself participating in just about every manner of deer hunting he could, including bowhunting and black powder. And, just like many hunters, he started to pass on younger bucks hoping to take his first mature whitetail. And, also like many hunters, he found each season ending with an unfilled dream and thoughts of maybe next year.

To be honest, it seemed that it would never happen, he said.

But then in the summer of 2009, a friend relayed a sighting of a whopper buck near Emison's home. He didn't immediately believe the story.

I thought, 'A big deer, here, near the house?' It seemed too good to be true, he said. I called the landowner and he gave me permission to hunt the farm. I drove by many evenings hoping to get a glance of the big 10, but never saw him. I went out in early August, and walked the property lines, and noticed a huge, grown up weed field on the back of the property. The rest of the farm was mainly cutover, with the small bean field on the front side. As fall approached, I put out two trail cams, but only got pics of does, and small bucks.

Emison left to hunt Illinois in early November and returned home on Nov. 20, the day before Tennessee's first firearm season opened.

The opening morning of Tennessee's rifle season found Emison sitting in a tree stand thinking about the trail cams he had left running while he was in Illinois. Curiosity finally got the better of him and during a quick lunch break he decided to check the cards.


I was not expecting any really big deer photos, he said. Boy, was I surprised. I had two pics of a huge nontypical with a sapling hung in his rack. I couldn't believe it. I knew this was the best deer I had ever seen in 35 years of hunting. I decided to nickname him 'Treetop.' I immediately began to plan my hunt for the next morning. I knew this deer was a mature buck, probably nocturnal, and figured I would be lucky to ever see him in the daylight. I remembered the weed field, and figured he was probably using it as a bedding area. I checked the wind forecast for the next morning, and decided to slip in well before daylight to a red oak I had marked.

That Sunday, Nov. 22, Emison was settled into his climbing stand well before daylight. As dawn made its arrival, he began to see deer. The morning passed, however, without any trace of the big deer. He decided to take a break at about 1 p.m., but was back in the stand just a few hours later. As the evening started to wane, Emison spotted the deer as it stood up from its bed in the overgrown field.

I immediately recognized him as Treetop - my deer of a lifetime, he said. He had been bedded right in front of me all day. I slowly raised my rifle up onto my rest, and settled the crosshairs on his ribcage. I looked up to the sky, and whispered a small prayer. I squeezed the trigger and he bolted 40 yards and stopped. All of a sudden he dropped.

As you can imagine, it took a lot less time for Emison to gather his gear and make his way to the buck than it did to finally tag a truly mature whitetail.

The awesome-looking deer sports 24 scorable points, has an inside spread of 20 1/2 inches and taped 175 2/8 inches. The buck remains the second highest-scoring nontypical taken in Madison County, Tennessee.

Watch all the latest video episodes