Rack Report Details
Buck:
193 7/8" Non-Typical
Time of Year:
October 2012
Place:
Sussex County, DE
Weapon:
Savage 50 Cal. Muzzleloader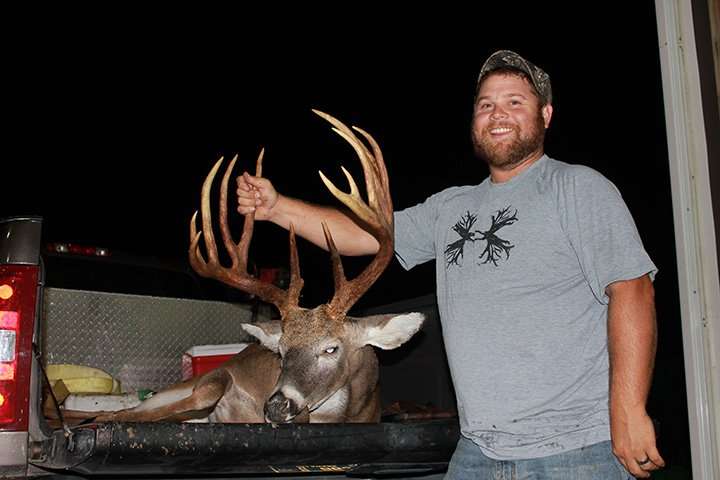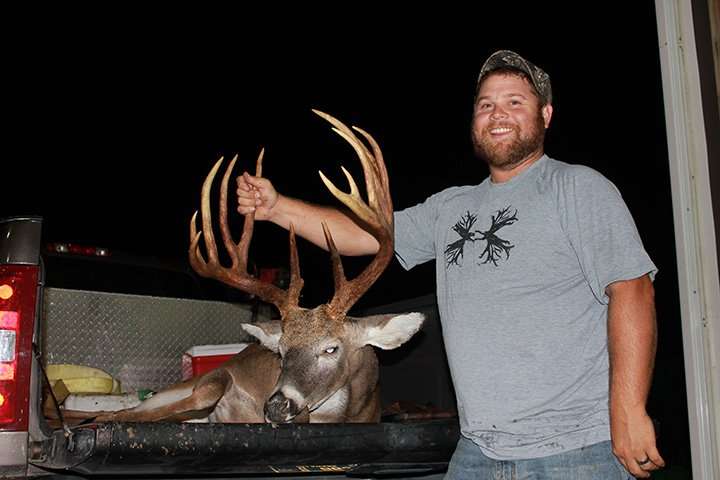 Last year, while muzzleloader hunting in southern Delaware, Kyle Steen passed an opportunity to shoot a buck that looked to go about 160 inches at a mere 35 yards. Although he knew a buck of that caliber is a head-turner, trail camera photos of an even bigger 175-inch drop-tine king in the area, made for the tough decision to let him pass. Kyle never did fulfill his drop-tine quest, but his decision to let the other buck walk paid huge dividends for his brother Jesse this fall.
A third generation farmer, Delaware native Jesse Steen has been toting a gun or bow in the deer woods since he was about 12 year of age. Having more than 1,100 acres of rich farmland at his disposal where corn, soybeans and melons are routinely grown, Jesse has killed several nice bucks, with his best one being a hefty 158", 8-point. However, little did he know how dramatically that was going to change when he and his wife Kelly settled into their ground blind on a misty October afternoon.
Delaware is not the first state that comes to mind for producing monster whitetails; however, in recent years it has become somewhat of an eastern shore hotspot for gagger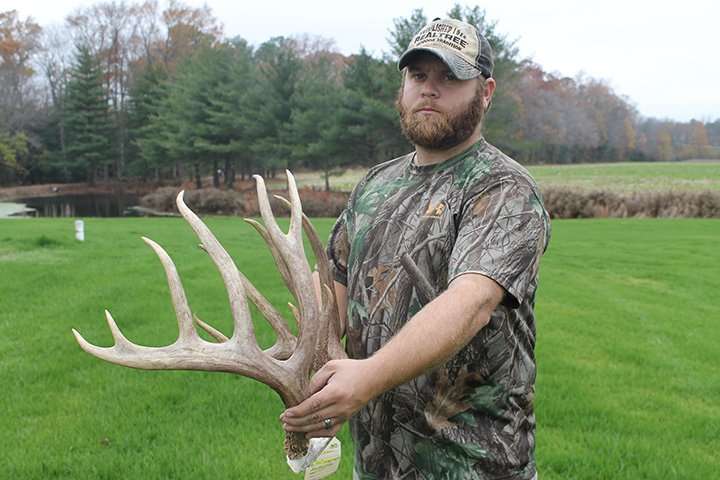 bucks. Back in 2003, the non-typical record was broken twice in the same season; first producing the Reeves' buck which scored 197 inches followed by Jeff Foskey's 202 3/8" stud. In 2005, that record was broken again when Keith Lee settled the crosshairs of his muzzleloader on the current 208 4/8" non-typical state record.
As with many hunters, Jesse usually runs several trail cameras throughout his farm during the summer, but a hectic schedule kept him from setting them up so he didn't have his sights set on any particular buck. However, knowing what his brother had passed the previous season, as well as knowing what the farm had produced in the past, Jesse was confident there were some stellar bucks in the area.
On the fifth afternoon of Delaware's 9-day muzzleloader season, Jesse and his wife Kelly settled behind a stack of hay bales in the middle of a cut corn field. Jesse had already hunted on three previous occasions since the October 5th opener and described the activity as lackluster, with only does and a handful of young bucks making appearances. But with the misty eastern shore conditions, Jesse knew it was a perfect opportunity for a mature buck to be on its feet.
As they sat hidden behind the hay bales, several does and young bucks trickled out into the corn field and, like most afternoon hunts, more deer entered the field as time wore on. With only a few minutes of light left, Jesse noticed several of the deer suddenly jerk their heads towards the field's edge. Just as he was about to look in the same direction, his wife urgently whispered: Monster, monster, monster, look at that thing. Within seconds the huge buck entered the field and began walking towards the other deer. Needless to say, Jesse didn't need to take a second look when he noticed the massive amount of bone resting on the buck's head and knew instantly that was the buck his brother passed the previous season. Quickly leveling his Savage and firmly pulling it into his shoulder, Jesse squeezed the trigger.
Jesse's buck has it all: Exceptional mass, split G-2s and great tine length. It will definitely rank as one of Delaware's top 10 non-typical bucks of all-time.
Watch all the latest video episodes