Rack Report Details
Buck:
170-inch non-typical
Time of Year:
December 2012
Place:
Wisconsin
Weapon:
.300 Winchester Magnum Rifle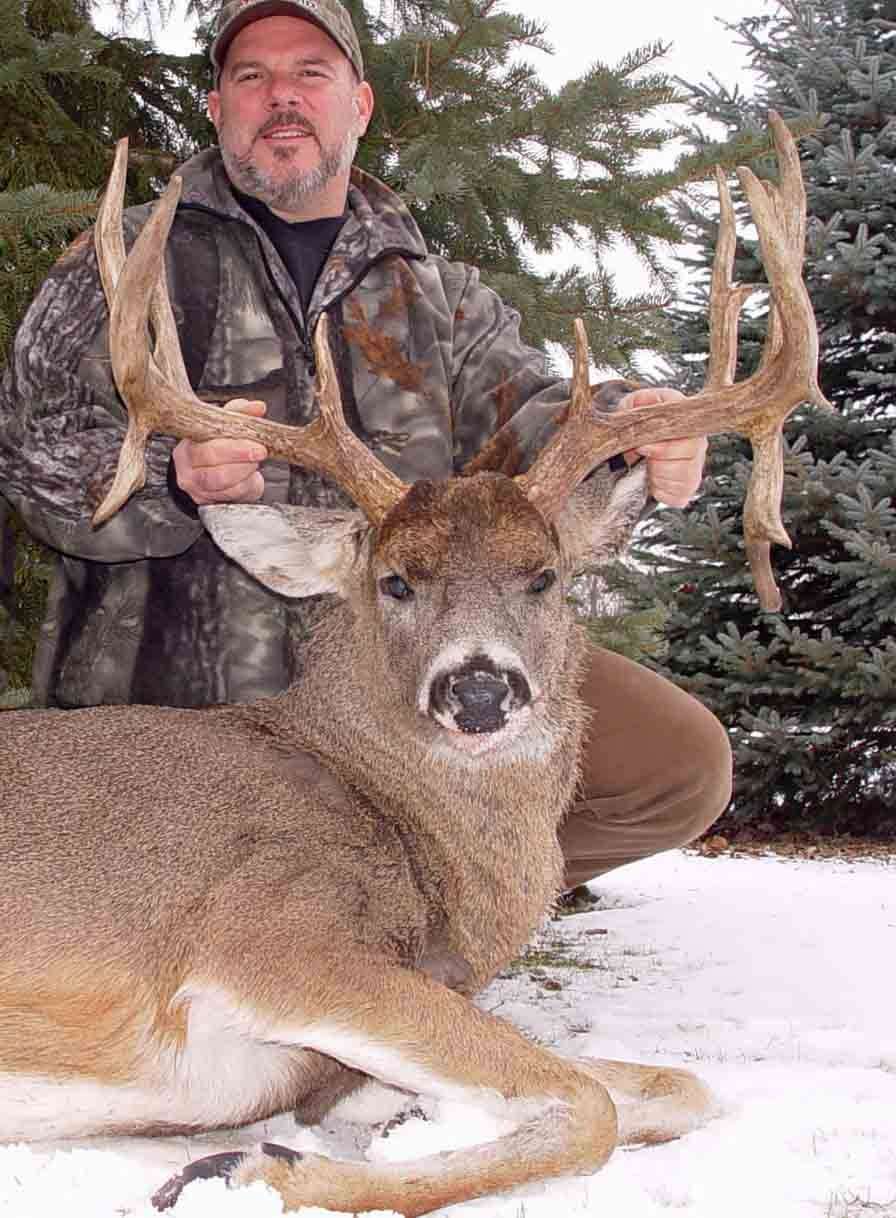 Persistence is defined as a firm or obstinate continuance in a course of action in spite of difficulty or opposition; and after chasing a particular buck for 260 hours last season, this was no doubt a virtue Badger State resident Kevin Machant possessed. He first saw the buck, which he had affectionately dubbed Double-D, in a trail camera photo that was taken in early October. As soon as he laid eyes on the heavy, double drop-tine monarch, he stubbornly determined that was the only buck he was chasing that season.
Machant owns a 140-acre mix of rolling hills, timbered creek bottoms and crop fields consisting of corn, beans and clover. Over the years he has seen the results of his management plan of food plots, mineral stations and letting 2-, 3- and even 4-year-old bucks walk, and last season his efforts were rewarded when he arrowed a massive 150-inch 8-pointer.
During the lengthy bow season Machant couldn't stop thinking about Double-D, and like any persistent whitetail hunter, he envisioned the deer wondering under his stand, especially during the November rut, and releasing an arrow; but he never saw hide nor hair of him. In fact, he passed several 140- to 150-inch bucks, and even one topping 160-inches, holding out for an encounter with Double-D. But the only evidence Machant had indicating he was still around was a couple more trail camera photos taken at night. Although Machant was encouraged by the images, Double-D was proving to be an elusive foe. Needless to say, as October, November and most of December went by without so much as a sighting, he was beginning to wonder if Double-D would escape to be hunted another season.
Machant had high hopes when he headed back to his property the day after Christmas for yet another attempt to put the buck in his cross hairs. He had talked with his neighbor, who manages his property for whitetails as well, and he told Machant that he had seen Double-D a few days prior during daylight hours. Machant eagerly headed to a stand he calls The Breeding Ground that afternoon with his .300 Win Mag in hand. Not only does Machant consider this his best stand on the property, but he unequivocally says, it's the best whitetail stand in Wisconsin!
The Breeding Ground stand is a box blind that sits on a ridge overlooking a bottom area on the edge of his property. During an evening hunt in the rut, it's common to see 20 to 30 deer move through the area.
Around 4 p.m. he noticed a group of does, which were bedded on an adjacent timbered ridge on his neighbor's property, stand up. As they began milling around he could clearly see a larger-bodied deer standing behind them. Quickly glassing their direction, he immediately noticed Double-D, the buck easily recognizable even at 200 yards.
He was an enormous buck, a deer of a lifetime, exclaimed Machant, who couldn't believe he had finally witnessed him after nearly 260 hours on stand.
For more than 30 minutes he watched the buck on the neighbor's property following a doe, and just when he thought Double-D would follow the doe to an opening onto his property, he tauntingly turned and headed back up the ridge, out of Machant's reach.
From the safety of the ridge, Double-D watched the doe feed below Machant's blind; but when another 10-point buck stepped out next to her and started making a rub, Double-D immediately turned and headed his direction. Machant's heart thumped with each step, and as Double-D crossed well onto his property, he let his .300 Win Mag bark.
Double-D had everything you would want in a whitetail buck, with a 25-inch spread, 6-inch bases, mass throughout his frame and drop-tines coming from each main beam. Scoring more than 170 inches, Machant was completely pleased with the outcome.
Watch all the latest video episodes