Rack Report Details
Buck:
The Dagger Ten
Time of Year:
September 2013
Place:
Kingman County, KS
Weapon:
Thompson-Center Encore Pro Hunter Muzzleloader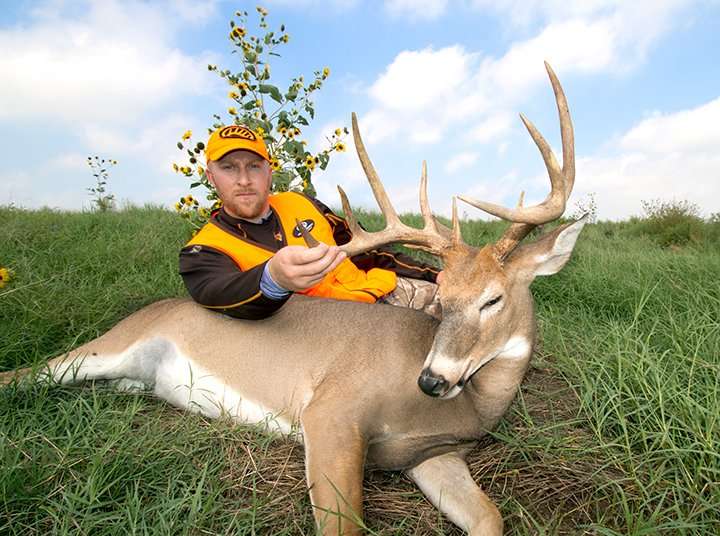 Early-season whitetail hunting can seem simple indeed.
Through the careful use of trail cameras and long-range scouting, getting in front of a mature deer can be "easier" at this time of the season than any other.
That's exactly the approach Steve Mott of Whitetail Properties took during Kansas' early muzzleloader season. And the reward was this pretty buck named "Dagger 10."
"We had tons of Reconyx pictures of the buck the entire summer," said Mott. "While scouting in August, Stever Purviance and I watched him for minutes one morning. He was heading back from the soybeans to bed in a creek bottom. I established him as my target Kansas buck."
Mott and Purviance set up several blinds in the area the buck was using to travel from the security of his creek bottom bed to the soybeans. A few nights before the Kansas season opened, the duo got video of the buck and two other studs as they travelled from the creek bottom to the bean field. The stage was set.
When the opening evening arrived, the wind was perfect for one of the blinds and the pair settled in early that afternoon. About 7:15 p.m. one of the big bucks that was hanging out with the Dagger 10 showed up followed a few minutes later by the star himself.
The buck followed the script and took the same path it had taken much of the summer. Mott took the shot at 140 yards with a Thompson-Center muzzleloader.
What an incredible Kansas journey," Mott said. "Our scouting, preparation and dedication paid off with a true giant! This was a whitetail dream at its best!
The Dagger 10 scores roughly 155 inches and features a unique "dagger" point below its brow tine on the buck's right main beam.
Watch all the latest video episodes