Rack Report Details
Buck:
225-inch non-typical
Time of Year:
November 2013
Place:
Warren County, IA
Weapon:
Mathews Heli-M Bowhunting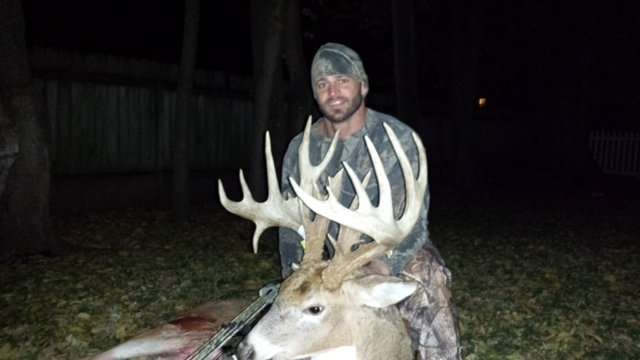 Iowa hunter Jason Burgin lost access to his favorite hunting spot just five days before bow season. He'd had the pleasure of hunting 160 acres of deer habitat, but an outfitter came in and leased the land just five days before the start of Iowa's 2013 season. Burgin was heartbroken, and scrambling to regroup and find another spot. It was a situation that ultimately produced the buck of a lifetime.
The new spot he found was an 80-acre piece of land that was almost entirely in soybeans and alfalfa. It had one wooded ditch that was connected to another 80 acres of timber. Burgin put all of his chips on that wooded ditch for the rut.
On the evening of Nov. 7, Burgin headed to the wooded ditch and placed a decoy in the field in front of him. Three bucks came in during the evening, and all of them were hesitant to get near the decoy. They all left running, leaving Burgin wondering what was going wrong.
When the big buck first appeared, he was blocked by trees and brush, so I didn't get a good look at him at first, he said. But as he moved, I could see some mass and some tine length, so I got my bow ready. As soon as I saw a drop tine, I knew I was going to shoot; so I lowered the bill of my hat to block the rack while I concentrated on the vitals.
The buck approached the decoy and, just like the others, began to get nervous.
He hung up 15 yards from the decoy and started to get all spooky, Burgin said. He was behind a large branch that I had left for cover, so I didn't have a very clear shot.
With the buck at 30 yards, Burgin could see a basketball-sized opening through the branch that perfectly framed the buck's vitals.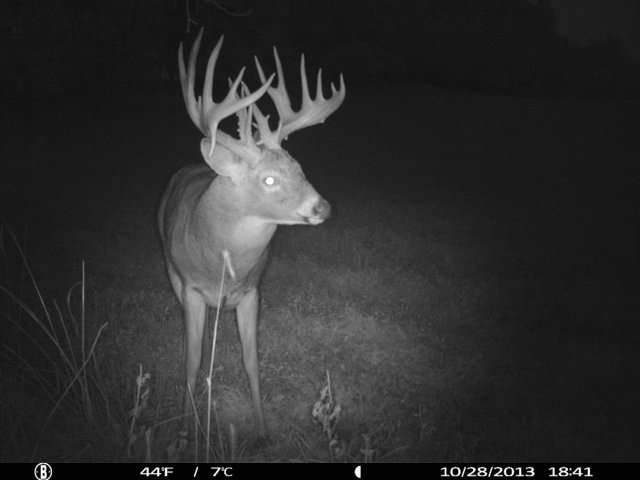 I had my bow drawn and I looked down the arrow, he said. I felt like I had a good chance to thread the arrow through that opening.
So Burgin took a risk and let his arrow fly. After the shot, he could see the arrow sticking in the ground as the buck ran off. He was sure he had missed, and let the waves of disappointment wash over him as the buck ran to the corner of the field.
At that point I actually realized just how big he was, he said.
But Burgin noticed the buck stopped, wobbled and went down. It got back up and made it across the fence before finally crashing for good. He hadn't missed.
I was shaking so bad I had to use both hands to put my bow back on the hanger, Burgin said.
The buck was green-scored at 225 inches. What Burgin had thought to be a season disaster of losing access to his previous hunting spot actually turned out to work in his favor.
Burgin had never seen the buck before. But after shooting it, he found out that an old friend from high school had been hunting a nearby property and had had a couple of encounters with the buck. That friend was kind enough to share several trail camera photos with Burgin.
Have a big-buck story you want to share? Email us at [email protected].
Watch all the latest video episodes