Steve Niemerg didn't let a blizzard stop him from tagging this Illinois giant.
Rack Report Details
Buck:
197 inches
Time of Year:
January 2013
Place:
Fayette County, IL
Weapon:
Bow Bowhunting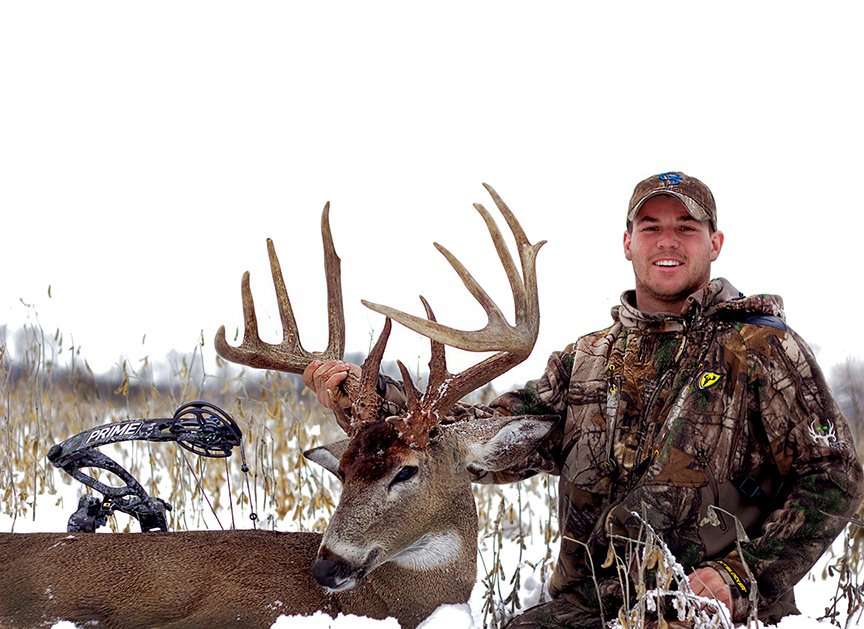 January 6 was a cold, snowy day in Illinois, but Steve Niemerg and his partner Justin Roepke were outside, working to improve deer habitat for one of their customer's properties. Steve and Justin recently started their land management business after making extensive improvements to their own hunting lease and improving the quality of their deer hunting. They decided to branch out and help other landowners do the same, and that's what found them outside, battling the elements that day. Eventually, though, the weather turned so nasty that they couldn't work in the woods anymore. So they decided to do the next best thing: Go hunting.
The pair drove to their lease and climbed into their stands for a evening vigil in the snowstorm, knowing that the big bucks on the property were likely to gravitate toward their high-protein soybean food plots in the nasty weather. Neither hunter killed a deer that evening.
When nightfall arrived, they headed back to the truck only to find that it was totally drifted in. They shoveled snow, but couldn't get the truck out. A call to the road department confirmed that the roads were all closed and not even a tow truck could get through to them. They were stranded for the duration of the blizzard. Steve and Justin decided to walk to the nearest farmhouse and see if they could get some help. When they arrived, the fellow answering the door invited them in with a smile and the simple statement: Jesus wouldn't leave you out in this, and neither would I!
Mr. Nichols turned out to be a great host. They were given a warm meal and a place to sleep for the night. The next morning the storm still raged, and so Steve and Justin ate breakfast and lunch with their host. In all, they were at the house for nearly 24 hours. By the afternoon of January 7, the storm seemed to be letting up, so they headed back out to hunt that afternoon.
The two hunters have had this farm leased for four years.
I don't think anyone had killed anything bigger than a 130 there before we go it, Steve said, but in just four years, we had a 165 and one we estimated to be about 180 on the farm.
The big one was a buck they named Hog Wild. They had quite a few trail camera photos of him but minimal actual sightings. That would change on this winter day. Steve was once again sitting over a soybean food plot. The field was filling with does and small bucks when he saw the 165-incher coming down the trail, followed by Hog Wild. He turned on his video camera but the battery was flashing low. He was worried he wouldn't get it on video, but decided to shoot anyway. From there, it all happened just like they had drawn it up. Steve sat still as the smaller buck walked by, then drew his bow on the bigger deer, settled the pin and shot.
I thought the shot looked good, maybe just a touch low, he said.
Deer bolted from the field in every direction, so Steve and Justin met up to review the footage. The hit looked good, and they decided to start tracking in the snow. The blood trail was easy to follow, but after 200 yards, they jumped the buck and it ran off. The pair wisely decided to back out for the night. After getting the truck dug out of the snow, they found that the road had been plowed and decided to make the trek home.
That 45-mile drive took us over six hours! We probably should have stayed at the house again that night, Steve said.
After a long, sleepless night, they were back on the trail of the buck the next day. After trudging through snow that was knee- to crotch-deep, they found the buck lying dead just 100 yards from where they had jumped it the previous evening. He was a giant. Their guess of 180 inches turned out to be quite low. The buck was green-scored by four measurers, and all four final tallies ended up between 197 and 198 1/8.
His mass measurements really brought the score up, Steve said. All mass measurements are over five inches, and two of them are over six inches.
It's safe to say that few people were bowhunting in Illinois on January 6 and 7. But for a couple guys who toughed it out, the hardship was well worth it.
I had been called crazy multiple times throughout these two days for sitting in these conditions. Steve said. I knew in the bottom of my heart if I was ever going to lay my hands on this giant it would require a greater dedication to my sport than I had ever put forth before. From it I gained a new trophy on my wall and proof that habitat improvement projects will pay off with time and dedication. More importantly, though, I gained the reward of knowing I had put in countless hours of hard work to accomplish this task. I had memories with Justin that I know I will forever cherish but, most importantly, I once again realized how truly blessed I am and how each and every day I should make an attempt to show God's love to others, just as Mr.Nichols showed to us the night we needed warmth and shelter.
Have a big-buck story you want to share? E-mail us at [email protected].
Watch all the latest video episodes