Rack Report Details
Buck:
210 2/8
Time of Year:
September
Place:
Guthrie County, Iowa
Weapon:
Savage Smokeless Muzzleloader Muzzleloader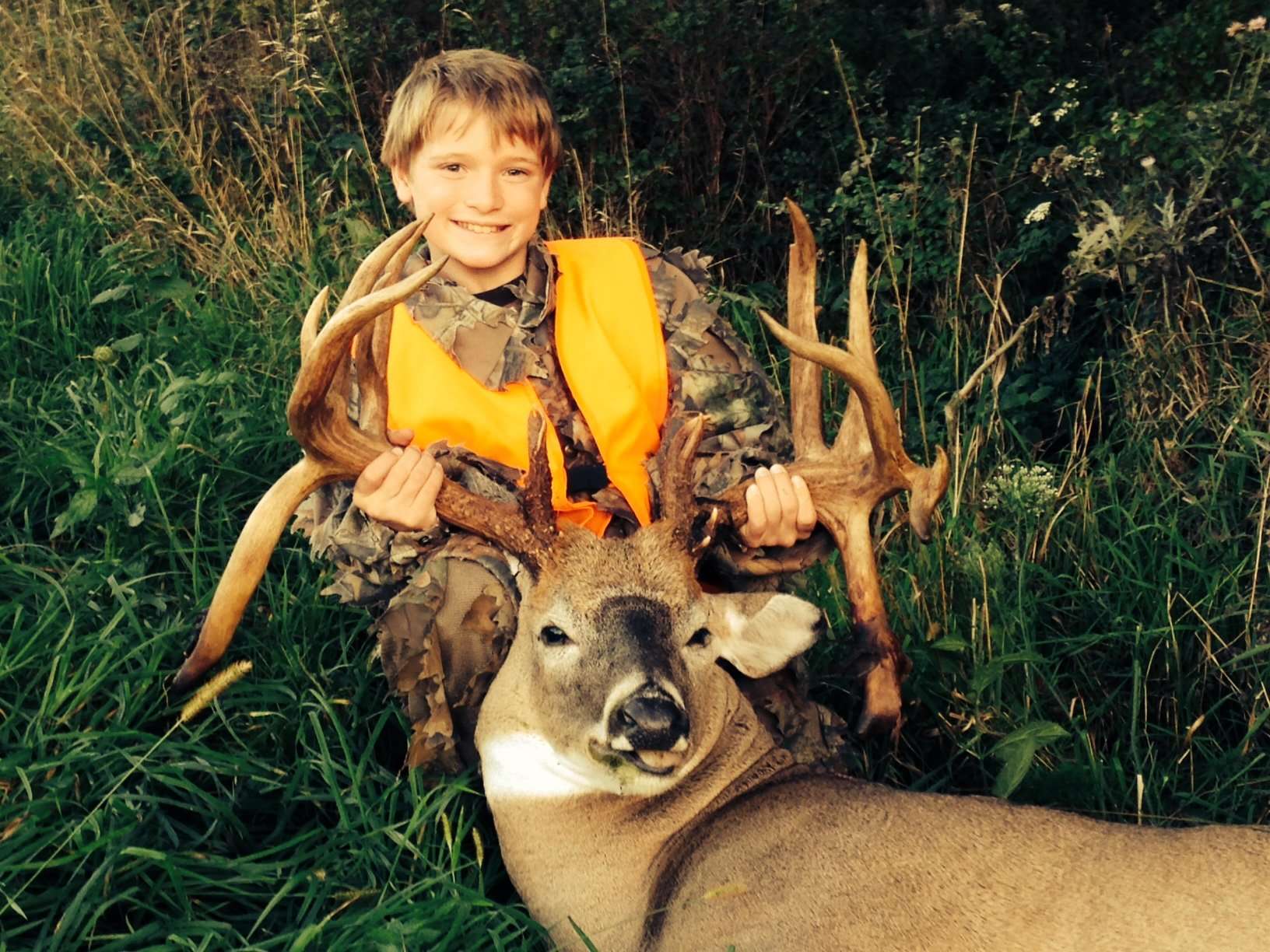 Sometimes, there is no justice in deer hunting.
Some guys hunt their whole lives without ever seeing a truly giant whitetail. Then a 210-inch buck walks out in front of an 11-year-old.
If that makes you angry or jealous, then you might want to find a different passion to pursue. But if you are thrilled for the young hunter and excited about a deer that's simply a freak of nature, a buck that hit the DNA lottery, then you are going to love this story about 11-year-old Reid Rumelhart of Iowa.
It's hard for a giant nontypical to avoid attracting a lot of attention. That's the case with the big buck that frequented the hunting area of Rick Rumelhart, his son, Reid, along with his brother, Rod, and Rod's son, Lane. The buck was living near a couple busy roadways and had been spotted many times by many people. There had been a flurry of people trying to gain permission to hunt the area farms, but the four Rumelharts had an ace in the hole. The buck spent much of its time on their parents' -- Reid's grandparents -- farm.
The Rumelharts had some history with this buck. Rod had a shed antler from a previous season, and the buck had been captured on trail camera a few times. Rod named the buck Root because the rack looked like a tree's root wad with the three drop tines. The giant buck was certainly on their minds as the Iowa youth season was approaching.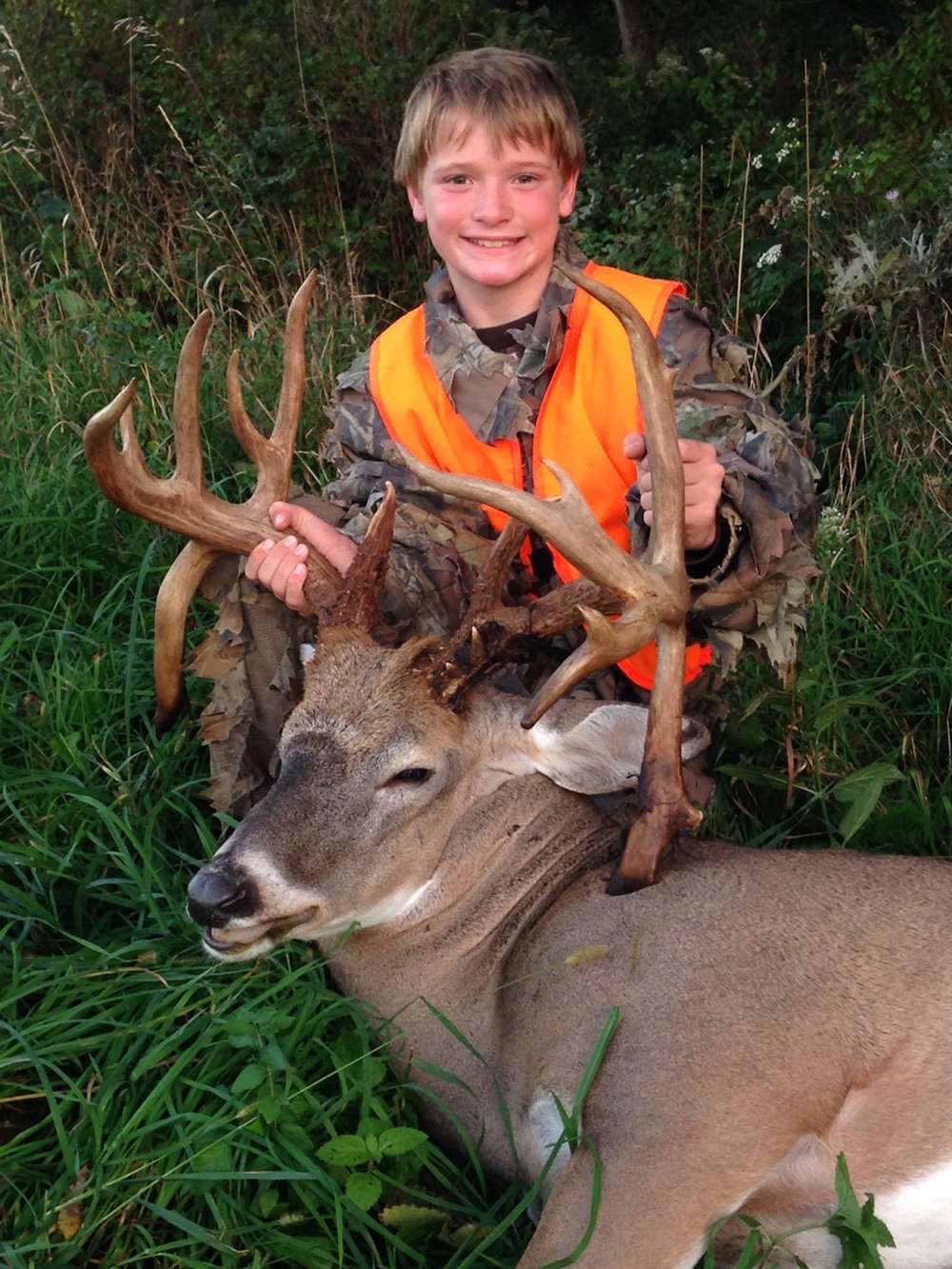 September 20 was the day of their grandparents' 50th wedding anniversary, and it would turn out to be special in another way, a day that the entire family would never forget.
Many of the deer on the farm had been using a narrow draw to approach a green alfalfa field each evening. This is where Rick and Reid decided to spend their evening. They chose to sit on short turkey hunting chairs so they would be low to the ground, facing the direction they expected to see the deer approach. They settled in at 5:15 in the evening.
As time went on, a few does began to filter into the field, and then they heard noises behind them that they felt were deer, but they couldn't see.
As the sun was low in the sky, young Ried was getting fidgety and hungry since he had missed supper. He asked how much longer they would stay. His dad informed him that the end of legal shooting time was 7:28 p.m., so they decided to stick it out. Soon they saw legs below a cedar tree just 60 yards away, but couldn't make out whether it was a buck or a doe.
Then the buck cleared the tree and topped a small knoll. And all Reid could see was the buck's head, neck and the top of its back.
I didn't know how many points it was, I just knew it was big, Reid said. I thought it was a big 10-pointer or something so I didn't even get buck fever.
They were waiting for a shot at the vitals when the deer behind them started snorting and running off. It might have been the wind, or it might have been Reid trying to get in position for a shot with the shooting sticks. Regardless, something was amiss and the deer were leaving.
The giant buck held its head high, scanning for the source of the alarm
I asked Reid if he could shoot the buck right at the base of the neck, Rick remembers. He said he thought he could, so I told him to shoot the buck. At the shot, the buck just dropped out of sight.
Reid has shot one doe previously, so he wasn't really prepared for what he was about to see when he walked up to the buck.
I was really surprised and really excited! He said.
As for all the attention his buck has garnered?
Well, he think that's been "pretty cool."
Have a big-buck story you want to share? E-mail us at [email protected].