Rack Report Details
Buck:
184-inch 10-pointer
Time of Year:
Sept. 17, 2014
Place:
Comanche County, Kansas
Weapon:
Bow - Bear Agenda 6 Bowhunting
Whitetail Properties' Todd Bigbee first got a glimpse of this buck in 2012, and again in 2013. He nicknamed the deer "Coke Can" for obvious reasons. The buck's exceptional mass includes bases thick as soda cans. Bigbee's story is a prime example of how summer scouting and hunting the early season can pay off. Big time.
Bigbee hunted for this buck last season, but we wasn't able to get close enough to seal the deal. He made due with a consolation prize -- another giant Comanche County 9-pointer -- instead.
This year, though, Bigbee was after Coke Can. He set out trail cameras in the summer and did a good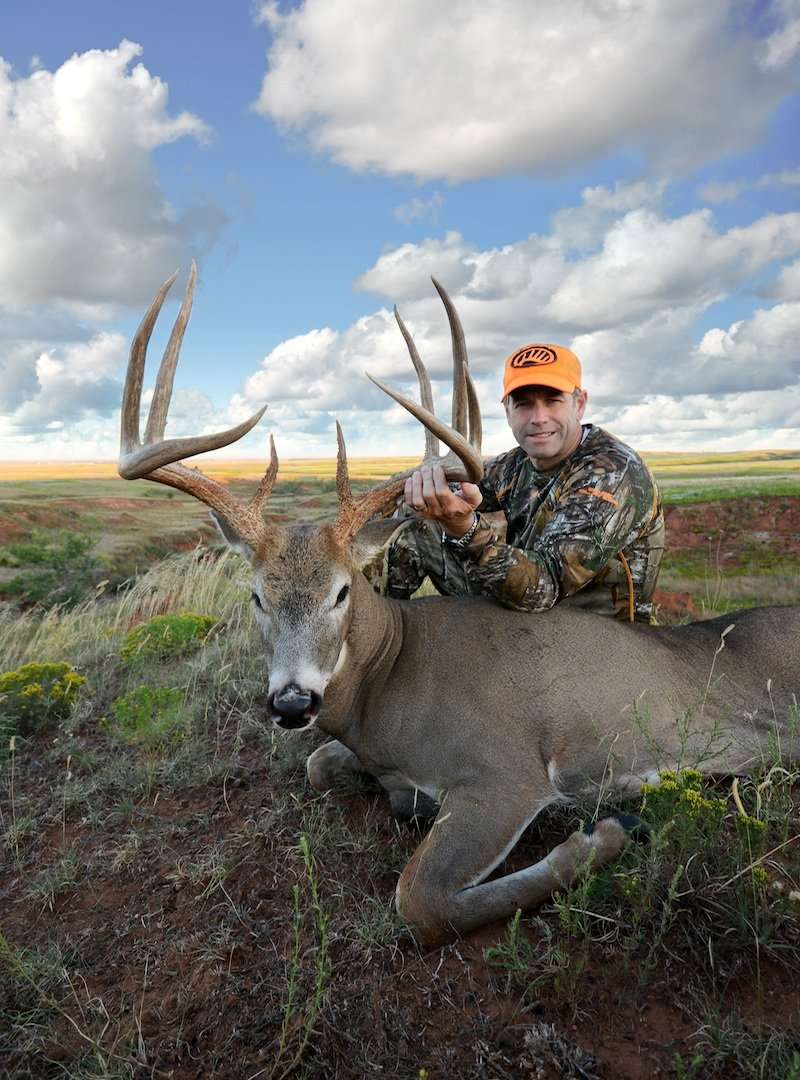 bit of summertime glassing. He caught Coke Can on a trail camera set in a thick bedding area, so he set up a ground blind about 100 yards from there. Then, he counted down the days until the Kansas bow-opener.
The wind allowed for a hunt the second evening of the season, and several bucks crossed Bigbee's path. But Coke Can was a no-show.
On the third evening, the weather conditions were sweltering at 93 degrees, but around 6:40, some clouds rolled in, it cooled off a bit, and the deer began moving. At 7:02, Coke Can made his appearance, easing out of thick cover at about 30 yards and moving toward Bigbee.
After several minutes he worked in to 20 steps broadside, and the Agenda 6 smoked him, said Bigbee. My hands and knees wouldn't stop shaking.
Bigbee and his cameraman, Ben Richardson, decided to give the buck time before looking for it, so they waited until about 10 p.m. to start the search. But they didn't have to search far - the buck was only 70 yards from where Bigbee made the shot.
His rack still had dried velvet in places and had those early season mahogany-colored horns some bucks have, Bigbee said.
Coke Can sported 10 points and measured 184 inches.
I have to thank my cameraman [Richardson], Bigbee said. He was as much a part of the hunt as I was.
It was a short two-day hunt, but tons of time and preparation had went into it. I was really grateful for such an opportunity. Again, I was blessed with another Comanche County buck."
Have a big-buck story you want to share? E-mail us at [email protected].
Watch all the latest video episodes