Rack Report Details
Buck:
201 4/8 non-typical
Time of Year:
Nov. 5, 2014
Place:
Western Oklahoma
Weapon:
Bear Arena 34, Easton FMJ Arrows, NAP HellRazor broadheads Bowhunting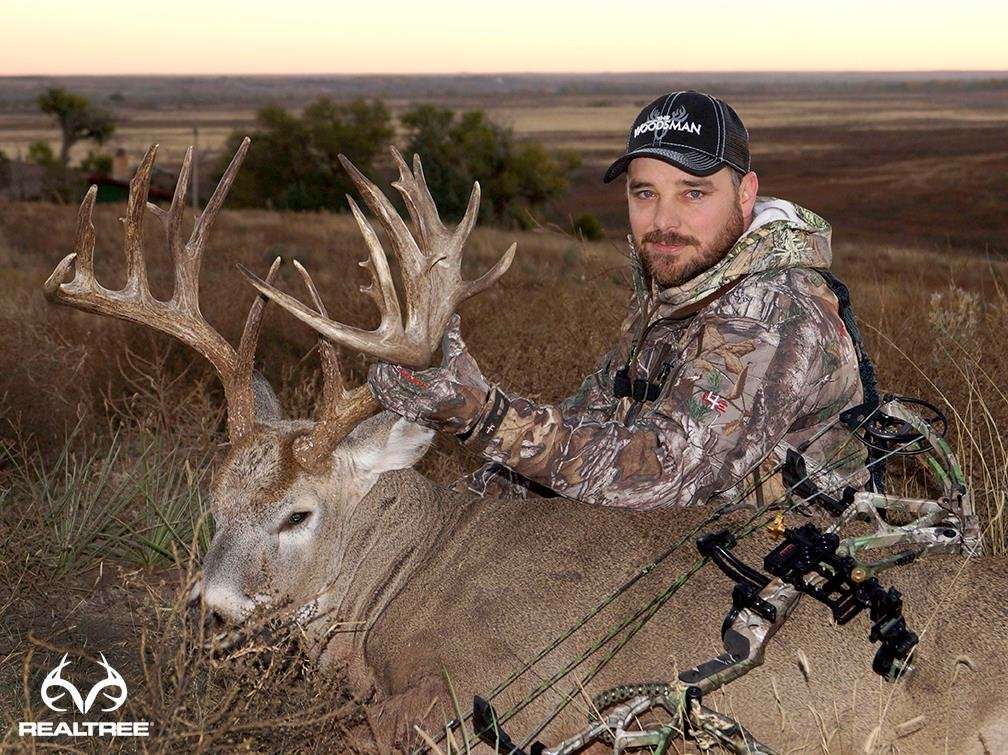 It had been a long, tough season for Daniel McVay. You might think that a guy who works for Buck Ventures Outdoors / Major League Bowhunter—and who preps for deer season virtually year around—would have a few opportunities by two months into the season. That's usually the case. McVay has killed as many early season giants as anyone I know. But he kicked off the season on Sept. 1 in Nebraska without success. He then spent two weeks muzzleloader hunting in Kansas without seeing a shooter.
By the fifth of October, I'd had one close call with a big deer, McVay says. He walked right by us, and the camera was on him, but I couldn't get a shot. Since then, I had seen one buck—a 100-inch pointer—and that was it.
But McVay didn't lose hope. He knows open-country deer, and one Oklahoma buck in particular still had his attention. He was on a small farm some distance from where I usually hunt. It's rugged country out there, full of rolling sand dunes and plum thickets. We didn't notice the buck much at 2 years old, but last year, at 3, he blew up from about a 100-inch deer to a 165-inch deer. We named him Freak because he'd grown so much, so fast. Realtree's Chris Griffin saw him last year and actually passed on him at 15 yards. That's a big decision on a small piece of property.
This year, the buck had grown even more. McVay hunted him early in October without seeing him. Griffin made the return trip from Georgia to Oklahoma for a chance at the buck as well, back in mid-October, but never saw him either. We got a few daylight pics of him early in the season, but he was pretty elusive, McVay says.
Muzzleloader season opened Oct. 22. Neighbors on the adjoining farm were after the buck as well, but no one saw him.
I couldn't hunt him again until early last week, Nov. 3. Bucks were starting to cruise a little bit by then, but there still wasn't a ton of activity," he says.
The first few sits were dry, and the weather only got worse as the week progressed. But at this time of year, persistence pays off. The day I shot him, November fifth, it was really warm. I could've hunted in just a t-shirt. And it was flat calm, McVay says. That's unusual for out here, and actually makes it tougher. All of our trees are so small that when you have two guys up in a stand without wind, you can't help but shake the whole tree when you move.
As the sun started setting that evening, a small 8-pointer meandered into range. Soon after that, McVay spotted some does slipping through the sand dunes. The giant buck named Freak was right behind them.
One doe got within 40 yards, and the big one followed her. He stepped into a little opening out in front of me and saw the 8-pointer, McVay says. He came in and bullied the little buck out, then turned to leave again. But some of the does got in close, and he started bumping them around. Finally, I stopped him at 30 yards and shot him.
The buck was quartering slightly to, and McVay knew immediately that the shot wasn't perfect. My heart sank. I thought I'd shot him right through the top of the leg. I could see blood come out, but he stopped at 50 yards. Before I could get another shot at him, he just sort of bounded out of sight. I watched and watched, but couldn't see him. The little buck came back through and walked by that area where the big one had disappeared. He got nervous, but at the time, I didn't have much hope.
McVay and his camera man eased out, returned home, and reviewed the footage. The hit was much better than he'd realized. It actually went in just in front of the shoulder blade, maybe an inch high, and came out on the other side. On the video, he was just spewing blood. I figured we'd either find him right where we'd lost sight of him, or not find him at all.
After waiting several agonizing hours, they returned for a look. The buck hadn't made it 20 yards out of sight before crashing.
It really was a blessing, McVay says. November fifth is my son's birthday, and finding that deer made it extra special. It's my biggest buck of all time.
It probably makes up for a few slow sits this season, too.
Have a big-buck story you want to share? E-mail us at [email protected].
Watch all the latest video episodes