Rack Report Details
Buck:
173"
Time of Year:
Sept. 8, 2015
Place:
Montana
Weapon:
Mathews No Cam Bowhunting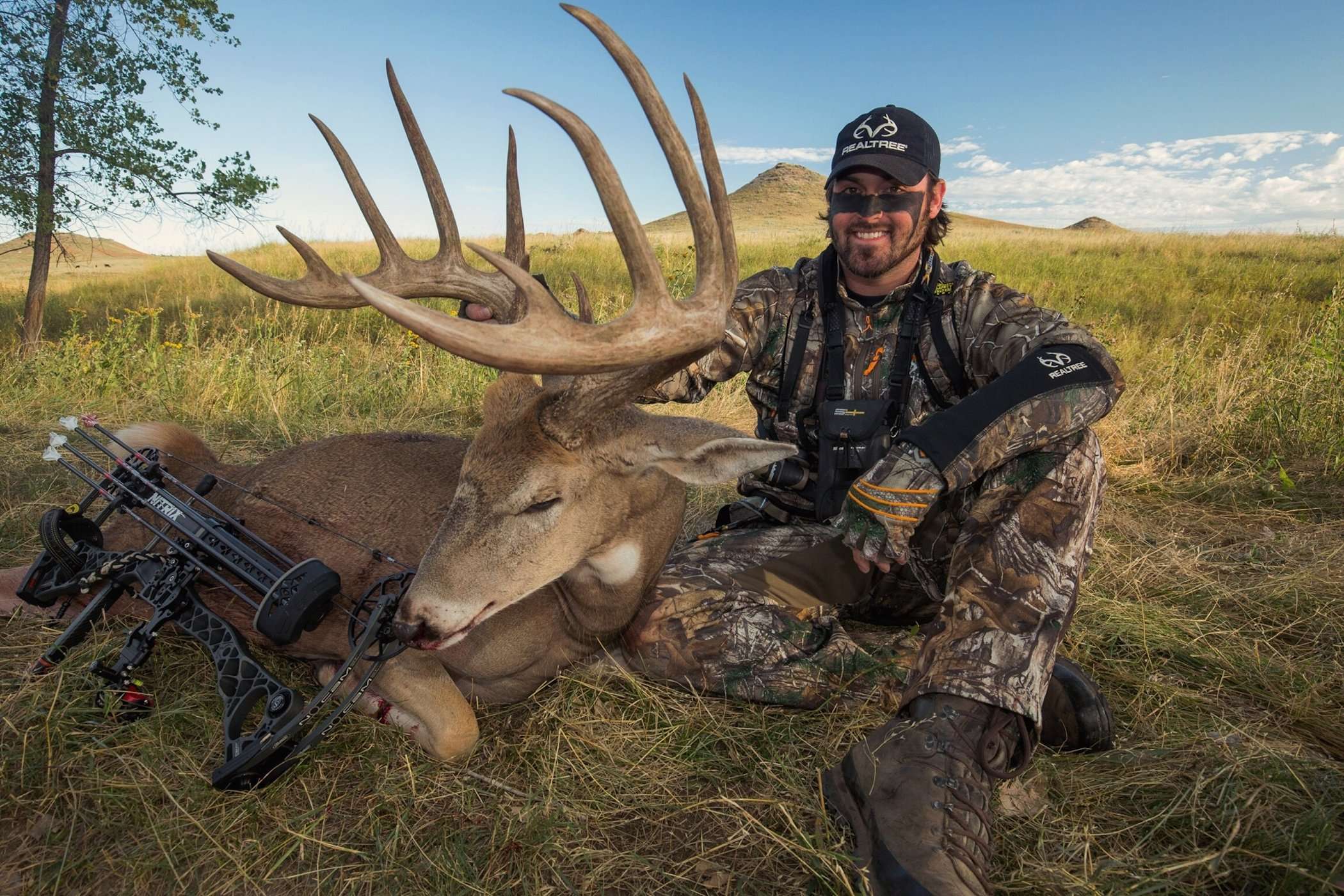 It's not often somebody can say he just killed his biggest buck ever. It's even rarer for that buck to be a booner. But Nate Hosie, host of HeadHunters TV on the Outdoor Channel, made it happen. Hosie was hunting with Budd Williams of Big Sky Outfitters when he squared off against a buck named No. 12.
Nate first encountered the deer on September 6. The buck skirted by him at 70 yards, just out of range. The next day, he skirted him again at 60 yards. He couldn't get a shot. The third day of the hunt came, and Nate hoped his luck would change.
The evening sit started off like most for Nate. He and his cameraman, Steven Scooba Phillips, settled in for the evening and took in the surrounding landscape.
It was one of the most beautiful sits ever, Nate said. The setting and landscape were incredible. Sitting in our Millennium stands and listening to the Powder River was very peaceful.
The Powder River ran to the west. A lush alfalfa field was to the south. A thick stand of cottonwoods and undergrowth towered to the north and east. Some thick cover that the deer used to stage in connected the alfalfa field to the cottonwoods. It was the perfect setup.
We got out there early, Nate said. We had a front move through and thought the deer would be moving earlier than usual.
It wasn't long before they started seeing deer. They saw eight to 10 does and a couple young up-and-comers, one of which was a 2-year-old 8-point buck.
Around 6:30, Nate spotted a deer and looked to his cameraman to see if he could get a better angle on it. Scooba watched the deer for a few seconds before confirming it was the big buck they were in there to shoot. The deer stood like a statue at 100 yards, looking through a fence gap.
I hoped he'd keep coming and walk through another gap at 80 yards, Nate said.
If he had, that trail would have led the big brute right by his stand. Instead, the buck disappeared. Neither Nate nor Scooba could tell where he went.
Then, in grand mature buck fashion, he materialized out of nowhere a few yards in front of them. He started walking their way.
I caught him moving down my 30 yard trail, Nate said. I let him go by me and drew when he was about 15 yards out.
Nate let the arrow fly...and the rest was history. The buck went down, and he had his biggest one ever.
That is my biggest buck to date, Nate said. I usually get fired up. But I was so humbled at that moment. It was a reminder of how lucky we are to be out there enjoying God's creation.
Nate shot a deer that most people only dream of killing. But he didn't let that go to his head.
It was a gift from God to be out there and get the opportunity to take that deer, Nate said.
Watch all the latest video episodes