The Yellowhammer State Generally Doesn't Produce Deer Like This
Rack Report Details
Buck:
175
Time of Year:
November 24, 2015
Place:
Madison County, Alabama
Weapon:
Remington Model 700 .280 Rifle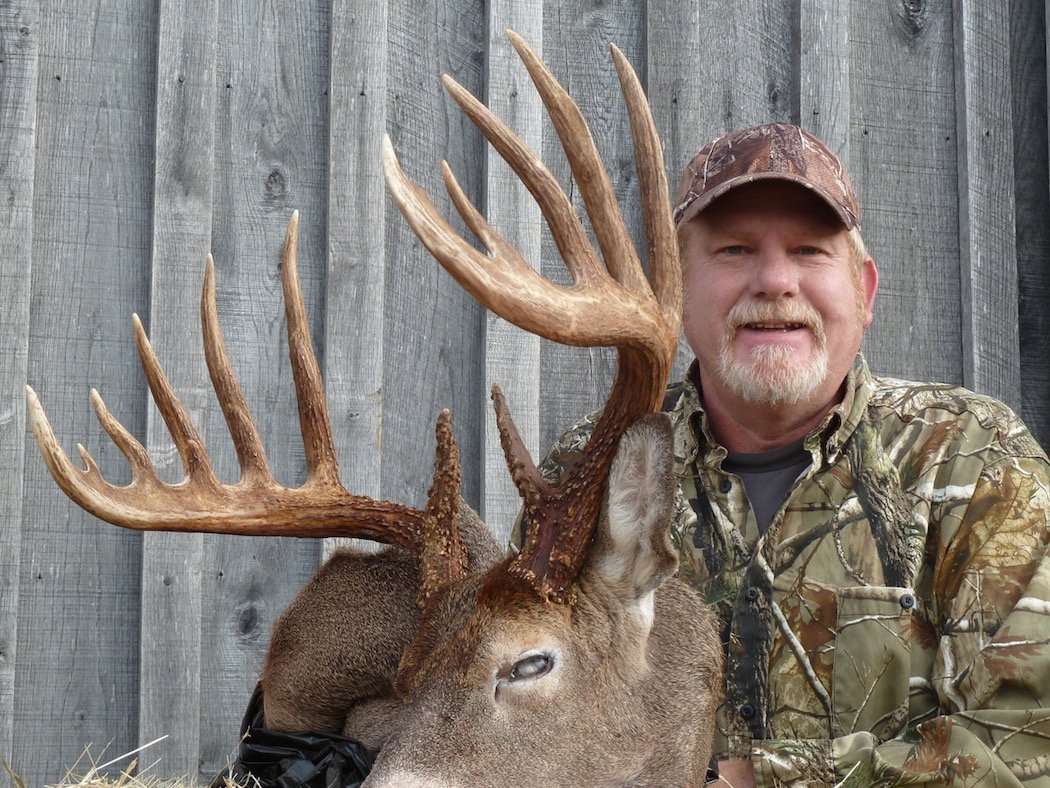 The Yellowhammer State is generally not at the top of any seasoned whitetail hunter's list when it comes to Booner-caliber bucks. In fact, with only 31 Alabama Booners to her credit, I doubt that it would even make most hunters top 10 list. To be fair, it's more known for its good southern food, even better southern hospitality, and the mighty Crimson Tide college football team.
Needless to say, when Andy Cobb arrowed a northern Alabama giant a couple of seasons ago that was featured on Realtree.com, he thought that he had reached the pinnacle of his whitetail hunting career. Andy's buck was one of the largest non-typicals produced that season in Alabama, and it stretched the tape to nearly 180-inches.
Like any seasoned whitetail hunter, Andy works hard to manage the deer on his 300-plus acre family farm. Not only does he provide good food sources and mineral supplements to keep them healthy year-round, but he also keeps deer numbers in check with a good harvesting program and utilizes several trail cameras to keep tabs on the bucks living in the area. Although the photos he collected throughout the summer and early fall showed good numbers of deer roaming on his property this season, mature buck sightings were nonexistent. In fact, other than a handful of 2½-year-old bucks, he really didn't have much to choose from.
That being said, when he walked into the woods on the morning of November 24, he really wasn't expecting too much in the way of mature buck activity. It was late November. The rut traditionally starts about that time in his area of Alabama. Anything could happen. But in his mind, a fat doe was his agenda when he climbed into the stand in the pre-dawn darkness.
The sun began to rise and the first hint of light cascaded on the crop fields that bordered the ribbon of timber he was hiding in. He couldn't help but think about that fateful afternoon when he arrowed the aforementioned brute from this very stand two seasons prior. He had been watching that buck all summer long, and when the buck tried to slip past his stand on the first evening of the season, his finely-tuned Hoyt quickly dispatched an arrow. At that time, Andy had been deer hunting in Alabama for more than 40 years and he knew he had arrowed a buck of a lifetime. Although he hoped to have another opportunity at such a buck in the future, he never dreamed it would happen this season.
As the morning light began to turn the once-dark field into a fuzzy gray, he spotted a couple of forms in the bean field about 300 yards away. Even in the fuzzy, gray light he could tell it was a buck chasing a doe, but he couldn't tell how good the buck was. Minutes ticked away. He watched their every move. As the bean field gathered more light, he couldn't believe the buck that stood before him.
Its heavy 6X7 frame was impressive to say the least. The buck stood a few yards behind the doe and kept close tabs on it. Andy decided to climb down and ease closer for a better shot opportunity. Using cover the timber provided, he slowly inched closer. Andy's heart raced with each careful step as he closed in.
With the buck's attention solely on the doe, he settled the crosshairs behind the buck's shoulder.
Andy knew by the buck's reaction that his Remington .280 found its mark. The big buck went down.
Watch all the latest video episodes