This Makes Back-to-Back Booners
Rack Report Details
Buck:
171 1/8" Green
Time of Year:
December 16, 2016
Place:
Perry County Kentucky
Weapon:
Muzzleloader Muzzleloader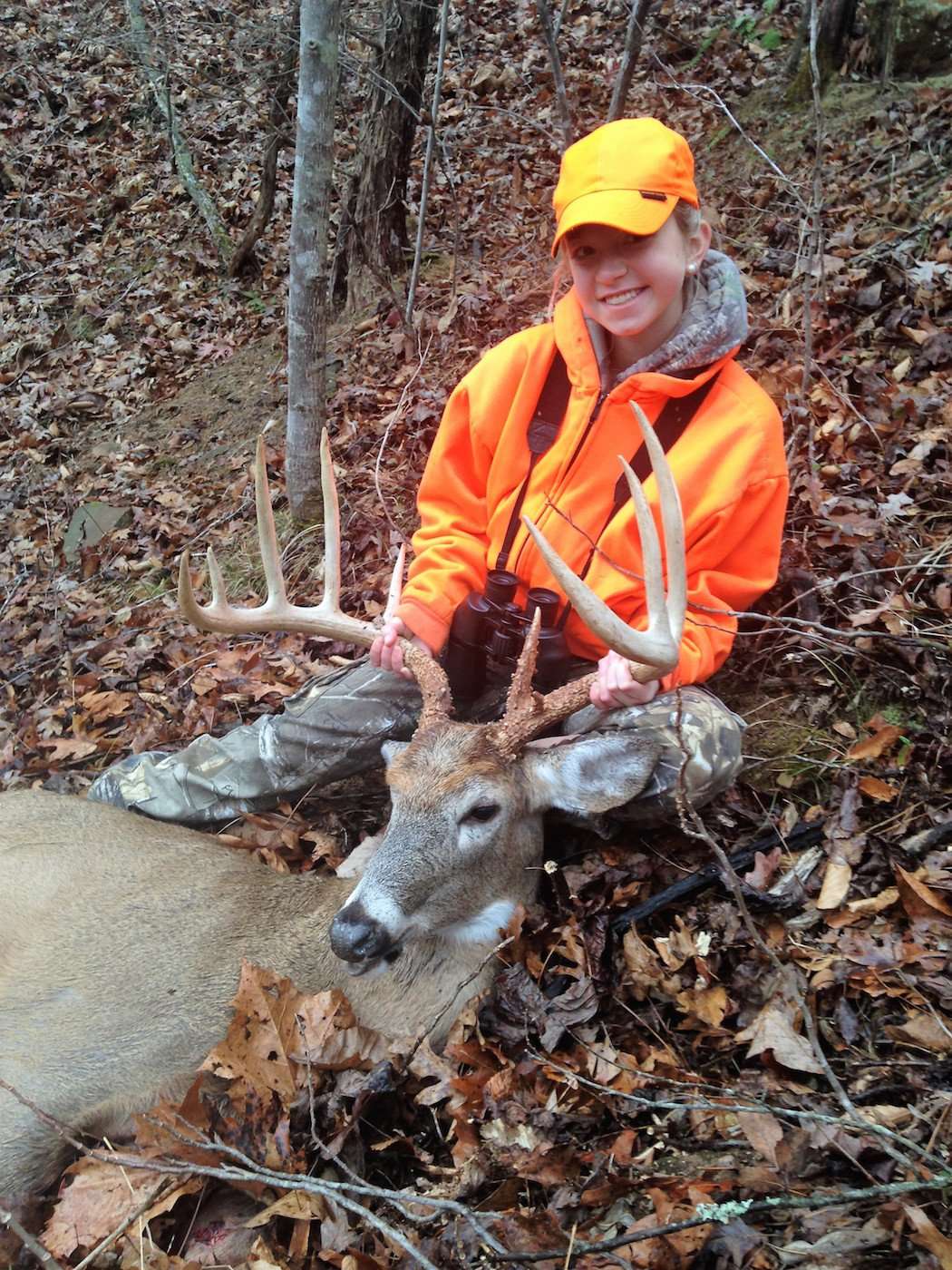 Morgan Dobson — 12 years old mind you — is a serious deer hunter. She scouts and glasses nearby fields and farms each evening in search of big deer. She spends every spare moment afield, picking up sheds in the late winter and early spring. She regularly passes on bucks that most hunters would love to take, stating that she would rather eat her tag than to take a buck that isn't fully mature. All of this hard work has paid off, as Morgan has killed back-to-back 170-class whitetails. Any deer hunter can respect that.
While she has only been officially hunting for a few years, she has grown up in the outdoors. She farms with her mom and dad, Beckie and Dwayne Dobson, raises and shows goats, rabbits, and chickens, and she hunts.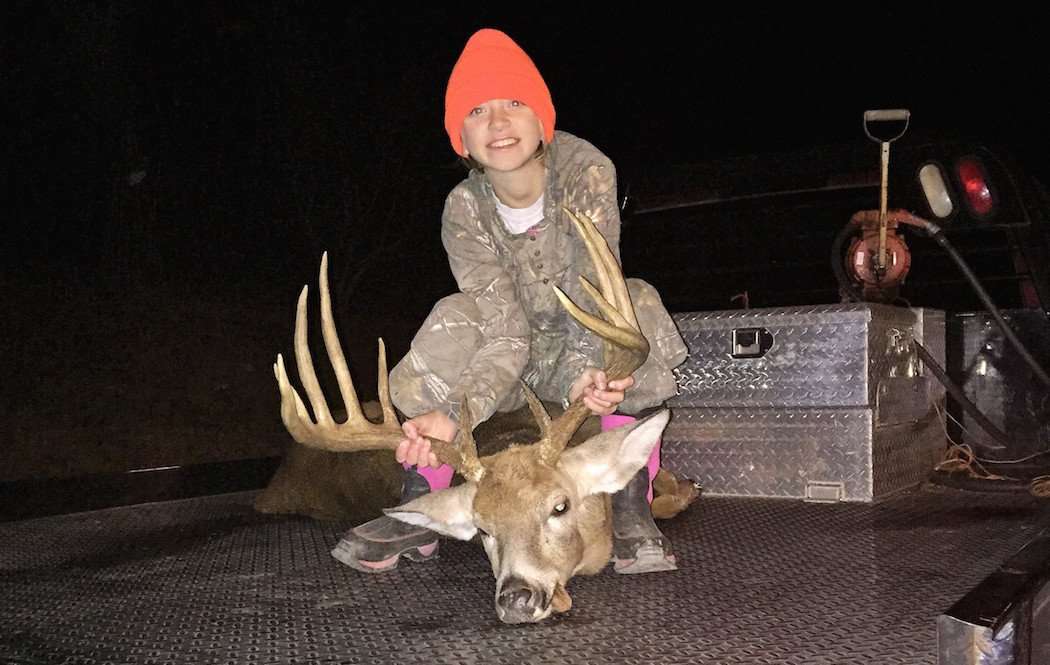 Morgan got her start by hunting the early youth-only season in Kentucky. Much to her father's dismay, she refused to take smaller bucks, even during her first hunts. As Dwayne began to realize how serious his daughter was about trophy deer, he hung up his guns and committed his seasons to guiding her to a deer she wanted to take. That meant hunting all available firearms seasons, including muzzleloader.
Even with her extended time afield, it still took a few more years to find a deer she wanted to take. That changed last year during the early youth season. That is when Morgan and her dad saw a massive buck. Morgan wasn't able to connect, but they saw the buck again a few weeks later during the modern firearm season as it chased a doe near their stand. Morgan made the shot with her .243 and her first deer was in the books. It scored a whopping 167 inches.
After the season, Morgan spent quite a bit of time on the farm searching for sheds. She had already found several when she came upon a set that definitely caught her attention. It was very similar to the buck she had just taken.
Women's Crocs Freesail Realtree Xtra Fuzz Lined Clog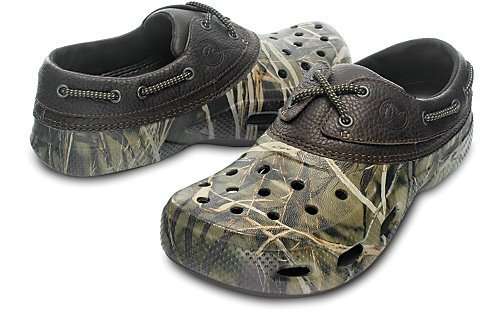 Fast forward to this year's Kentucky's two-day October muzzleloading season. Morgan and her dad were on stand when a giant buck came by. Morgan got a shot, but it was a clean miss.
You aren't likely to ever see that buck again, Dwayne said, Bucks like that don't mess up twice.
Morgan hunted almost non-stop during Kentucky's modern firearms season and never saw that deer, or any others that tempted her. With the late muzzleloader season approaching, Morgan and her dad hit the woods once again.
Friday afternoon, as soon as I got home from school, we headed for the woods, Morgan said. It was late, and we didn't know if we would see anything or not. She was wrong. As darkness approached, a heavy 8-point buck that Morgan watched all summer and early fall emerged into the open field below them.
He was one of the bigger 8-pointers we had seen and I wanted a chance at him all season, she said.
Morgan picked up her grunt tube and began trying to call the big deer across the field and into range for her muzzleloader. It worked. The buck began making its way toward the waiting hunter. Suddenly, the buck stopped and looked into the timber below Morgan and her dad. They both turned to see what the buck was staring at.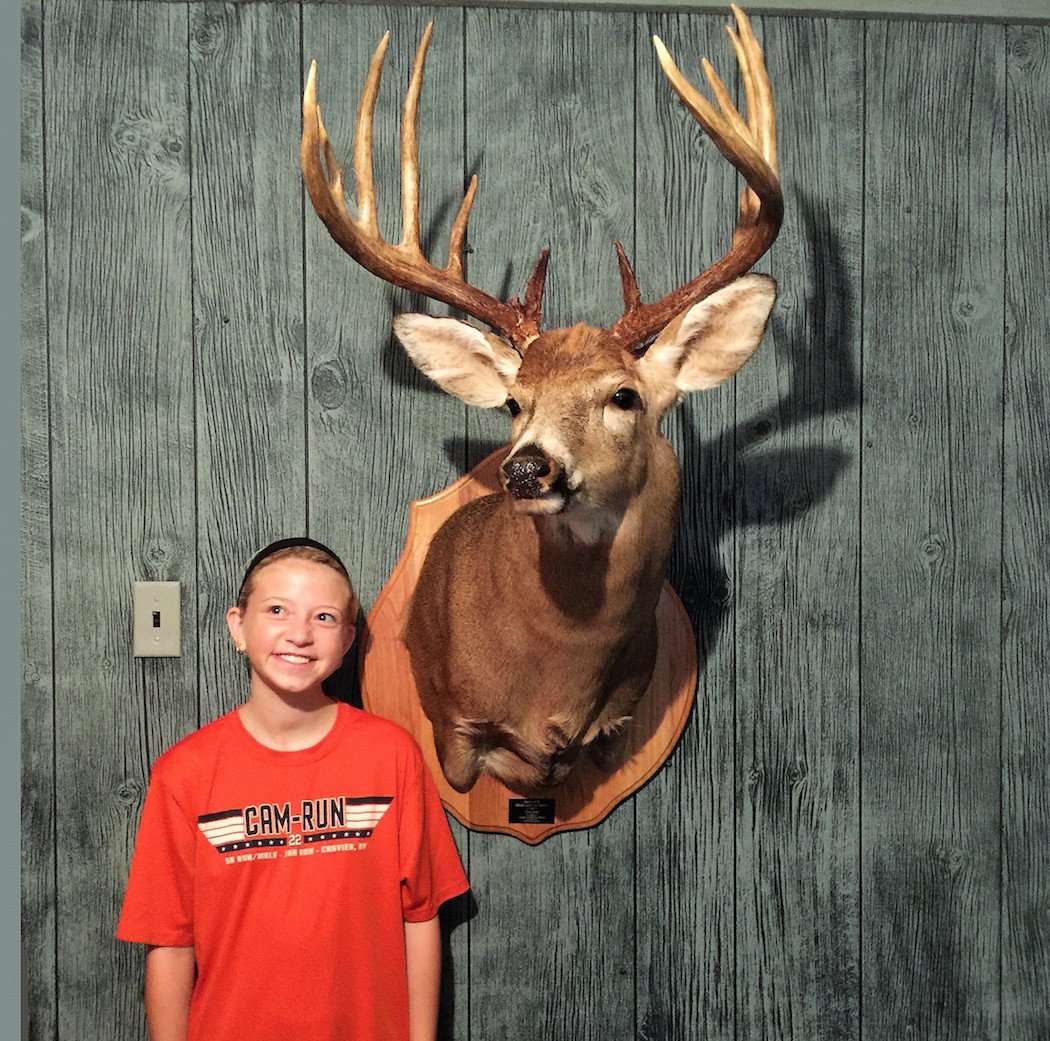 Out walked the giant buck Morgan missed during the early season. She instantly turned her attention to the bigger buck 60 yards below. Morgan settled in and squeezed the trigger. The buck bolted down the hill and the hunters watched as it fell and rolled over the edge of a steep drop.
They gave the deer some time and made their way down to it. Just as Morgan and her dad got to the deer, the buck jumped up and took off. They decided to back off and go back in the next morning to search for the deer. They soon located the buck, bedded, but still alive. Morgan was able to get into position for a clear shot and put the buck down for good.
Her buck sported a six-by-six main frame with a kicker for a total of 13 scorable points. It was remarkably similar in size and shape to her buck from the year before, but slightly larger. Morgan says her mom had always had a rule for her dad that he wasn't allowed to mount a buck unless it was bigger than the ones he already had on the wall. Beckie had laughingly told Morgan that the same rule applied to her, all the while not expecting her daughter to ever top her buck from the year before. When Morgan told her mom about the hunt, she told her to get ready to head to the taxidermist, because she had killed a bigger buck than anything they had ever seen.
Click here for more deer hunting articles and videos.
Check us out on Facebook.
Watch all the latest video episodes