Not Many Like This One Are Found South of the Mason Dixon
Rack Report Details
Buck:
172
Time of Year:
November 11, 2016
Place:
Georgia (Oconee National Forest)
Weapon:
Gun Rifle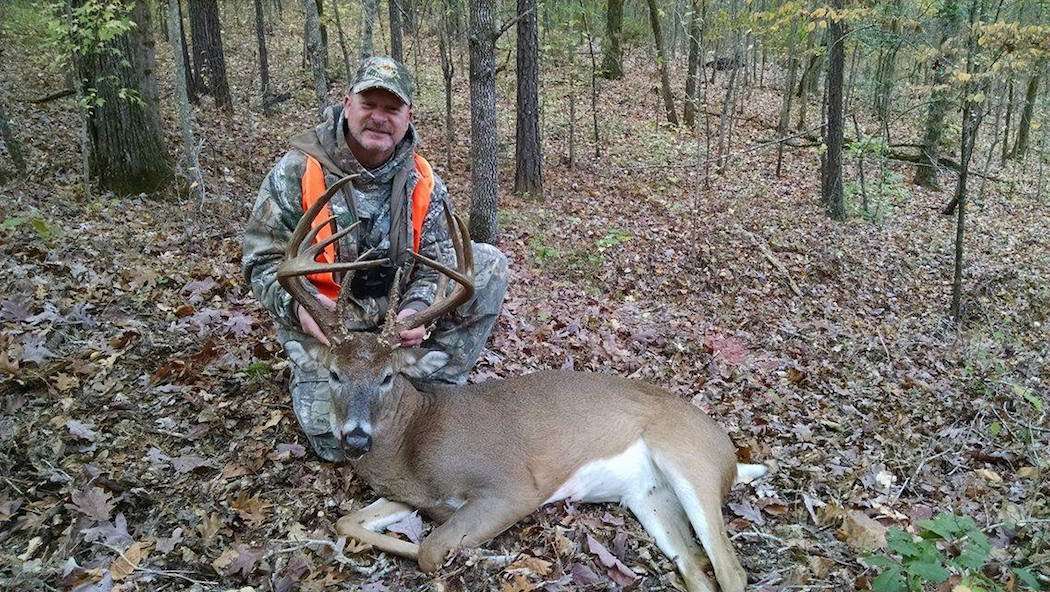 Killing a 170-inch buck in Georgia is certainly a feat worthy of recognition. But to do so on high-pressured national-forest land is nothing short of extraordinary. That's exactly what Dekalb County Fire and Rescue Captain Jeff Goins did this past Veteran's Day.
Goins had spent all of his two-week hunting vacation on his Walton County lease just four miles from his home. With just one day left before returning to work at the firehouse, Goins decided to hunt a tract of Oconee National Forest that he holds dear.
I went down there the last day of my two-week hunting vacation just to say I hunted it, Goins said. This place is real special to me. I've hunted it off and on for the last 20 years. [It's] sort of a sacred spot for me and my son.
Several years ago, Goins and his son built a natural blind in the area and both had killed deer in it throughout the years. And while he knew the location held big deer, that really wasn't on his mind the morning of November 11.
I really just went down there to watch nature that day, Goins admitted. I really wasn't expecting to kill a deer.
In fact, the morning didn't exactly start off as planned for Goins and his fiancé, Erica Maxwell, who agreed to tag along.
When we walked into the woods that morning, I have a little secret trail I cut through that everyone else overlooks, and we missed it, Goins said. So we made all kinds of noise getting in there.
They didn't think they'd see anything because of it, either. It seemed Goins fears were confirmed. By 9 a.m., the couple hadn't seen so much as a squirrel. He had pretty much given up any hope of filling a deer tag that morning.
I usually don't see anything past nine o'clock in this spot, Goins said. But since I got Erica up so early, I promised her we'd stay until 10.
Sometime after 9:20, Goins heard the distinct sound of a deer making its way through the dry leaves.
It was so dry due to the drought, it sounded like a horse or a man walking through the woods, Goins said. But I knew it was a deer coming from the next ridge.
It wasn't long before Goins spotted the source of the sound.
The first time I saw [the buck], [it] was about 100 yards away, Goins said. I tapped Erica on the shoulder and told her a deer was coming and I got my gun up and ready. When [it] got down to the bottom of the ridge, I finally saw antlers.
It wasn't until the buck turned at 80 yards that Goins realized just how good of a buck it was.
I knew at that point [it] was a shooter, Goins said.
Unfortunately, he couldn't get a clear shot because of all the branches between himself and the big buck. He knew with a little patience, however, that the deer would eventually present a shot.
The buck continued on a straight path toward Goins, but because of the way the ridge broke, the deer dropped out of view. Fearing the swirling winds may cost him a shot at the buck, Goins eased to a standing position behind a white oak tree that made up part of the natural blind. He slowly turned his Savage .308 toward the approaching buck and just as he got the crosshairs where he wanted, the buck stopped.
I pulled the trigger and [it] dropped right there in [its] tracks, Goins said. It was a 21-yard shot.
The recovery and celebration that followed were surreal for Goins. Not only had he killed the buck of a lifetime, but he had done so in a place that held so many special memories for him and his son.
Goins' main-frame 10-pointer sports 16 scoreable points and a gross green score of 172 inches. Georgia DNR biologist Charlie Killmaster aged the buck at 4½ years old.
Bonus Read: How to Know When the Best Days of the Rut Will Be
Click here for more deer hunting articles and videos.
Follow us on Facebook.
Watch all the latest video episodes