The Story of a Late-Season Surprise
Rack Report Details
Buck:
201 1/8
Time of Year:
January 2017
Place:
Champagne County, Ohio
Weapon:
Crossbow Bowhunting, Crossbow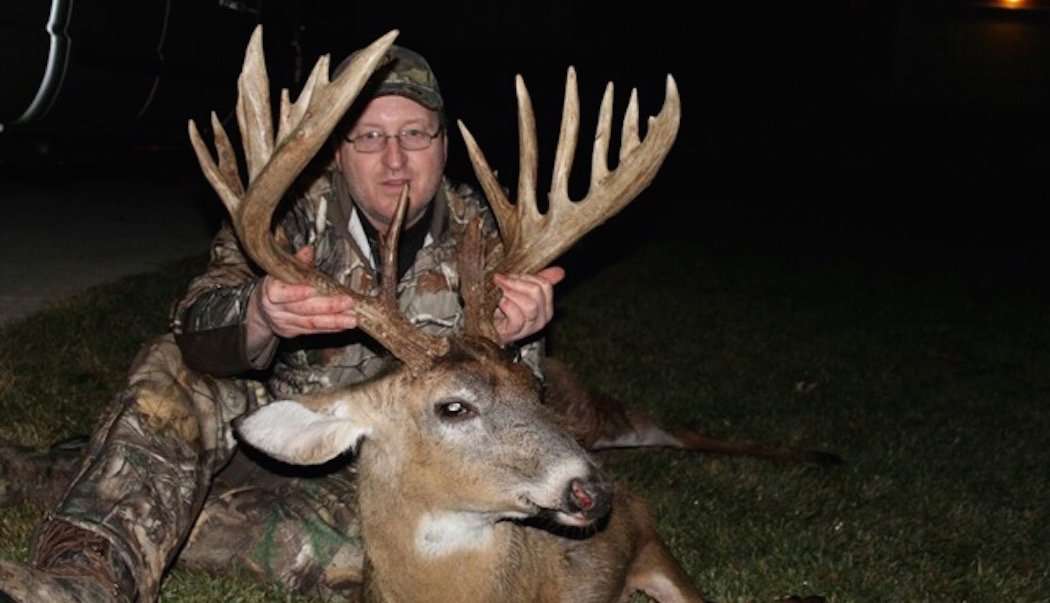 Some deer hunters like to keep intel on the bucks that are running the properties they hunt. Thanks to trail cameras, this process is made easy. On the flipside, there are those who simply head to their favorite stand to sit. They scout in-the-field, but trail cameras play no role in their hunt plan. This is a story of one such fellow, David McDuffie, who killed a Booner.
It was an overcast and wet Sunday afternoon when David, his oldest son, and one of his friends decided to head to the woods for an evening bow hunt. By this point in the season, David had already taken one doe.
The three hunters separated and headed to opposite ends of the property. David had an intuition that tonight was going to be the night. But the action was slow. He started thinking of one particular field he had jumped deer in on past hunts.
I thought I would get down a bit earlier and sneak my way to this field to see what deer may be out there, David said.
As he approached, David spotted two does out feeding. His intention right away was to figure out how to shoot one. But then he began scanning the rest of the field, and while looking off to the left, he spotted a rack. A big rack.
It was huge and I was amazed, David said. I'd never seen a buck that big before.
David quickly knelt down behind a tree. He moved, trying to get in position for a shot. While doing so, the two does spotted him. They stared him down for several minutes, but miraculously, they started feeding again. The big buck started feeding his way, too. It didn't take long before the buck stood broadside at 50 yards.
I thought I might just get a shot at this buck, David said. It all happened so fast. I saw the Lumenok sail through the air and hit the deer. I just didn't know how good I hit it.
He called his son to share the good news and then located the arrow. It was covered in blood. So, naturally, he became more confident in the shot.
They called more family and friends to come trail the deer. The search party consisted of five other people, including the landowner. Initially, they were concerned because they were only finding small drops of blood. But those concerns quickly dissipated when they started finding big piles of it. It wasn't long before one of them spotted the giant laying on the ground 45 yards from where it was shot.
My jaw dropped, David said. No one in our group had ever shot a deer of this caliber.
The Ohio monarch had 22 total points. Interestingly, 18 were measurable for the Boone & Crockett scoring system. David also learned of a local Buckmaster's guy who scores deer. It green scored 201 1/8 inches. The season might have been tough this year for David and his sons, but this is proof it's not over until it's over.
Click here for more deer hunting articles and videos.
Follow us on Facebook.
Watch all the latest video episodes