Do You Like a Deer with Some Mass?
Rack Report Details
Buck:
197 5/8 Inches
Time of Year:
September 2017
Place:
Dodge County, Wisconsin
Weapon:
Hoyt Carbon Spyder Bowhunting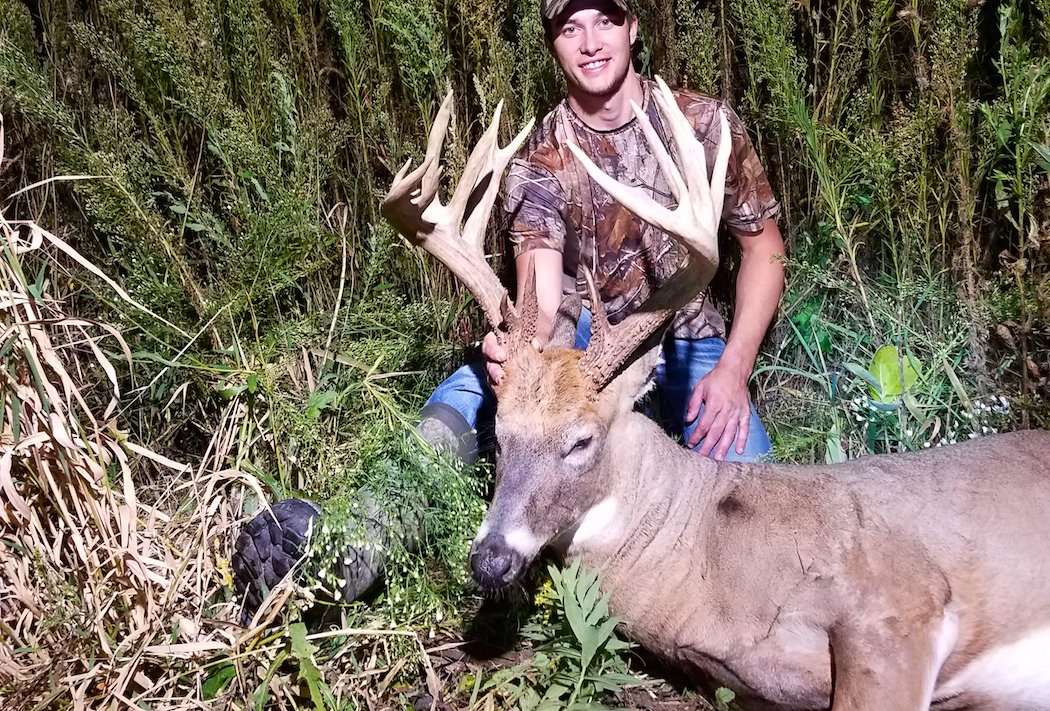 Every year, there are those hunters who tag out within the first few days of the season opener. Social media sites fill up with majestic images of mature bucks. Most of this early season success can be contributed to one pre-season step — patterning deer. Bucks that are still in their summer feeding patterns are vulnerable. But, as most experienced hunters know, it's only for a short period of time. Changing food sources and testosterone levels will eventually end those summer-time patterns.
That first week or two of the season is your best opportunity at taking an early season brute. Keegan Schmitt, a 21-year-old from Beaver Dam, Wisconsin, punched his tag early on a patterned buck he named Sweet 16. Here is his story.
Keegan first received trail camera pictures of this great buck last year on a 21-acre piece of private land. But, as big bucks often do, they show up for a period of time and then disappear. That was the case for this big buck. Nonetheless, Keegan was hopeful it would show up again in 2017.
With his cameras out, he checked them for the first time on August 7. He had a picture of the biggest buck he'd ever encountered. He counted 16 points.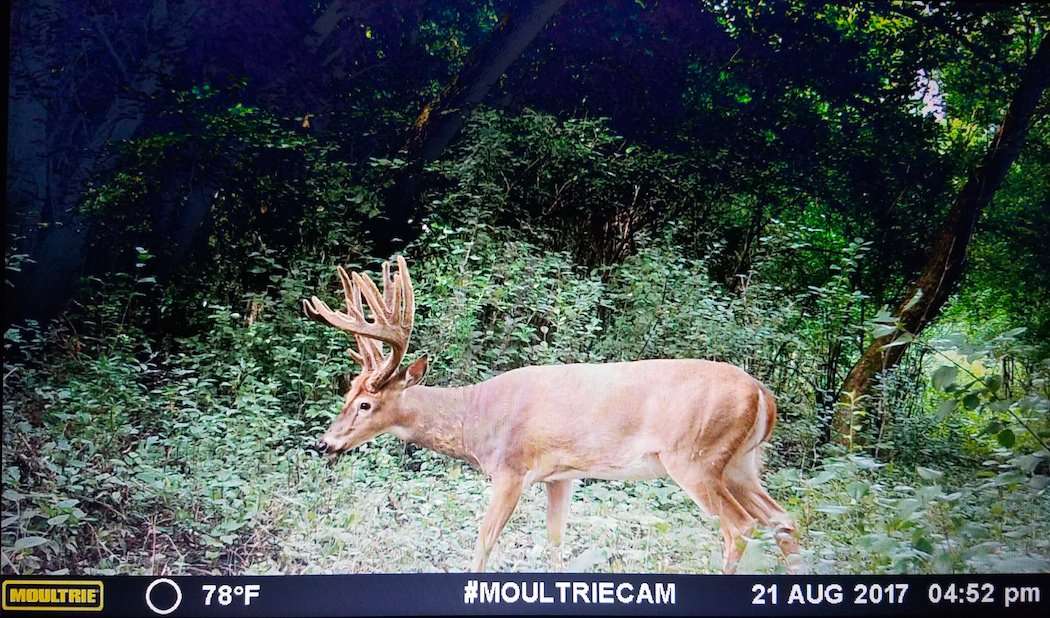 From that moment on, I knew I needed to be smart with scent control, limiting trail camera checks, and trying to pattern this buck. Keegan said.
Through camera intel, he found out the buck's pattern was a bit inconsistent, but at least knew of its relative position. This meant he would have to hunt this deer as often as possible when the wind was right. With Sweet 16 heavy on his mind, Keegan headed to his treestand for the first time on September 17 — the second day of the bow season. Unfortunately, the buck was a no-show.
The next day, Monday the 18th, Keegan left work early, rushed home and was in the stand by 3:15 P.M. Although it was 75 degrees, the wind was favorable and out of the North. Perfect.
Keegan decided to stand for the last 20 minutes of his sit.
Within 15 seconds of standing up, I looked straight ahead and there it was, standing 20 yards away with its head just poking out of a thicket, Keegan said. The giant buck was very cautious, stopping every three yards or so, looking in all directions. It didn't take long before the buck was standing broadside at 10 yards.
Keegan's heart was pounding as he drew back on Sweet 16. At full draw, his right elbow was hitting the tree, which made for an uncomfortable position. After settling in on the deer, he let the arrow fly.
I couldn't tell exactly where I hit, but I was pretty sure I hit a little back, Keegan said. I practiced all year for this and I couldn't believe I had made a bad shot at 10 yards.
After getting down from his treestand, Keegan called his brother Spencer, and two best friends, Quinn and Trevor, to help track the deer. They re-entered the woods around 9:45 P.M. to start trailing. It was slow going, only finding a drop of blood every few yards. Then, it became specs of blood every 20 yards. They came upon a marsh and couldn't find any more blood. Keegan was ready to give up.
His friend Trevor wouldn't have any of that and pressed on. After about 20 minutes, his brother found another drop of blood on a trail nearby. This now told them which direction the buck had gone — A huge find.
Quinn decided to go ahead about 50 yards to the edge of a bean field. He found some fat and blood smeared on the bean leaves. They all regrouped there and continued on with the search. Spencer eventually found more blood about 70 yards away along the marsh grass. One more step into the marsh grass revealed Keegan's prize — Sweet 16.
I felt so relieved, said Keegan. I couldn't thank my brother Spencer and friends Quinn and Trevor enough for the effort they put in tracking this deer with me. Without them, I would have never found him.
The track job took 2 ½ hours and went for about 200 yards. The booner buck actually had 17 scoreable points. A true early season stud.
Don't Miss: The Jordan Buck: The Largest Typical Buck Taken in the U.S.
Are you a deer hunter wanting to learn how to accomplish your goals? Check out our stories, videos and hard-hitting how-to's on deer hunting.
Watch all the latest video episodes