This Hunt Was a Roller Coaster of Emotion
Rack Report Details
Buck:
200 7/8 Inches
Time of Year:
September 1, 2018
Place:
Butler County, Kentucky
Weapon:
Bow Bowhunting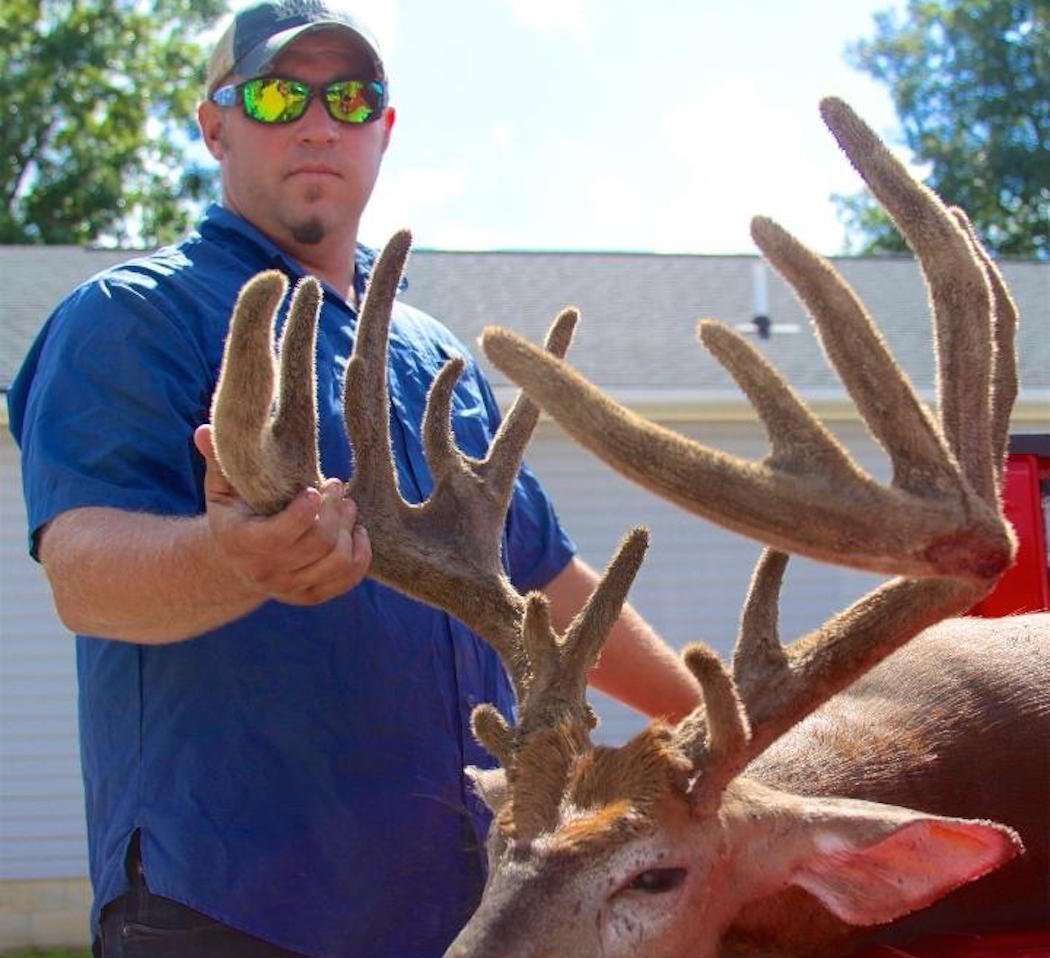 Kentucky bowhunter Morgan Embry set the bar high for Kentucky deer hunters on September 1 when he arrowed a 200-inch main-frame 12-pointer on opening morning of the 2018 archery season.
The massive rack sported 27-inch main beams and an 18-inch inside spread. It has 12 or 13 inches of stickers and kickers, with splits off a couple of tines on the right side and three extra kickers down around the base. Embry had the rack measured for the annual big buck contest at Whittaker Guns near Owensboro, Kentucky, and its gross score was recorded as 198 5/8 inches. The local taxidermist mounting the rack scored it at 200 7/8. The buck was downed with a Hoyt 70-pound bow and Slick Trick RaptorTrick expandable 100-grain broadheads.
Embry, 37, had seen the buck at his 70-acre Butler County farm off and on in 2017, but decided to let it grow another year before targeting it. He hung a stand where the buck routinely left a patch of woods and entered a field. As anticipated, the buck followed the same script on opening morning.
I had been in the stand since about 3:45 a.m. because that was about the only time when deer weren't coming out to the corn pile I had in the field, Embry said. I had a cellphone camera on the corn pile and could see what was coming and going. First a couple of does came out, but the wind switched and they smelled me. They ran out in the field blew at me and stamped a minute, then left. Later on, at about 6:30, a bunch of does and a spike came out and it was the same routine. When the wind changed they smelled me, ran out into the field and started blowing and stomping.
When it was good light, another doe and a fawn came out. She knew I was around and was really nervous. She kept looking past me into the woods, and I couldn't really move for a long time. Finally, she settled down and I looked around. There was the buck, feeding on persimmons. I slowly stood up and got ready. He finally came on around to my left and stood there looking out in the field. He was standing right next to a little sapling, and when I shot, the arrow sort of deflected off a small branch and hit him farther back than I wanted to.
After about 15 minutes, Embry climbed down and went looking for the buck. He followed the blood trail for about 50 yards but could tell that it was a bad hit and figured that, at best, he had clipped the buck's liver with his shot. Embry decided to leave the buck alone for a while and talked with a friend about the next step. The friend suggested that Embry contact Jerrod Lindsay of West Kentucky Deer Recovery, whose black mouth cur named Copper has a reputation for finding deer that might otherwise be lost.
Lucky for me that Jerrod's dog was as good as everybody said she was. It took her all of about 5 minutes to find where the buck was laying. He needed a second shot and that time he went about 75 yards before he went down for good.
Bradley Mills, who works in the archery department at Whittaker's, said it was the biggest velvet rack he had ever scored, and likely would win the archery division of the store's annual big buck contest.
Morgan had been showing us trail camera photos of the buck all summer, Mills said. We felt that since he was coming and going pretty regular he probably was going to get his shot. He got it.
Don't Miss: Using Tracking Dogs for Deer Hunting
Are you a deer hunter wanting to learn how to accomplish your goals? Check out our stories, videos and hard-hitting how-to's on deer hunting.
Watch all the latest video episodes