Have You Ever Tagged Mature Whitetail While Sitting on the Ground?
Rack Report Details
Buck:
186 4/8 Inches
Time of Year:
November 2, 2018
Place:
Stephens County, Oklahoma
Weapon:
Mathews bow Bowhunting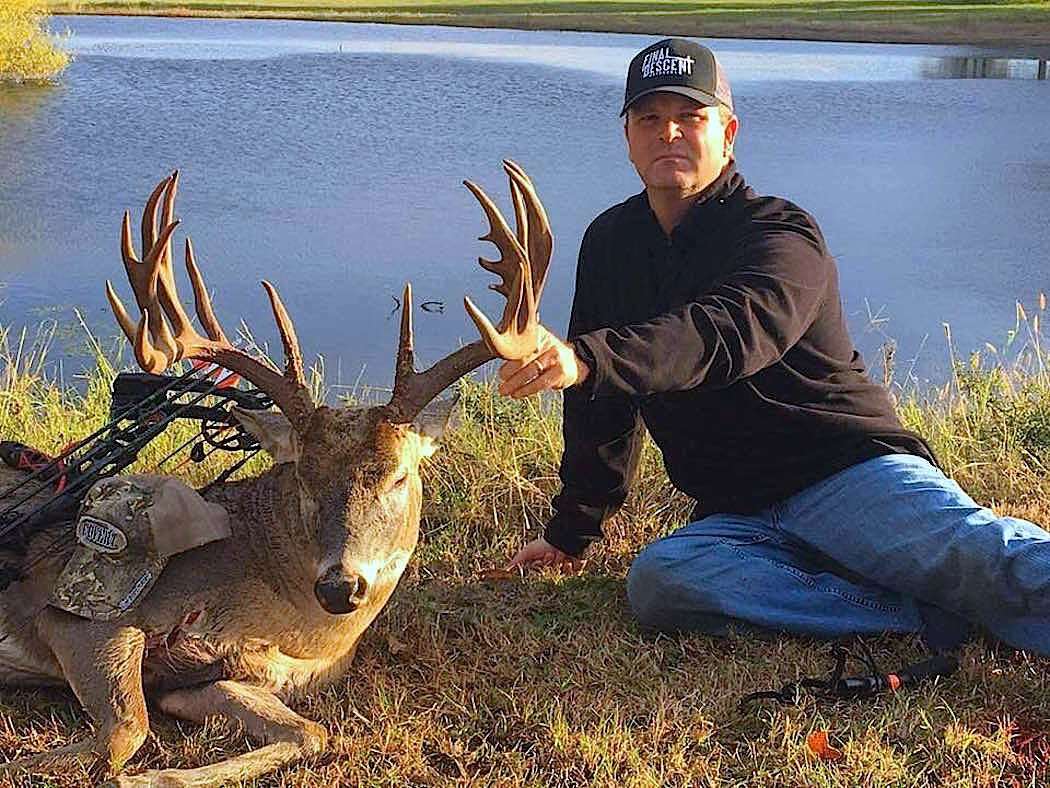 Paul Powers of Oklahoma, a pro staffer of the faith-based outdoor show Final Descent Outdoors, prefers to leave the encumberments of treestands and ladder sticks out of the equation. His favorite way to bowhunt is to hike into an area where he thinks a buck will be, and then set up on the ground.
Powers took this approach earlier this month while hunting a buddy's working cattle ranch. He was hunting for a specific buck that had been a regular on the property since 2014.
We picked up his sheds from when he was a 2 ½-year-old buck, Powers said. We didn't encounter the deer or get pictures of him in fall 2015. In 2016, we got a few trail camera pictures of him as a 4 ½-year-old. In 2017, he was a regular on our trail cams. His rack had five points on one side and nine on the other, so we named him 59. My buddy hunted him pretty hard last year, but never caught up with the buck. The only daylight pictures we ever captured of the buck were after the season closed.
Powers and his friend knew the buck was in the same area as the 2018 hunting season approached.
We really concentrated on that area, he said. On October 27 and 28, we finally captured daylight pictures of him. There are two ravines in the area, and after hunting the ravine in which we'd captured the daylight pictures without encountering him, I decided to hunt the other one — which runs the opposite direction — on a hunch the afternoon of November 2. Actually, my buddy Johnny Maxwell was supposed to hunt there, but due to physical limitations, he hunted the closer draw where we'd been hunting, and I hiked in deeper to the second one.
Powers' hunch to hunt the second ravine was the right move.
I hiked into the ravine and found a cluster of three oak trees where I wanted to set up, Powers said. I sat at the base of one of them, which gave me about a 35-yard view of the ravine. As I was setting up, I noticed there were seven does being chased around by two younger bucks.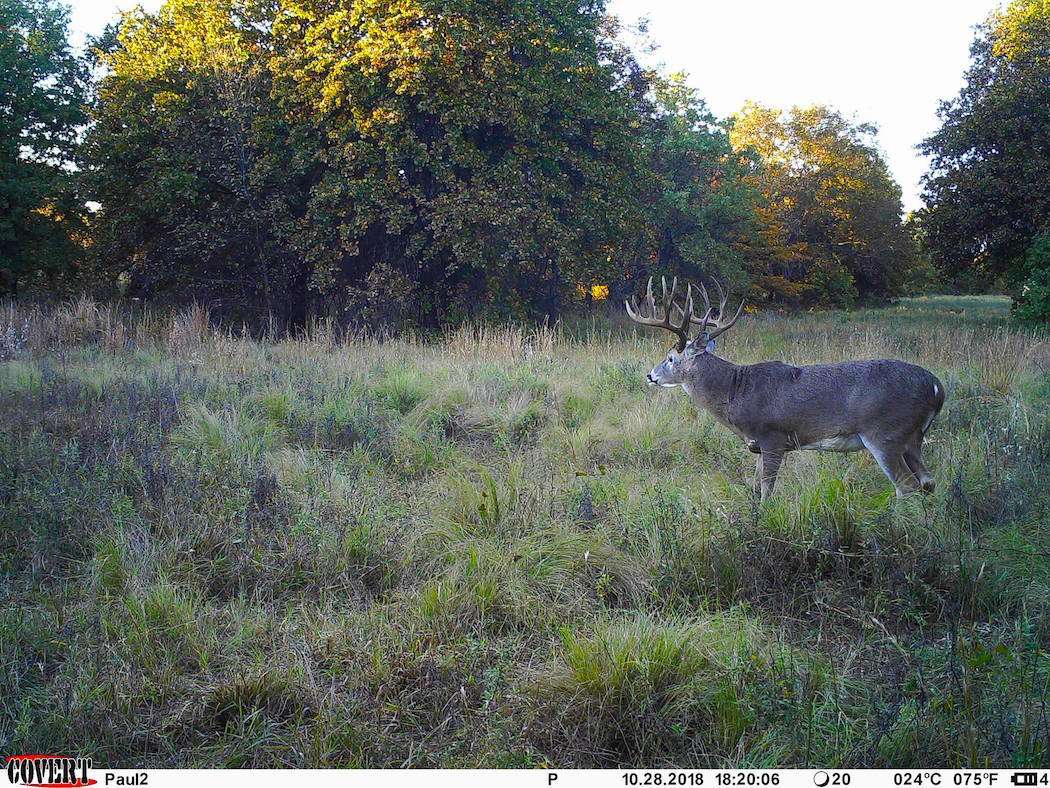 Meanwhile, some cattle had moved into the ravine to my left where I expected the buck to come from, Powers continued. Eventually, the cattle filtered away. Soon after, I looked to the left and spotted the giant buck walking out of the timber and heading my way. He jumped a fence and then walked down by the creek. I knew I was going to get my opportunity to kill him.
When he came up out of the creek, he was walking directly at me, Powers continued. He stopped about 18 yards away to make a scrape and rub a tree. He continued forward, and I reached full draw when his head disappeared behind a tree. Of course, he stopped and began feeding on acorns. I was drawn on the right side of the oak tree, and he was on the left side of it."
Powers made a bold move and scooted back until he could maneuver his bow onto the other side of the oak tree. Surprisingly, he remained undetected as the buck continued feeding casually on acorns. Still, the buck was quartering toward Powers.
I didn't like that angle, so I continued holding at full draw, he said. I'd been holding for well over a minute at this point, but I was sure he'd detect me if I let down. I momentarily closed my eyes and took a breath, and when I opened them, he was quartering away. I settled my pin on him and shot.
The buck took two big bounds, then stopped and looked back at Powers.
I raised my binoculars and could see blood was pouring out of him, he said. When he moved behind some trees, I stood to gain a better vantage, and he looked my way, then toppled over into the creek. It was exactly what I'd hoped for; no blind, no feeders, no treestand — just him and me.
Interestingly, Powers had taken his two 4-year-old boys out hunting six days earlier and killed a 140-inch 9-pointer with his muzzleloader. When he asked the boys if the buck was a shooter, they simply covered their ears and nodded their heads. How do you beat a week like that?
Don't Miss: 20 Deer Hunting Lies Your Granddaddy Told You
Are you a deer hunter wanting to learn how to accomplish your goals? Check out our stories, videos and hard-hitting how-to's on deer hunting.
Watch all the latest video episodes