A Long Wait Leads to a Big Velvet Buck
Rack Report Details
Buck:
181 2/8 inches (gross)
Time of Year:
September 3, 3018
Place:
Lethbridge, Alberta
Weapon:
Hoyt Carbon RX 1 Bowhunting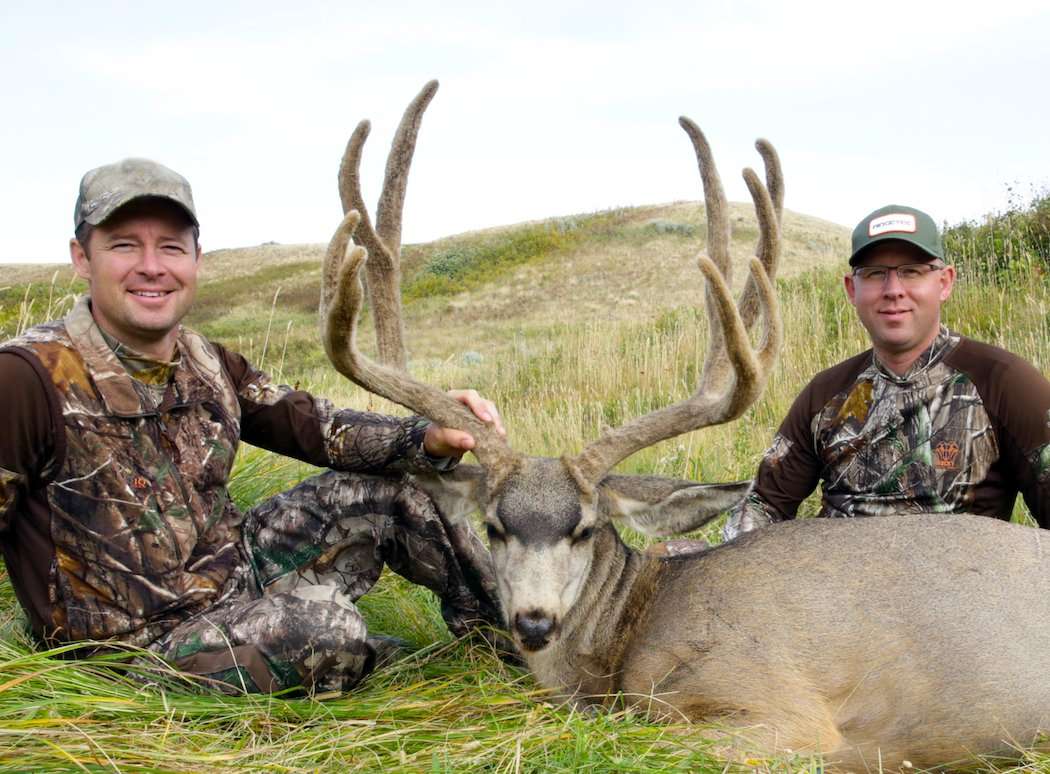 Seven years.
That's how long it took to draw the tag "Canada in the Rough's" Paul Beasley needed to hunt this huge velvet mule deer. Once dating begins, most people don't even wait that long to find the perfect wife.
Beasley waited that long for the perfect deer.
Needless to say, he was primed and ready once the hunt arrived. Beasley, his good friend Chase Wendorff and cameraman, Michael Higgins, prepared themselves for the madness to come.
This was new territory to me, Beasley said. Upon arrival, we scouted for two days and I believe we had a quick encounter with him on the first evening of scouting. But since we were hunting grasslands, there was no particular food source like an ag field to focus the deer on so we couldn't find him the next day of scouting."
It took a couple of days to learn the place, but learn it they did. They glassed several good bucks, and once they felt like they were where they needed to be, they began the hunt.
The terrain was interesting — flat prairie grasslands with deep coulees. Rough wilderness country with no homes, or even structures, for miles.
The weather was slightly challenging but provided good conditions for slipping in close to the deer they were after.
The weather was extremely windy with mixed sun and clouds, Beasley said. The winds were 30 to 40 miles per hour. The high winds meant it was great stalking weather, but it also meant that we had to get in close to make a shot. It was really hard to hold a bow at full draw.
The morning hunt brought a lot of action — but not the mule deer they were looking for. They worked diligently to glass up one that met their standards.
We saw a lot of deer throughout the morning but no big bucks," Beasley said. Just after lunch we put a stalk on a nice buck bedded with three other bucks and several does. I got in to 45 yards of the shooter buck but didn't see a smaller buck that was concealed in long grass only 15 yards away. He busted me and took the group with him. We were feeling pretty frustrated and started following that group when, two hours later, we came across the buck I wanted."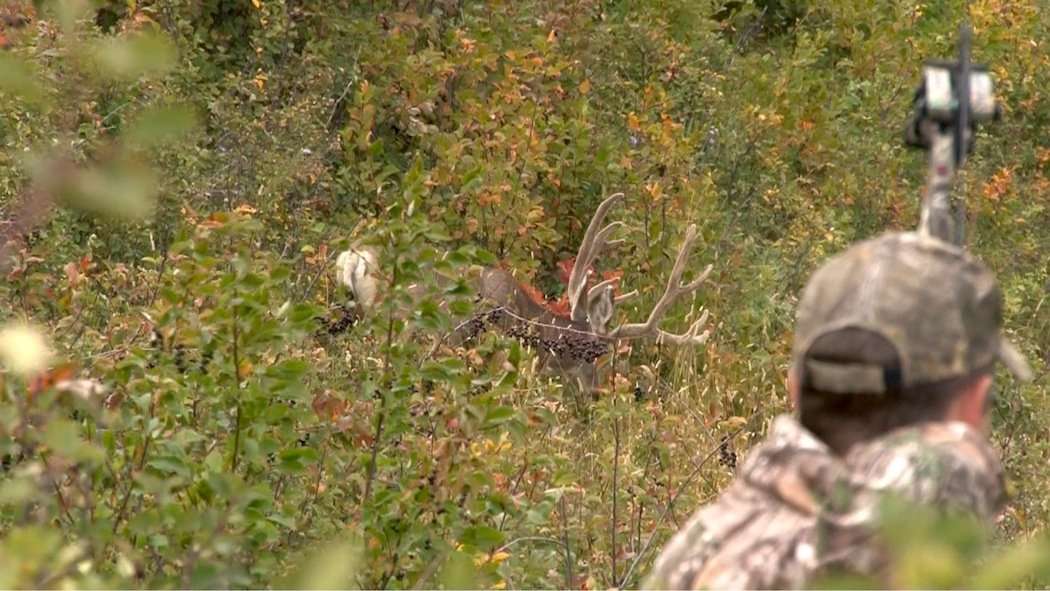 The buck was bedded halfway down a deep coulee when I spotted the upper half of his rack through the brush from about 300 yards away. We planned a stalk, Beasley continued. The foliage he was bedded in was so thick that we couldn't come in from above him. Our only choice was to drop in laterally on him which was really risky."
That's when things got sporty.
As I began the stalk, he got up and began browsing on the bushes, Beasley said. He was facing away from me as I stalked to 35 yards and I was getting really worried that he would start walking straight away and I would never get a shot. So, I started moving around him to get more of a quartering angle. I worked into position and got a hard-quartering angle at 35 yards and shot. He fell within 50 to 60 yards.
Feelings of relief, elation and countless other emotions all rolled into one as he walked up on his big, velvet buck. The wait for his Alberta deer was over.
It was one of the most exciting archery hunts I've ever had, Beasley said. Feeling so much disappointment from the blown stalk earlier was really weighing me down, so spotting this buck's antlers in the brush was incredible. The stalk was really intense as there were several moments that I thought he was going to walk away without presenting a shot. The only downside to the hunt was that it was over on the first day.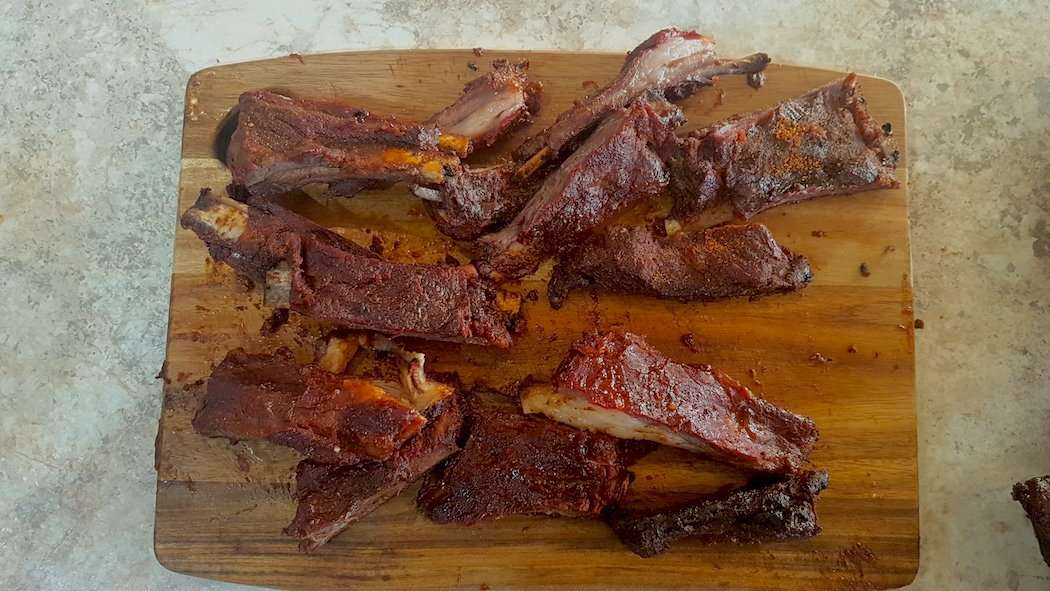 As one might expect, this deer means a lot to the Beasley family.
The rack is awesome and beautiful, and I was definitely not going to put my tag on a small buck, Beasley said. However, the memories of the hunt shared with my good friend Chase Wendorff, and the opportunity to capture it all on film, means way more. I love the pursuit of these animals and I love the time in the woods with family and friends. I love the fantastic meat that I feed my family with as well.
Don't Miss: 20 Deer Hunting Lies Your Granddaddy Told You
Are you a deer hunter wanting to learn how to accomplish your goals? Check out our stories, videos and hard-hitting how-to's on deer hunting.
Watch all the latest video episodes