Lifelong bowhunter bags the early season buck of a lifetime in North Dakota
Rack Report Details
Buck:
170 Inches
Time of Year:
August 30, 2019
Place:
North Dakota
Weapon:
Hoyt Helix Bowhunting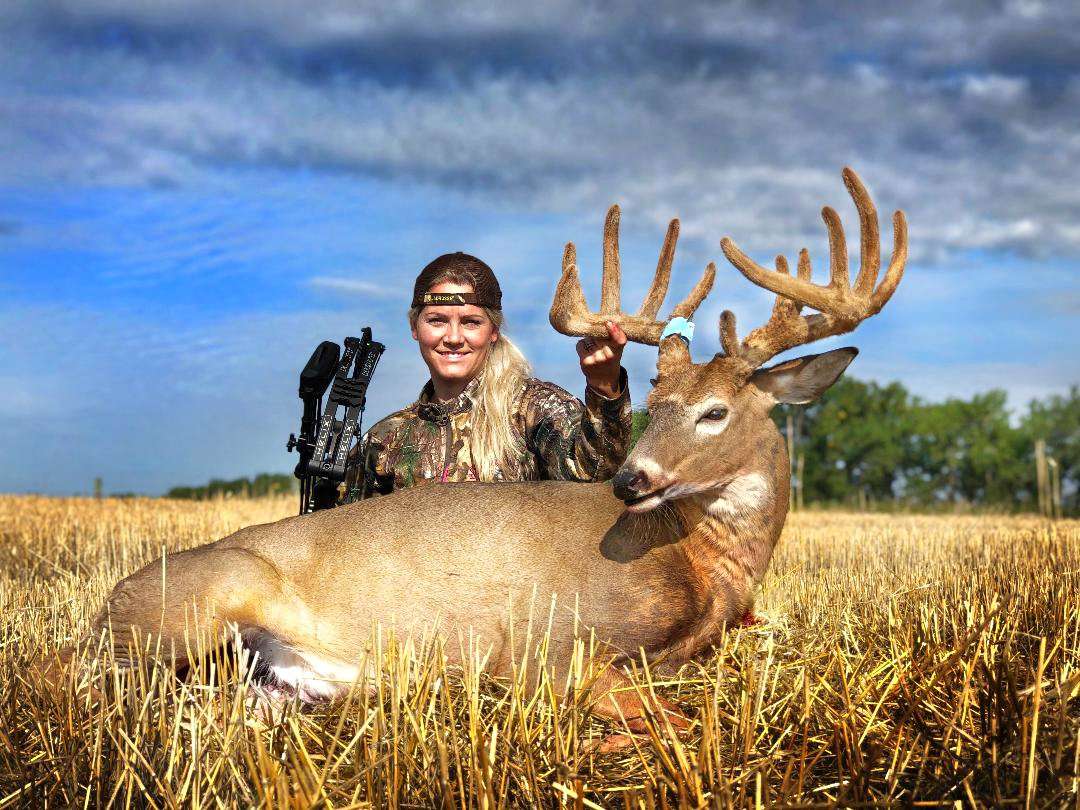 It had been a crazy early season sit for Nicole Larson. A spooked doe had almost caused her to give up for the day — but she suddenly found herself stuck at full draw on a giant North Dakota buck, with another doe and a smaller buck blocking her shooting lane.
Larson is a lifelong bowhunter, having picked it up at 14. She grew up on a small farm in Minnesota, where she spent much time out in the woods painting and drawing wildlife. She'd try to get close to deer, but quickly realized how difficult it was.
I think that's what really sparked my interest [in bowhunting], Larson said. Once I figured out how to get close, I decided to try hunting them. I remember buying VHS tapes, trying to learn all I could. I also taught myself through experience and friends. She'd frequently visit archery shops after school and practice with her bow, and in college, she took a job at an archery shop, where she learned how to set up and tune bows. Her passion for hunting continued to grow. Fast forward a couple decades.
I've been hunting North Dakota for years now and it hasn't always been good, she said. She'd tagged a few deer, but everything she learned about hunting that wide-open country was leading up to the most epic outing of her life.
We were hunting wide-open prairie with tree rows, Larson said. I was on the edge of a cornfield in a blind. It was overcast and calm with light, southeasterly winds.
She had a beautiful view to keep her entertained as she waited for deer to start moving. A lush, green beanfield was to the north, and a bunch of cattails and prairie grass — great bedding for big bucks — was to the south and east.
My good friend Joey checked a camera and told me this buck had been in there the night before with 20 minutes left of shooting light, Larson said. It was the first time he'd shown up in daylight that week. I didn't really know what to expect for movement, though. After days of rain, it was the first dry day we had had in a while.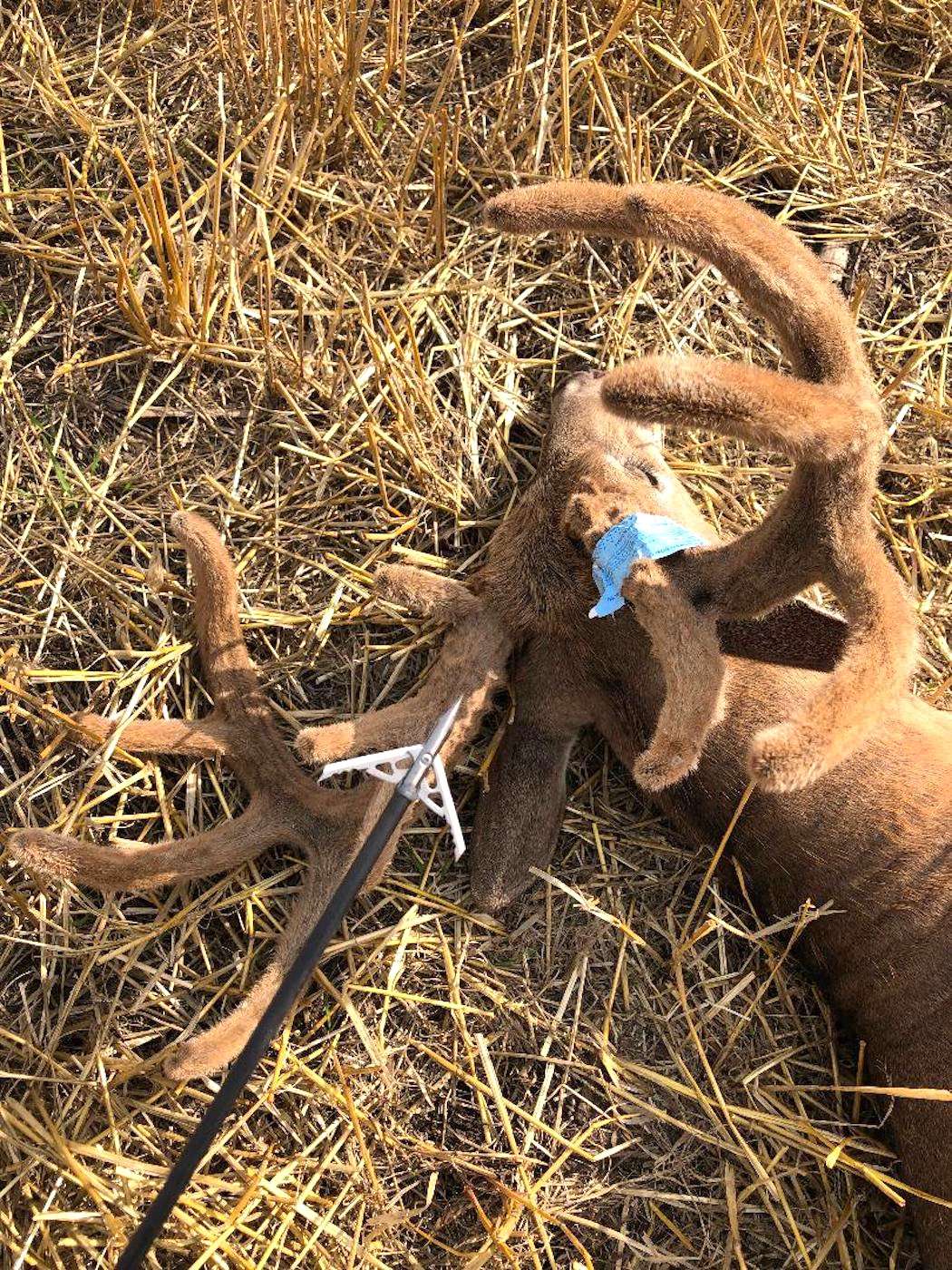 A baby woodchuck hung out with me for a while, Larson continued. He crawled in my blind a couple times, and I made sure to film him with my phone. I drew the line when he tried climbing in my lap.
Later on, a couple does filtered out into the beans. One of them circled downwind and started stomping, but eventually shrugged it off and resumed feeding. Then, a half hour later, she came back to reinvestigate and began stomping and blowing again.
My heart sank as she ran out into the beans and continued to stomp and blow, Larson said. I started tearing down my stuff since she had pretty much alerted the entire neighborhood of my presence. I actually took the arrow off my bow and put it in my quiver. I texted Joey and told him I was heading in. He reminded me it was early yet and to stay put.
I was just reaching for my Hoyt bow and getting ready to unzip the door when I looked up and saw a 140-inch 4x4 staring me down.
Larson did. But she wasn't thrilled about it.
I tore down my tripod, making all sorts of noise, Larson said. I was so fed up with the doe blowing at me that I put my camera up, took my gloves off and threw my tripod out the window. I hoped the doe would run away.
But she didn't. It just seemed to get worse.
Then I threw my backpack out, Larson said. I was just reaching for my bow and getting ready to unzip the door when I looked up and saw a 140-inch 4x4 staring me down. I sat there frozen staring back at him. I couldn't move. I think my little woodchuck buddy saved me when he scurried through the grass and distracted the big buck. Eventually, he started feeding and all of the deer calmed down.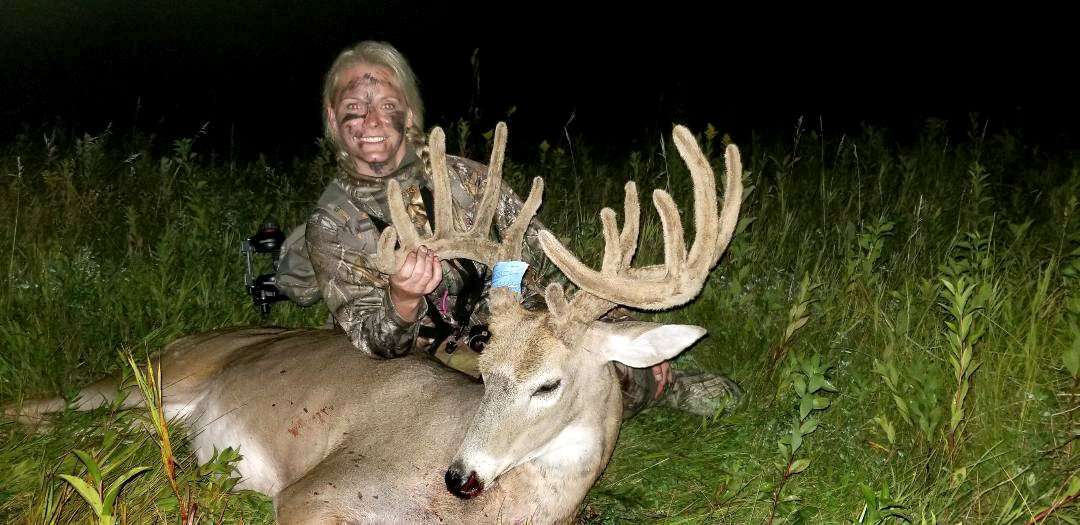 Then the big one appeared 25 yards away. He cautiously waded through the beans. Larson drew her bow, wholly expecting nearby deer to bolt. But they didn't.
Instead, he turned and walked right into my shooting lane and stood there for what seemed like hours, Larson said. I let my bow down and waited for him to move. I drew back again, and this time, he noticed the noise and stared at me. I settled the pin just as a doe walked [and stopped] in between him and me. Then, the big 4x4 stepped in front of her.
Larson was stuck at full draw — but to her relief, the other deer cleared out of the way. She resettled her pin. At this point, I was shaking almost uncontrollably, but was able to get myself together enough to make the shot, she said. The buck tipped over within 70 yards. I was so excited I could barely breathe. This buck is my best whitetail to date.
A 170-incher in full velvet isn't too shabby of a best buck, either.
As any experienced bowhunter knows, the party doesn't really start until you've recovered the deer. But once it started, there was no stopping it.
It was so awesome to be surrounded by good friends when I recovered him, Larson said. We were all speechless when we walked up to his giant velvet rack. This deer meant so much to me. I worked my tail off to shoot a good buck, and it finally happened.
Don't Miss: How to Deer Hunt Each Week of the Deer Season
Check out more stories, videos and educational how-to's on deer hunting.
Watch all the latest video episodes