Buffalo County gives up another giant on opening day of the 2019 bow season
Rack Report Details
Buck:
192 4/8 inches
Time of Year:
September 14, 2019
Place:
Buffalo County, Wisconsin
Weapon:
Crossbow Bowhunting, Crossbow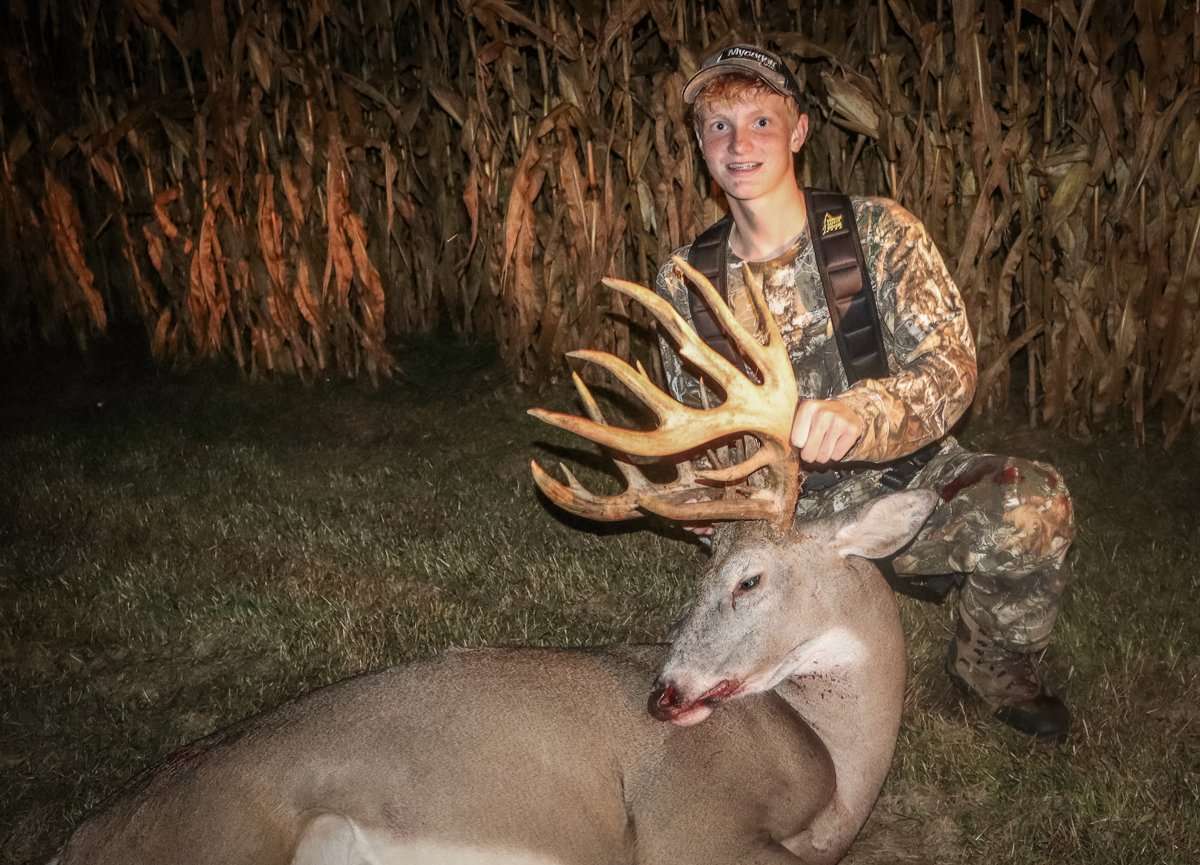 Thirteen-year-old Wisconsinite Ethan Hurlburt had no idea what was about to happen when he climbed into his treestand on opening night. It was finally archery season, and he was on his family's property in Buffalo County, Wisconsin. Conditions were favorable.
His father, Kent, was tucked in the same tree, and Ethan settled in with his crossbow. They were sitting on the edge of a woodlot, near a pond, standing corn and some alfalfa. It had everything deer needed.
Ethan and his family have seen many great deer on their property over the years, but the most impressive one yet appeared this summer: a true Boone and Crockett whitetail. Trail cameras first captured the giant on August 20. There were only a few photos of him, but they hoped the buck would stick close until the season opened a few weeks later.
We really didn't know if he was still around, Ethan says. And we hadn't seen him on camera for about 10 days.
At around 6:45 p.m. on the opener, a 4-pointer emerged from the woods and meandered into the field. The little buck fed in front of them, and a few minutes later, a young 11-pointer stepped out. They weren't tempted by either.
Then, about 30 minutes before dark, the giant buck stepped out. The two hunters watched the deer for a few minutes, until Ethan collected himself and readied the crossbow. The buck eventually walked the edge of the timber and cornfield and made his way to the small pond. He stopped at 25 yards, and Ethan squeezed the trigger.
I hit the buck a little high, he says. It looked OK right away, but there ended up not being much blood. We got going and started tracking him. He ran about 150 yards. It took us forever to pick up [blood] since he ran on a dirt trail.
But once they hit the trail, the Hulburts found the buck almost at once.
I was jumping up and down, and just super excited, Ethan said. I was [planning] to hunt every weekend and get out as much as possible to try and shoot a nice buck.
But the young hunter's moment came much sooner than expected, and he was able to drop this giant deer and celebrate with family by his side. The stud scored a whopping 192 4/8 inches.
Don't Miss: Is This the New North Carolina Record Bow Kill?
Check out more stories, videos and educational how-to's on deer hunting.
Watch all the latest video episodes