An early October cold front and an improvised ambush from the ground pay off with the deer of a lifetime
Rack Report Details
Buck:
183 4/8 inches
Time of Year:
October 7, 2019
Place:
Logan County, Illinois
Weapon:
Mission Sub-1 crossbow Bowhunting, Crossbow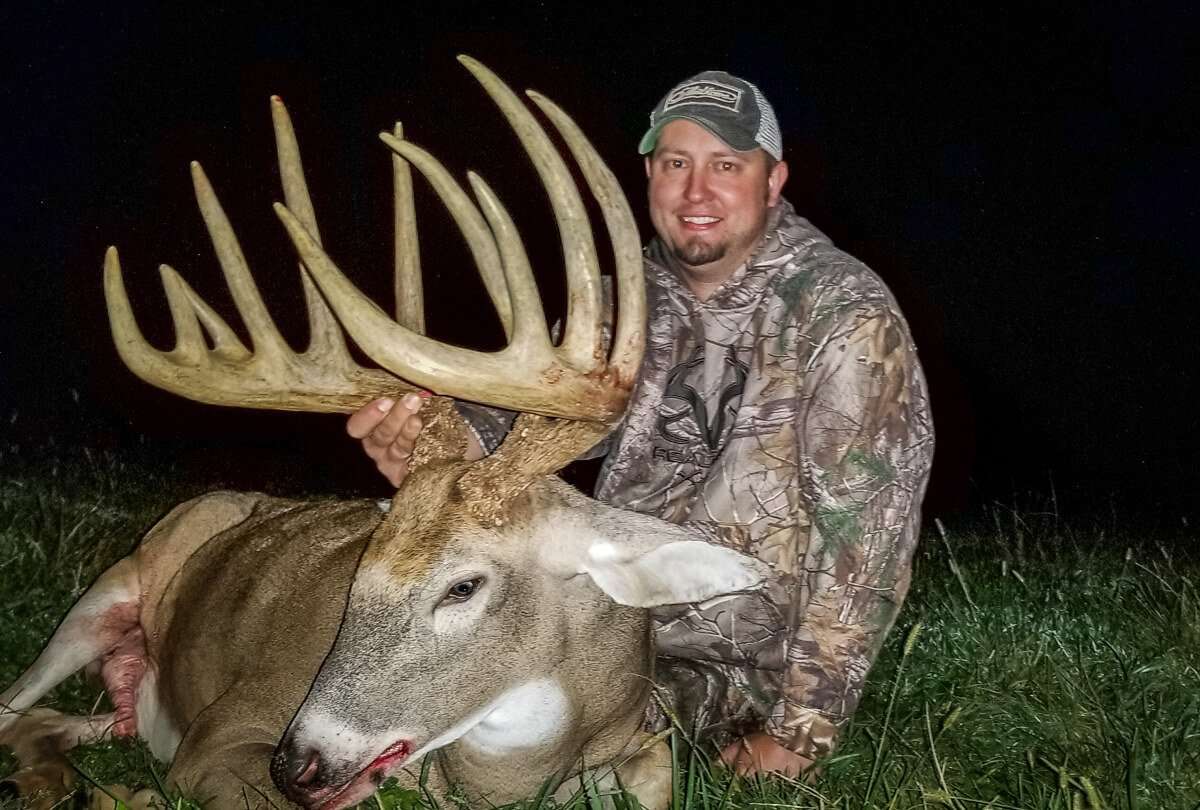 For Cody Tucker, shooting a world-class whitetail has been his dream since his father introduced him to hunting at a young age. Now 30 years old, Tucker captured that dream on a bean field during an October cold front.
The story began on July 8. That was the day I did my first card pull on a farm we hunt very sparingly, Tucker said. I was beside myself when I started going through the pictures and saw an incredible buck — the largest I've ever caught on camera. I continued watching him grow all summer long.
I experienced a little rollercoaster ride about two weeks after placing my trail cameras, Tucker continued. I had a couple of cameras hung on oak trees, and a squirrel ate out the covers and lenses. I knew I needed to make some changes. I drove a fencepost into the ground on the edge of a cornfield and put PVC pipe over it. I hung a camera on it facing back toward the beans.
I couldn't believe it — he was 10 yards away from the ladder stand I'd hunted the previous evening.
It worked. From July through October, Tucker and his brother captured more than 500 images of the giant animal. The buck was such a regular that he deserved a name. The brothers settled on Geronimo.
I told my wife that I'd lose a lot of sleep if I didn't kill Geronimo, Tucker recalled. He was the largest buck I'd ever had the opportunity to pursue. He was so patternable, and coming out in the daylight constantly.
Geronimo's home range seemed to consist of a square mile of cornfields with the exception of an 80-acre bean field.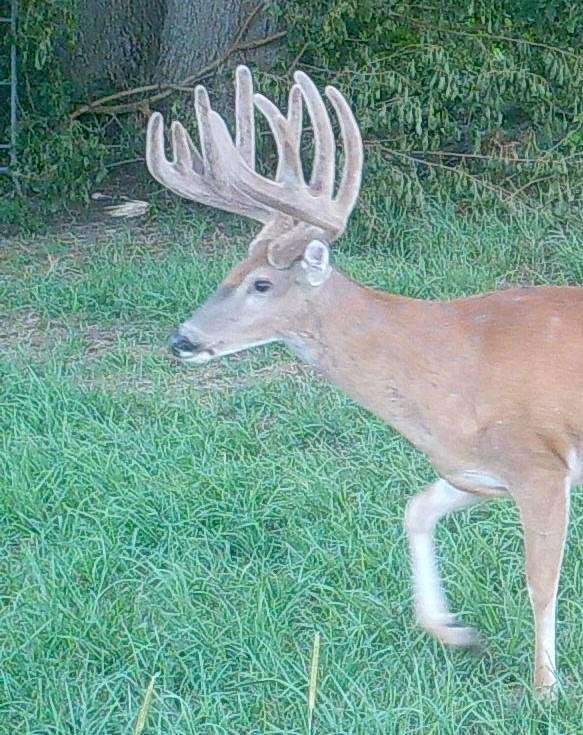 The beans were planted late, Tucker said. Once October arrived, they were about halfway mature. I had some time off, but the weather was super-hot. I didn't want to risk pressuring the buck, so I waited for better hunting conditions.
I went out October 3 with relatively low expectations, he continued. At about 5:45 p.m., deer began filtering into the beans. Shortly after 6 p.m., Geronimo appeared with three other bucks. That first encounter was mind-blowing. I'd never before seen a buck this large from a treestand. He was 84 yards away, and eventually he walked directly away.
The onset of a cold front three days later set the stage for another encounter.
On October 6, Tucker said, the buck did virtually the same thing, but he came within 64 yards. Although using a fully capable Mission Sub-1 crossbow, I elected to hold off. My goal is to always take the most ethical shot possible. The buck eventually faded away.
Tucker's first two hunts had been from a ladder stand, and rather than risk a third encounter with no shot opportunity, he elected to move closer and hunt from the ground.
I arrived early in the afternoon on October 7 and cut some cedar branches for concealment, he said. A doe and two fawns appeared first, and the fawns came within 5 yards. Eventually, they went on by, and then another doe and two fawns appeared in the beans. I watched them for about half an hour. Then, I peeked down the field edge and spotted Geronimo. I couldn't believe it — he was 10 yards away from the ladder stand I'd hunted the previous evening.
He started moving away, Tucker said. He was about 200 yards out. Eventually, some does and fawns became antsy, and Geronimo kept watching them. About 10 minutes later, he spun and started slowly walking their way. Soon, he was 70 yards away. I stayed frozen to avoid spooking the deer, and my one leg, which was tucked underneath me, was totally numb.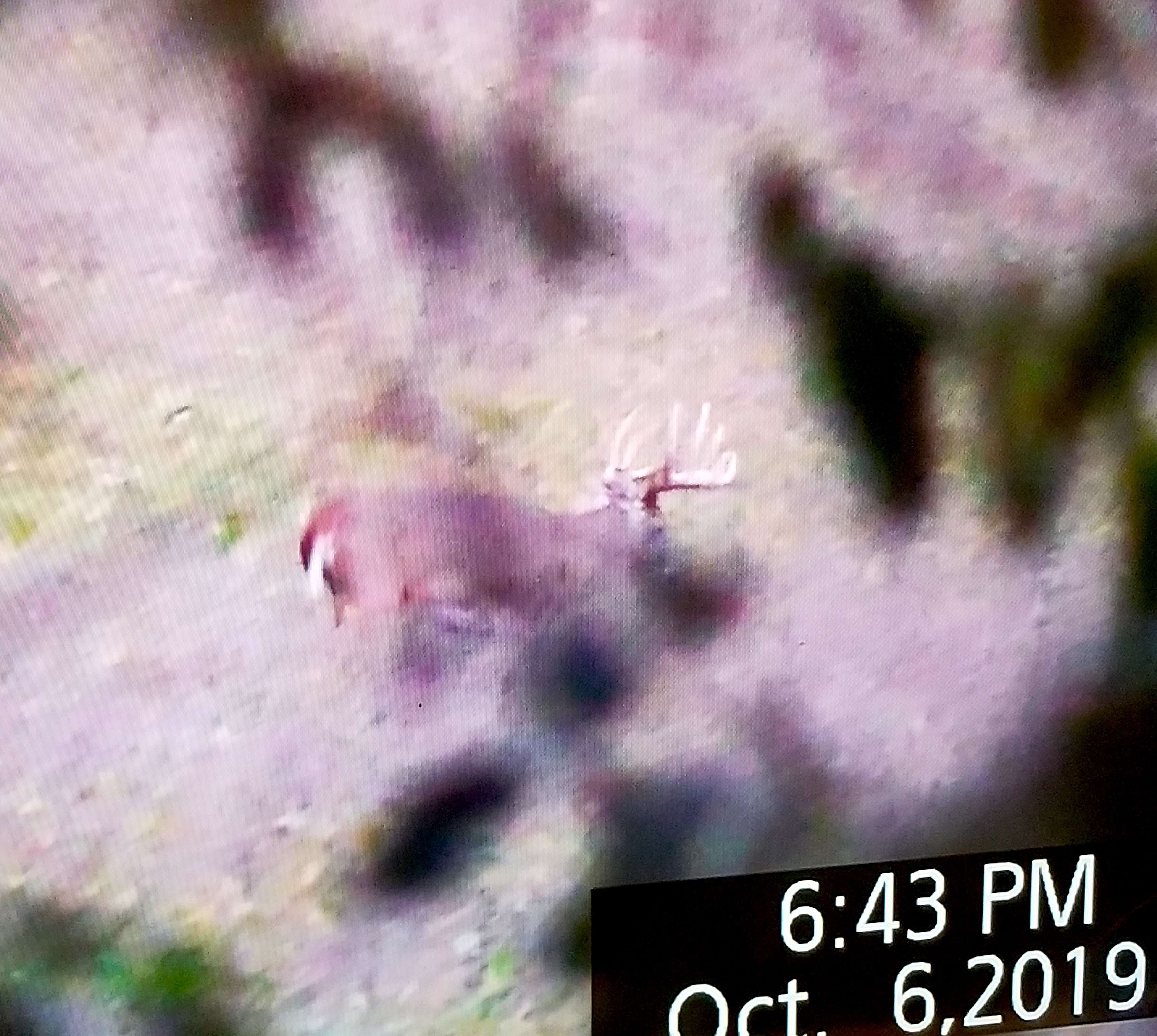 Tucker said Geronimo eventually made it within about 43 yards. His opportunity finally presented itself. With the buck slightly quartering toward Tucker, he aimed at the crease behind the front leg.
My Nockturnal lighted nock looked like a Roman candle flying through the air, Tucker said. My arrow hit exactly where I intended, and the buck ran about 160 yards out into the beans and fell over.
Talk about emotion. The moment was like rocket fuel to Tucker's adrenal glands.
At that point, I just lost it, he said. I started crying as adrenaline pumped through my body. All of the blood, sweat and tears over more than 18 years of hunting had finally culminated in capturing my dream of killing a world-class buck.
The giant deer scored an incredible 183 4/8 inches.
Don't Miss: 13-Year-Old Ethan Hurlburt's Wisconsin Booner
Check out more stories, videos and educational how-to's on deer hunting.
Watch all the latest video episodes