Ohio bowhunter arrows a giant after timing his hunt with a red moon and cold front
Rack Report Details
Buck:
180 2/8 inches
Time of Year:
October 4, 2019
Place:
Tuscarawas County, Ohio
Weapon:
Elite Impulse Bowhunting
Being face-to-face with a 180-inch deer will wreck your resolve. But Ohio bowhunter Matt Weaver recently closed the chapter on a buck he'd been following for two seasons.
In 2018, Weaver received photos of a 15-point buck that a neighboring landowner had killed a couple weeks after the opener. The deer ended up scoring 208 inches. One week later, another incredible buck showed up on Weaver's own hunting grounds.
My brother encountered him once during the 2018 season, Weaver says. We had tons of trail-camera pictures of the buck, but we didn't see him again in person that season. He was regularly making a half-mile loop around the farm, and most of our trail-camera pictures of the buck were in the dark.
The nighttime trail-camera appearances continued into this season, and Weaver considered taking a different deer during his first hunt of 2019. A 170-inch 10-pointer stepped out, but never came in close enough for Weaver to make the call.
Then, the first weekend following the Ohio bow opener, a cold front coupled with a red moon set the stage for some great deer hunting.
I'm a firm believer in the red moon and the way it works, Weaver says. I told my co-workers that I had to leave early on October 4. Meanwhile, the temperature had plummeted from the mid-70s to the mid-40s. Unfortunately, when I was getting ready to hunt, I reached into my ScentLok dry bag and found that all of my camo was soaked. It had rained the previous evening and somehow gotten into the bag. I decided just to spray down other clothes with a scent eliminator and make the best of it.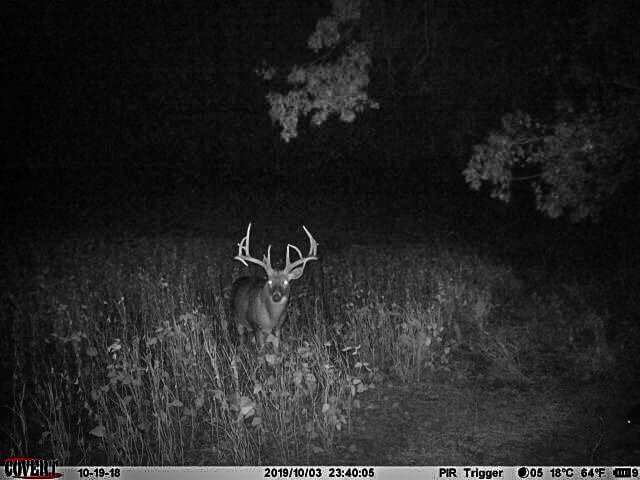 Weaver arrived at his blind overlooking a bean field early that afternoon. Even with a perfect wind, he placed a stick of EverCalm deer lure in the blind window for insurance.
About an hour before dark, seven bucks entered the field, Weaver says. They were feeding for a bit when a fork horn circled behind my blind, trying to wind me. Soon after the big buck emerged about 100 yards away on the field edge. It was my first encounter with him. He stood there for 10 minutes, eating beans. Meanwhile, the fork horn continued his attempt to bust me.
Finally, the big buck shifted his focus from feeding to the other bucks in the field. He approached Weaver's blind, as if drawn in on a string.
I opened the window halfway and started ranging him, Weaver says. I drew and gave him a mouth grunt when he was at 33 yards.
Weaver shot, and his arrow was on point. The buck collapsed within seconds following its 100-yard dash. Somehow, Weaver kept his composure throughout the entire encounter.
Prior to this buck, I hadn't encountered or had an opportunity to shoot such a tremendous deer, Weaver says. I was super calm. It felt like everything happened in slow motion. I didn't get shook up at all until after he was down.
Weaver's brother and uncle were hunting just a few minutes up the road, so he packed his gear and headed for the truck. They were fired up by his news and met Weaver to assist with the recovery. It didn't take long, and they walked up on an 180-inch deer with 6-inch bases and G2s measuring more than 12 inches apiece.
It was an amazing moment, Weaver says, to finally put my hands on such a remarkable buck.
Don't Miss: Bill Winke's 180-Inch Surprise Buck
Check out more stories, videos and educational how-to's on deer hunting.
Watch all the latest video episodes