A young Kentucky hunter settles his sights on a near 200-inch whitetail
Rack Report Details
Buck:
200 inches (green score)
Time of Year:
October 12, 2019
Place:
Barren County, Kentucky
Weapon:
.243 Rifle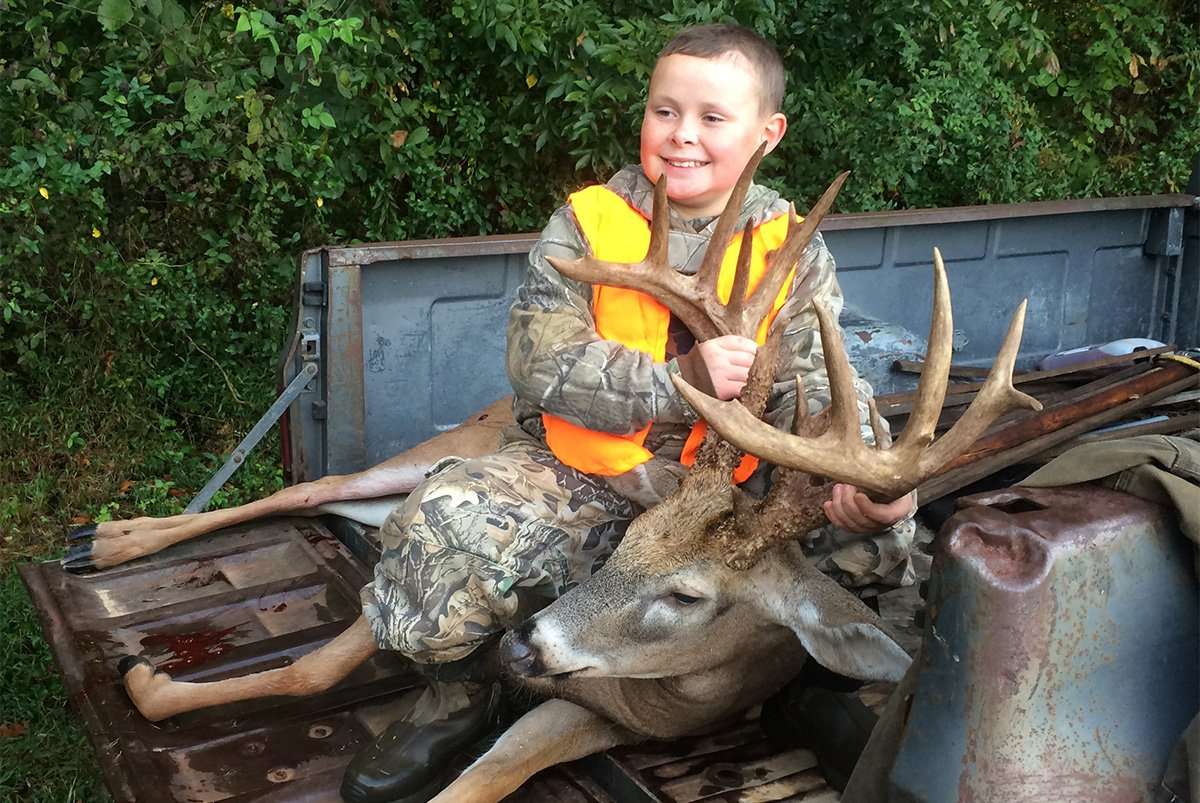 Anthony Bennett knew he was looking at a trail-camera photo of the biggest buck he'd ever seen on the family farm. It was September, early bow season, and the giant deer had shown up seemingly out of nowhere. But there was a problem. Judging from numerous trail-camera photos, the deer was almost entirely nocturnal. Anthony continued hunting several areas of the farm, hoping to catch the big buck on his feet, and hoping he didn't stray too far off the property.
But September ended, and the buck remained stubbornly nocturnal. A cold front swept through on Friday, October 11, which also happened to be Anthony's wife's birthday. Instead of hunting, he spent the evening celebrating with her. Predictably, that's when the buck moved during legal shooting hours.
I would have been right there, he says. The buck walked right by my stand and the wind would have been perfect.
But the next morning kicked off Kentucky's two-day early youth season, and his 11-year-old son, Mason, was primed to go. Mason was excited to hunt the same big buck his dad had been chasing, and Saturday morning found the pair, along with Mason's grandfather, in a box blind overlooking the same field where the buck had cruised through the evening before.
At 6:10 a.m., Anthony could make out the shape of a deer entering the field 160 yards from their blind. Soon, a second deer followed. Both deer appeared to have large bodies, but he couldn't make out their racks on the cloudy morning, even with binoculars. As quietly as possible, he got Mason into position and told him to look through the scope.
I could see a shape, but that is about it, Mason says. It was still way too dark to shoot.
I told Mason to stay calm, Anthony says. We had time on our side, and every minute that went by, it would be that much lighter.
Light slowly burned through the heavy, overcast skies. By 6:30 a.m., Anthony could tell both deer were mature bucks - and the giant was one of them. Anthony asked Mason if he could see now.
I looked again, but I still wasn't sure enough to shoot, Mason says. I was starting to get worried.
Anthony was worried, too. He thought the buck might leave, but he also didn't want Mason to shoot until he was certain. The bucks eased back into the woods in the same area where they came from.
I was really disappointed when they left the field, Mason says. I was afraid I missed my chance.
The trio sat quietly in the stand, looking over the field in hopes that one of the bucks would reappear. The box blind sits on an overgrown fencerow along the field, running into the woods where the deer had gone.
What they didn't know was that the big buck was working down that fencerow toward them. Soon, the deer stepped back out under a large oak that was dropping acorns. It was only 80 yards away now, and there was plenty of light for Mason to see through the scope.
There wasn't even enough time to get nervous, Mason says. He was right there and I was on him. When Dad said to shoot, I did.
Anthony and Mason's grandfather were both watching the buck through binoculars when the shot rang out. Neither noticed a reaction, and both worried that Mason had missed as the buck bolted back into the cover. But Mason knew better.
I was right on him when I squeezed the trigger, Mason says. I told them I knew I was on and that I'd hit him right where I was aiming. After I shot, I started shaking hard and my heart was beating really fast. I was breathing so hard that Dad had to take the gun.
The hunters waited in the blind, quietly going over the hunt.
Mason was solid at the shot, but man, he got shook up after, Anthony says. I reached over and took the rifle, checked it, and put it in the corner of the blind so his shaking wouldn't knock it over.
After giving the buck plenty of time, the hunters made their way to where the buck fled the field. As soon as he stepped onto the trail, Anthony found blood. A few more steps and they all spotted the buck just inside the trees.
Mason's buck had 18 scorable points. It featured incredible mass with nearly 7-inch bases and 5½-inch mid-beam mass measurements. The taxidermist green-scored him at just over 200 inches. After the 60-day drying period, they expect the buck to gross in the high 190s.
I've been hunting most of my life and I've never seen a deer this big, Anthony says. I may never see another one. I've tried to explain to Mason what he has done, and that it's possible he may never see another buck of this caliber in his life. Yes, I wanted to kill this buck, but Mason getting him is even better. I just feel blessed to have been able to be with him when it happened.
Don't Miss: 7 Reasons Why Kids Aren't Deer Hunting
Check out more stories, videos and educational how-to's on deer hunting.
Watch all the latest video episodes