Cragg Fitz thought he'd blown it after wounding this prairie giant, but persistence can definitely pay off
Rack Report Details
Buck:
171 2/8 Inches
Time of Year:
October 22, 2019
Place:
Clark County, Kansas
Weapon:
Bow Bowhunting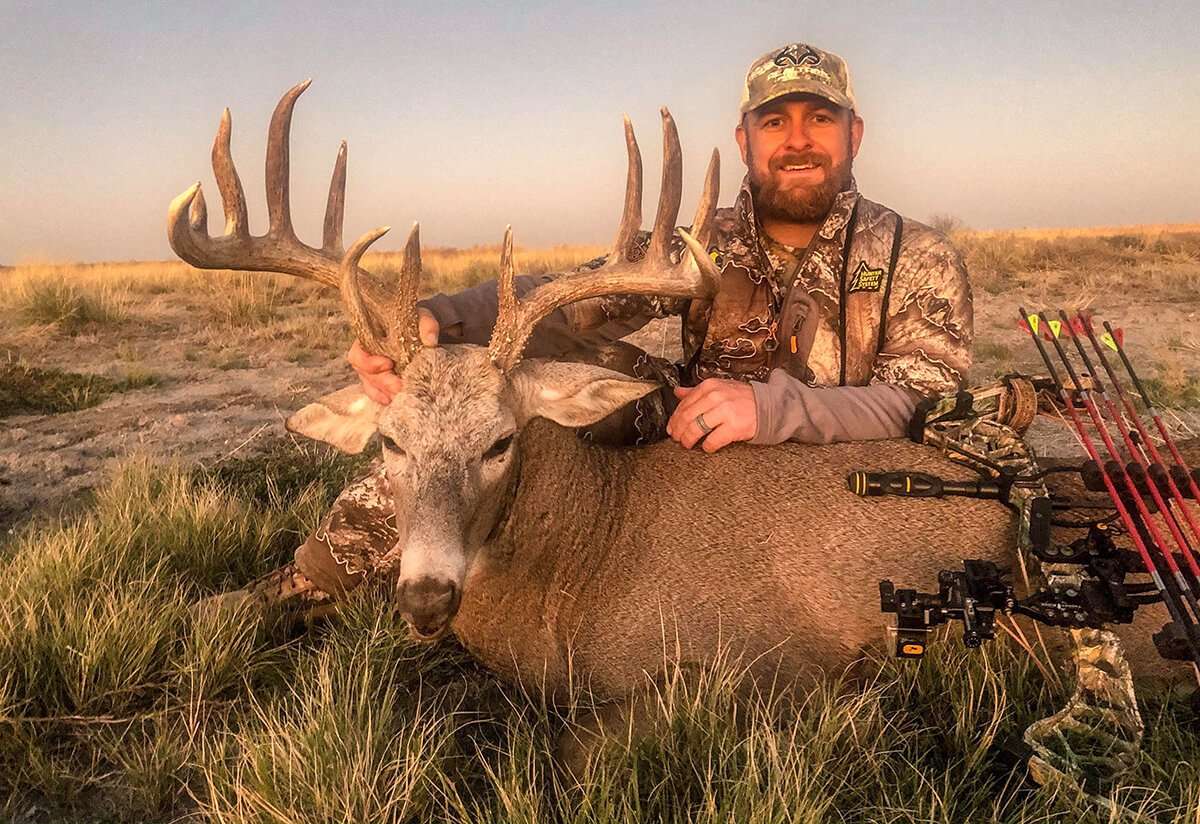 It's not often that you wound a buck and then get a second chance at him. But that's exactly what happened to Realtree employee Cragg Fitz during a recent trip to Kansas. Along with several friends, Fitz traveled to southwestern Kansas to hunt with a local guy they've shared camp with for 12 years.
Fitz knew of a 170-class buck thanks to extensive trail-camera work. They had a few images that really helped drill down on the buck's core area. Clark County, Kansas, is a whitetail-rich stronghold, but it is vast country, full of wide-open prairie that can be intimidating to hunt. It's a mixture of sandhills, wheat fields and tree rows, Fitz said. It's wide open, basically.
Fitz has been going out there on and off for 11 years. I've mostly filmed other people hunt, Fitz said. And there have been some studs. But last year, I began hunting the area on my own, and I have been successful.
His setup this year was perfect for intercepting deer, too. A large wheat field stretched out to the north. Wide-open, expansive sandhills sprawled to the south. And a tree row with a dry creek bed separated the two. That's where Fitz made his stand. There were other bucks in the area, but this was one of the best spots to tag that bruiser.
It was October 19, and conditions weren't terrible — clear skies and 45-degree high temps — for mature-buck activity. It wasn't long before deer started hitting the fields and suddenly, the giant whitetail stepped into view and headed toward Fitz.
The deer came in running around me, Fitz said. I could tell he was a shooter, but there wasn't enough light to take a shot.
Fitz waited until he had good light. I was a little shaken up but felt really good about taking the 22-yard shot. But somehow, I hit him high and back. I still thought it was a lethal hit, but I watched him walk almost 3/4 mile before going into another tree row.
Fitz self-filmed the hunt, replayed the footage, and knew the buck wasn't hit lethally since it walked that far. However, he did his due diligence. After not recovering the buck, he resumed hunting. I decided to immediately start hunting him again, but at a different location due to wind, Fitz said. I sat at that stand two evenings and two mornings. I saw a lot of deer, but no sign of him.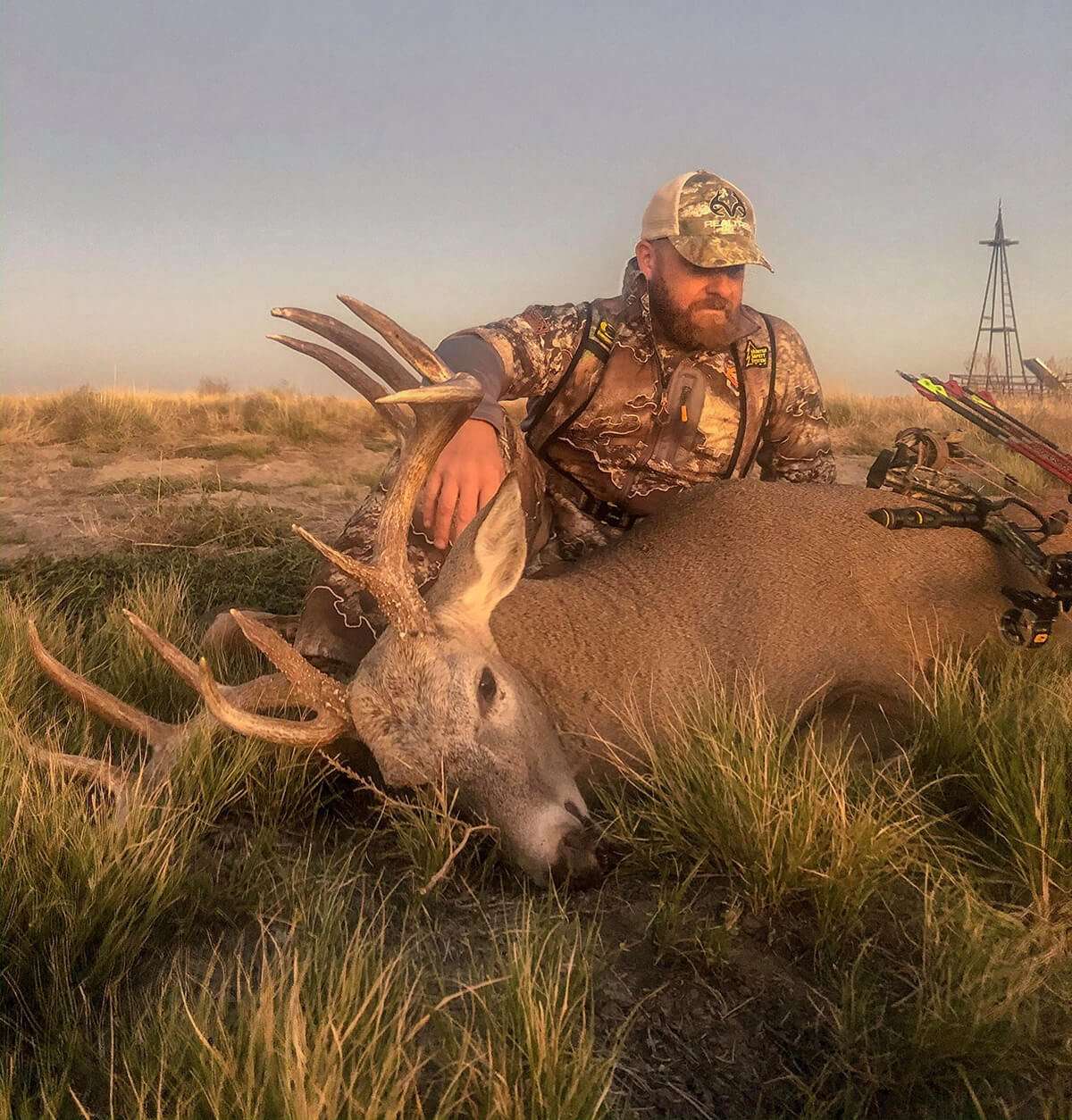 Fitz's spirits were low. But several days after the shot, he headed back to the stand for an afternoon hunt. This would log his second solo sit in more than 10 years. Having filmed for Trained Assassins TV during that period, he was always filming or being filmed. Not on this hunt, though. It was just him, his bow and the deer. Thanks to his son, he had a little extra pep in his step, too.
After wounding the deer, my wife Jansen, told me that my 6-year-old son, Wes — who is my favorite hunting partner — prayed that night the deer would come back, Fitz said. That gave me more confidence than anything else.
Mother Nature sure wasn't helping, though. It was 60 degrees with clear skies and 10- to 12-mph winds out of the southwest. The conditions weren't great, and Fitz's confidence was still low. But that would soon change.
He decided to hunt the same drainage from the previous encounter. However, he was about a half-mile further down the tree line. Shortly after settling into the stand, four does filtered out into the open. A nice-looking 3-year-old 10-pointer wasn't far behind them. Fitz soaked in the afternoon sun and just enjoyed his time on stand. And then the improbable happened. The big deer stepped out of the creek for a second time.
I heard something walking to my left, Fitz said. I'd never seen a deer come from there. I slowly looked down and he was standing in the dry creek, just 10 yards away. I had to convince myself it was him for a while. Once he came out of the creek, I was already standing with bow in hand.
The buck eventually worked his way up into the open, and Fitz drew his bow. The brute presented a slightly quartering-to, 19-yard shot. The arrow struck true, right behind the buck's shoulder, and it ran just 70 yards before piling up.
He shocked me, Fitz said. To be honest, I still feel bad by saying I was shocked when I saw the deer again. Because [deep down], I should have known it would happen.
When he finally knelt by the buck and put his hands on it, pure elation followed. This buck is my biggest to date by almost 20 inches, Fitz said. The deer will always be special due to the story behind it, and it being my first one to gross over 170. I'm still on Cloud Nine.
It took persistence to finally tag this 7 ½-year-old, 171 2/8-inch buck. Fitz's buddies couldn't believe the whitetail gave him a second chance. Neither could he. But with a little help from his son, the good Lord, and a daylight-walking buck, it did. And he arrowed his best buck ever because of it.
Don't Miss: That Buck Is Onto You
Check out more stories, videos and educational how-to's on deer hunting.
Watch all the latest video episodes