It was windy and cold in the young hunter's ladder stand, but a midday switch to a box blind proved to be the magic move
Rack Report Details
Buck:
203 4/8 inches
Time of Year:
November 23, 2019
Place:
Southern Illinois
Weapon:
Shotgun Shotgun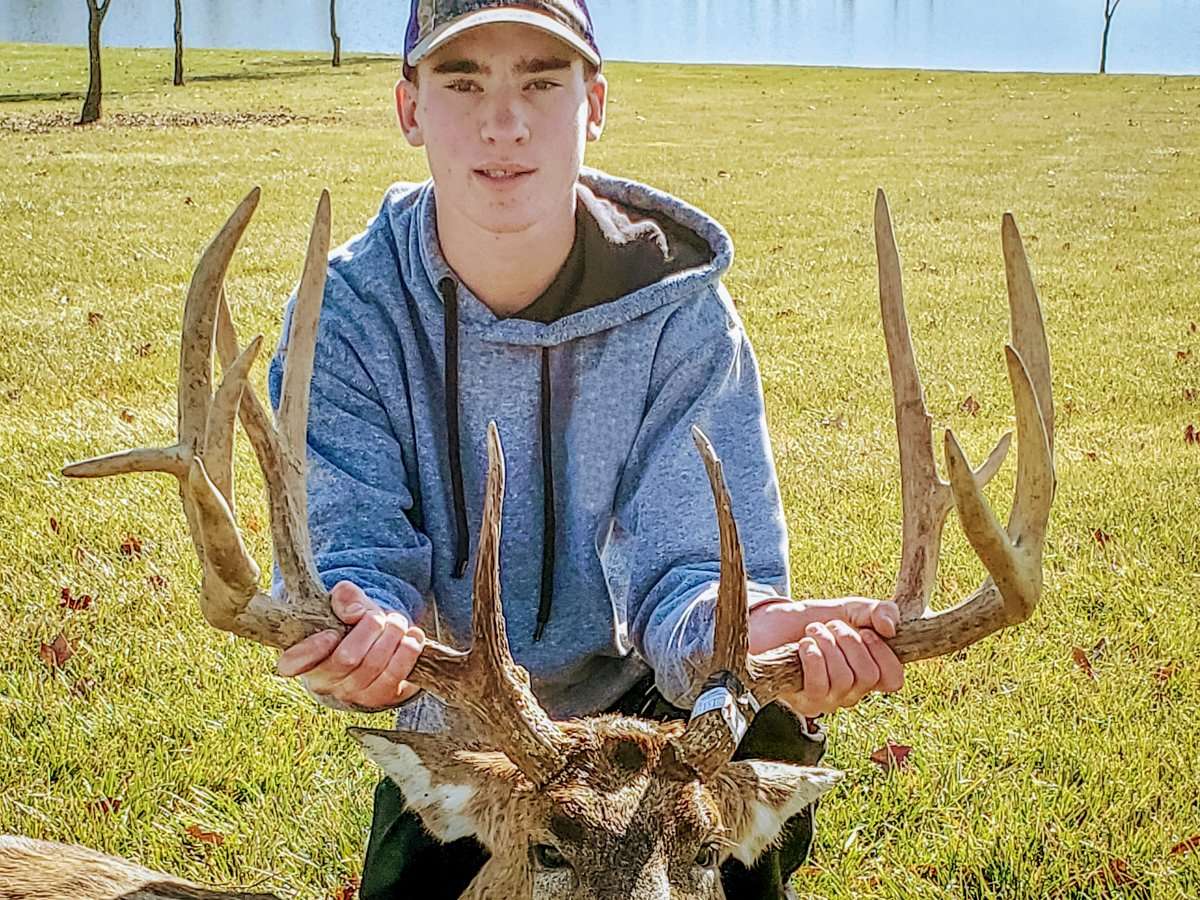 The Prairie State was a top producer yet again this deer season, and one buck that really created a buzz was taken by youth hunter Hunter Beckmann. Merely 15 at the time, he tagged a monster whitetail that grossed more than 200 inches.
I believe we got a trail camera photo of the buck in 2016, says Hunter's father, Jeff Beckmann. We didn't see or photograph the buck again until September of this year (2019). We got one picture of him. That was it.
Jeff showed a neighbor the picture of the buck, who hunts about 1.5 miles from where the photo was taken. The neighbor also happened to have pictures of the same deer from 2018. It was clear that Beckmann's land wasn't in the buck's core area.
On the Friday of Illinois' first 2019 shotgun season, Beckmann's neighbor got another photo of the buck at 4 a.m. The following afternoon (and a mile and a half away), Hunter Beckmann was rewarded with an encounter he'll remember the rest of his life.
He was sitting in a ladder stand on top of a hill, but the wind was blowing hard. He got cold quickly, and soon decided to move to a more sheltered box blind. The new perch overlooked a food plot, and the blind even had a mini heater in it. Warmth was no longer an issue.
After 20 minutes passed, Hunter was warm and ready for action. He didn't have to wait long. The buck he was hoping to see walked into the open, following a doe right beside the blind and into the food plot. Hunter raised the gun and settled the crosshairs.
I shot him, and he went down right there, Hunter says. Of course, he was filled with raw emotion, and once he knew the buck was down, adrenaline surged even faster. The best part? He'd just accomplished way more than he thought he had.
Half of his rack was buried in the mud, Hunter says. I cleaned it off a little bit and was shocked at how he looked way bigger than he had before I shot him.
Sometimes, younger hunters have a different perspective on what a big buck is, Jeff says. I immediately told him, 'You don't realize what you just shot!' It's one of the biggest bucks I've ever seen. That's for sure.
Stretching the tape out to 203 4/8 inches, it's safe to say this buck is bigger than most hunters have ever seen.
Don't Miss: Is This the Largest Buck of the 2019 Deer Season?
Check out more stories, videos and educational how-to's on deer hunting.