Despite a tight spread, this Indiana monster scored near 170, thanks to soda-can-thick bases
Rack Report Details
Buck:
167 7/8 inches
Time of Year:
November 24, 2019
Place:
Warrick County, Indiana
Weapon:
Rifle Rifle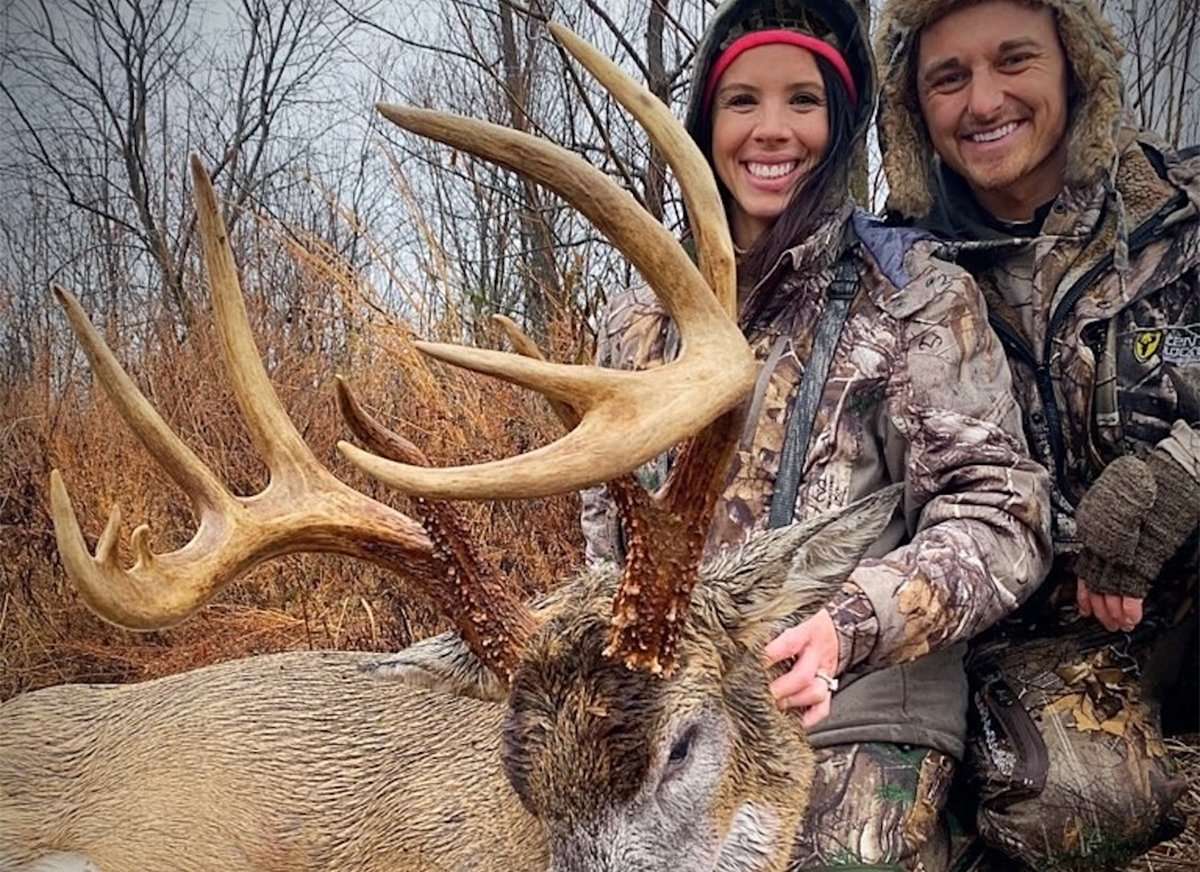 Ashley and Jake Noe of Indiana eat, sleep and breathe deer hunting, but Ashley didn't pick it up until later in life. I started deer hunting about six years ago when Jake and I started dating in college, she says. I started the first year just sitting in the stand with him to see what it was all about. I immediately saw how passionate he was about hunting and wanted to share in those experiences with him. After that season, he then took me shed hunting, which I absolutely loved as well. So, I decided to take my hunting education class the summer of 2014, and I got my first buck on opening weekend in November. Since then, hunting and shed hunting is something Jake and I look forward to doing together each year.
While Jake has numerous big bucks mounted on the wall, Ashley's goal for 2019 was to take her first mature deer. Last season was a good year for that goal, too, because the buck they called Flyer 8 had stepped back into their lives. In 2016, the couple captured some pictures of the buck when he was 3½ years old. He was already a nice one with lots of mass and chocolate-colored antlers, although he's always been narrow. In 2018, Jake passed Flyer 8 while he was hunting alone for a different buck.
It's a good thing that Ashley wasn't with me, he says, because she would've killed him then. Because she wasn't along, the buck lived another year and made a substantial antler leap.
But by the end of the 2018 season, the buck seemed to have disappeared. The Noes searched for his sheds but never found one. And with a pile of 300 sheds to their name, they were frustrated by their bad luck.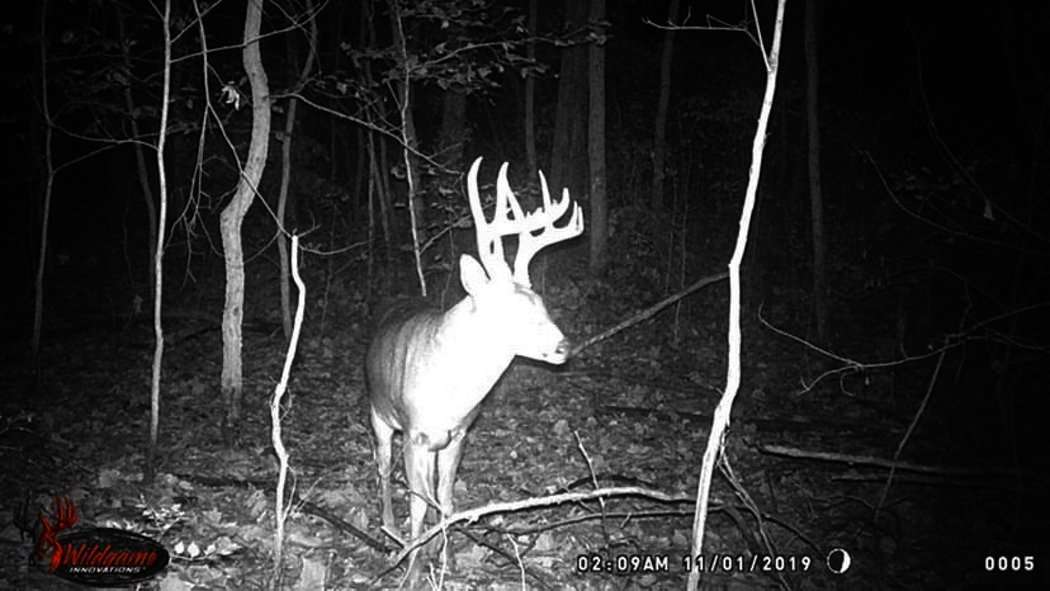 We finally learned the buck was living elsewhere, Jake says. We have a large soybean field that attracts lots of deer, and he'd come there every year during the rut. He'd totally leave our property afterward. A neighbor more than a mile away sent us a bunch of trail camera photos he'd taken before the rut this year. Our property certainly wasn't his home.
As the 2019 season approached, the couple didn't have time to tackle as many pre-season tasks as they wanted. They managed to run about eight trail cameras in select areas, and little else. Despite not doing their typical pre-season work, however, Ashley still got an opportunity with Flyer 8.
We headed out to a Redneck blind on the morning of November 24, she says. It had been pouring all night and morning. Jake felt that, once the rain broke, bucks would get on their feet. Finally, around 8:30 a.m., the rain briefly subsided. Just 10 minutes later, Jake spotted the Flyer 8 standing in the field corner.
Ashley immediately grabbed her gun, but adrenaline had her shaking pretty badly. Slowly she got into position to take the shot, controlled her breathing, and sent one downrange.
He was 240 yards away, and I missed entirely, Ashley says. The buck hung around as I regained my composure. Then, I settled in and shot again. The buck mule-kicked really hard, so we knew that my second shot connected. He slowly walked away, and we were freaking out over the next hour. We weren't positive where I hit him, and now the rain was pouring down again.
The Noes reviewed the video footage from the hunt over and over as they tried to identify where the buck was hit. They weren't certain, but the kick gave them the confidence to start tracking.
The couple eased out of the blind and slipped down to the field edge where the buck entered the field. Worried over potentially pushing the deer, they mostly got down to assess the situation.
I was still in shock at this point, Ashley said. I knew I made contact with my second shot, but still had so much doubt running through my mind. When we got out of the Redneck and it was raining, we walked to where we thought he was when I shot and saw no sign of blood. We moved closer to where he entered into the brush; and my husband saw a small chunk of hair from the buck, but still no real sign of blood. We almost turned back to give it a little longer, but my husband poked his head around the brush and saw him lying there. As soon I saw him, I started crying. I'd just shared the hunt of a lifetime with my husband.
With bases measuring 7 2/8 inches around, the buck's mass is truly remarkable. Equally interesting was the buck's narrow 13 4/8-inch inside spread. Nonetheless, the whopper scored 167 7/8 inches.
Don't Miss: Is This the Largest Buck of the 2019 Deer Season?
Check out more stories, videos and educational how-to's on deer hunting.
Watch all the latest video episodes